Article reference:
http://blog.hasslberger.com/2006/05/the_darkness_of_space_is_light.html
The Darkness of Space - Is Light a Wave?
Much has been said about the nature of light. Some suggest it must be made of particles or photons, while others maintain that light is obviously a wave phenomenon. My view is that light could be both. As described here, light could be a wave while it travels, and a particle or rather a dense spray of particles, when the wave hits any solid obstacle, including any instrument we put in its path to 'observe'.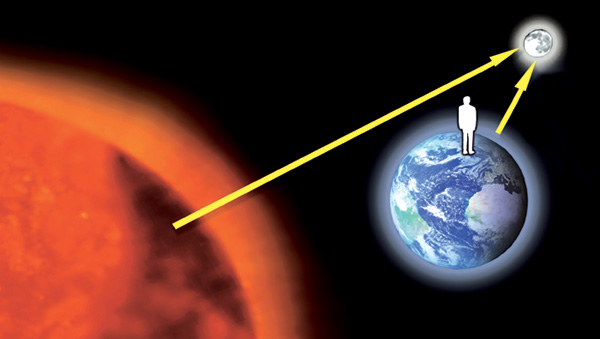 Ronald Modra, has recently brought up the question of the (in)visibility of light in space, and I copy his view here. He is the editor of an unconventional popular paper in Chile and welcomes any comments you might have...
- - -
Just look at this picture from the back page of our last El Guardián April 15th 2006.
The colors indicate something strange and there are questions unanswered by "science".
1) The sun does not light up space at all!
2) The atmosphere lights up when the sun's rays or particles hit it.
3) The moon's atmosphere (a weak atmosphere) lights up, but only in
proportion to the amount of atmospheric resistance on the moon.
4) The rest of space is COLD & DARK.
5) If the speed of light or light particles at sea level is 300,000 km/sec, imagine how fast they are traveling before they hit our atmosphere that causes them to behave like sub-miniature meteorites. Probably at infinite velocity.
6) When you travel towards the sun it gets colder. When you go beyond our atmosphere it is both cold and dark. All of space apart from planetary atmosphere is cold and dark. The speed of light cannot possibly be a constant speed of 300,000 km/sec. It is obviously much faster in cold-dark regions of space.
What is light?
What is the energy source of the sun?
Look at the pic.
That man standing on the earth cannot see light streaming past the sun's shadow and hitting the moon because it doesn't exist. If that happened we would not be able to see the moon distinctly because it would be in the pathway of light, very bright light, yet all around the moon there is no light.
"Let there be light" is a statement that can now be elevated to absolute scientific truth, because light in the cosmos is not traveling at a slow 300,000 km/sec.
Einstein didn't even scratch the surface of God's science, but we need a little bit of real faith before He can reveal the truth.