Article reference:
http://blog.hasslberger.com/2006/09/cold_fusion_excess_heat_from_n.html
Cold Fusion - Excess Heat From Novel Chemical Reaction?
Cold Fusion has been beset by problems since Martin Fleischmann and Stanley Pons made their announcement of excess heat production in an electrochemical cell back in 1989. While many researchers have found excess heat production in variations of the experiment, and some have found indications of nuclear processes, no one has come up with a perfectly repeatable, commercially viable way of using Cold Fusion for the production of energy.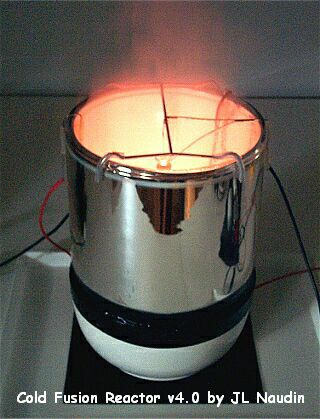 Cold Fusion Reactor by JL Naudin based on the work of Japanese researchers Tadahiko MIZUNO and Tadayoshi OHMORI.
This era of uncertainty may be coming to an end with the work of chemistry professor Fu Liu, of the Environmental Management College of China in Qinhuangdao, whose recent article in Infinite Energy magazine (Issue 68, 2006, pg 34 - 37) proposes a solution to the riddle. The article, titled Excess Energy from Chemical Reactions of Water (H2O and/or D2O) makes a point that electrolysis of water in the presence of certain catalysts will produce a combustible substance showing organic properties (named CSSOP) which will either burn like a hydrocarbon or produce heat by "wet oxydation", depending on its concentration.
Thus a mechanism for the excess heat production in Cold Fusion experiments has been proposed that is within the laws of thermodynamics and chemistry.
Below is a summary with extensive quotes from the paper of Fu Liu, as published in Infinite Energy.
Excess Energy from Chemical Reactions of Water (H2O and/or D2O)
From the abstract:
A combustible substance has been obtained from chemical reactions of water (H2O and/or D2O) using methods of electrolysis and catalysis. Experimental results indicate that the combustible substance was generated through transferring electrons from water and it has shown dual properties - those of inorganic water and of organic compounds. The oxidation, including combustion and wet oxidation, of this combustible substance will release a large amount of heat energy, opening prospects for use in clean energy production.
Experiments
Electrolysis of light water with iron (anode) and nickel (cathode) was performed using two methods: alternating current with high voltage up to 220 V and high current density up to 20 A/cm2 (electrode) lasting for around one minute; direct current using low voltage of 12 V and low current density of several mA/cm2 maintained for a couple of days. The high voltage ac electrolysis excites the medium, while the treatment with low voltage dc catalyses changes in the water's chemistry. Liu points to the importance of selecting proper catalysts and promoting the formation of active sites for water conversion.
Results
Results indicate that water has been converted into a combustible substance showing organic properties - CSSOP, similar to synthetic fuels. Results were different for the varying sets of experiments. Some significant results include:

(1) Analysis of elemental composition shows carbon, hydrogen and oxygen in the electrolyte.
(2) CSSOP is combustible. It can be fired into combustion at higher concentrations, while at low concentrations it will provide heat by liquid phase oxydation. The calorific value of CSSOP is similar to hydrocarbons and alcohols respectively.
(3) CSSOP is composed of two kinds of products - one of them are hydrocarbons like liquid fossil fuels, the other are oxygenated compounds similar to alcohols which are regarded as transition products.
(4) Density of CSSOP is less than water, in the range of 0.80-1.00g/cm3 for the hydrocarbon type and 0.75-0.80g/cm3 for oxygenated type.
(5) Electrical resistance of CSSOP varies greatly from very large as in insulators to very small as in a superconductor.
(6) CSSOP continues burning when diluted with ordinary water.
(7) Infrared spectra indicate high adsorption peaks of methyl and methylene.
(8) CSSOP is stable and can be stored for a long time.
(9) CSSOP can be in three phases: solid, liquid and gaseous
(10) The process of CSSOP formation is accompanied by no or very little reaction heat.
(11) No oxygen or hydrogen gases are involved in the reaction.
The chemical composition, molecular structure, and physicochemical properties of the electrolyte vary with electrolytic conditions, catalysts and reaction time. Water in the electrolyte is continuously converted to CSSOP until the water is completely (100%) converted.
Theory
The theoretical basis of CSSOP formation is the isoelectronic principle which says that as long as two molecules have the same total number of atoms and electrons (or valence electrons) they will have the same electronic configuration and bonding scheme, resulting in their having similar properties. In this way, CSSOP and hydrocarbons have similar properties because they are isoelectronic species. H2O and D2O are isoelectronic species, so they may be used with similar results.
CSSOP is an organic compound originated through a a novel kind of chemical reaction from inorganic water.
Excess Heat of Chemical Origin
Cold Fusion experiments generally involve aqueous solutions and catalysts and some of them have generated more heat than can be explained by conventional chemical theories. According to Fu Liu, catalysts necessary for the formation of CSSOP may have entered experiments as contaminants or impurities in the electrolytic system, which would explain the lack of reproducibility that continues to bug most Cold Fusion experiments. Liquid phase oxidation or catalytic wet oxidation of the CSSOP produced in these experiments will release a large amount of reaction heat. Indeed that is what has been found in many of the experiments.
1) In the process of CSSOP formation, the basic materials used are water and oxygen and the methods adopted are electrolysis and catalysis - very similar to what happens in most cold fusion laboratories. However chemical additives used in most experiments of cold fusion do not have the necessary properties for the formation of CSSOP, and those that do are added into the reaction system as impurities. Cold fusion experiments are aimed at hydrogen physics, not at the chemistry of water. Thus it is hard to achieve reproducibility of excess heat output in those experiments.
2) The "heat after death" phenomenon can be explained by a delayed wet oxidation of CSSOP, a combustion that can continue even after the formation reaction has already stopped.
3) Positive feedback as encountered in some experiments can be explained. Increased temperature of the system increases the reaction rate, including the rate of formation and oxidation of the CSSOP.
4) H2O and D2O have similar chemical properties, which explains why light water and heavy water may get similar results in excess heat production, but only if the chemical nature of the reaction is considered.
5) Higher excess heat is found in experiments involving electrolysis of water, consistent with conditions necessary for the formation of CSSOP.
6) Carbon has been found in surprising amounts on the cathode surface of some experiments. Decomposition or carbonation of CSSOP would be a possible mechanism for the formation of such deposits.
7) Hydrocarbon oil has been found in cold fusion cells, causing an incident of explosion. That oil could be formed by CSSOP containing deuterium.
8) Widely differing results of cold fusion experiments, some generating excess heat but no nuclear products, some generating nuclear products but no excess heat, and some resulting in both nuclear products and excess heat would indicate that two separate kinds of reactions might be at work here that have nothing in common.
9) Catalytic effects play a large role in cold fusion and hydrino processes, confirming the relevance of these findings.
10) A chemical source for excess heat - the oxidation of CSSOP produced from electrolysis and catalysis of water has been found. When optimized, such excess heat production can reach far beyond that observed in cold fusion and hydrino experiments.
Prediction
Excess heat is mainly generated from the formation and oxidation of CSSOP as a result of the chimical reactions of water (H2O and D2O) and oxygen. Without water and oxygen (or air) there will be little or no excess heat production. In order to examine and verify the existence of CSSOP, the chemical composition, molecular structure and physicochemical properties of the electrolyte in experiments should be examined.
Conclusion
A combustible substance can be generated from water and oxygen by electrolysis in the presence of proper catalysts. The substance shows organic structure and properties and can be used as a clean source of energy. Previous cold fusion experiments give credence to this discovery. While many problems remain to be solved, there are bright prospects for what Fu Liu calls organic water or oxygen fuel to enable unlimited clean energy production.

The full paper, including references, can be found in Infinite Energy, Issue 68, 2006, pages 34 to 37, and a pdf version is available here.

- - -
See also this video (actually, there is a series of 5 on youtube) about the suppression of cold fusion research:
Phenomenon Archives: Heavy Watergate, The War Against Cold Fusion