Article reference:
http://blog.hasslberger.com/2006/11/manmade_global_warming_the_deb.html
Man-made Global Warming - The Debate is not over!
Global warming is going to wreak havoc with the world economy. That is the latest dire prediction based on the idea that our use of fossil fuels and our production and release of greenhouse gases into the atmosphere is responsible for an increase-to-come in temperatures. We've got to act now, we are being told. There is a strong consensus that we're in for some heavy heat and that industry is to blame for it. So energy use must be curtailed and polluters must be made to pay. UN General Secretary Kofi Annan says that there is "a frightening lack of leadership" regarding the steps to take to reduce greenhouse gas emissions. He blasts the nay-sayers saying the science on climate change "is not science fiction." Those who try to sow doubt about it are "out of step, out of arguments and out of time," he is quoted as saying in this recent article.
All very good, and fine, but there is a small problem: when looking at the science, the facts don't seem to add up. That is what Christopher Monckton says in a two-part article that appeared in the UK's Sunday Telegraph. His conclusion: The science of global warming is being manipulated, we are addressing the wrong problem, and our solutions won't do what their proponents say they will.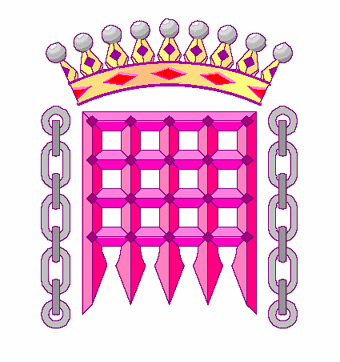 Monckton adds that we are asking the developing nations that they should not follow the West's path to industrialization and relative prosperity because it's bad for the planet. Instead of pouring funds into development of valid energy alternatives, we are starting to trade carbon credits, but with regard to energy production, we keep things very much the same as they are.
The Third World is growing. It won't be told it can't enjoy the growth we've already had. It wouldn't sign Kyoto till it was exempted, so, under President Clinton, the US Senate voted unanimously to reject Kyoto. Whatever the West does to "Save the Planet" is mere gesture unless the developing world agrees to give up its right to grow as we've grown.
Now to be absolutely clear, I am not against changes. I believe we must develop real alternatives to revolutionize energy production, and I am sure this can be done. Abundant clean energy is possible. We must make the decision to invest in that particular part of our future. Our current energy technologies are ecologically not sustainable and it is high time we change. But I do not think we need a global warming scare to force such change, especially one based on shaky evidence.
Please read what Christopher Monckton has to say. He has analyzed the science and his view should not be lost in the din of media commotion and emotional appeals over the global warming emergency...
- - -
Climate chaos? Don't believe it
By Christopher Monckton, Sunday Telegraph
(The original was published in The Telegraph)

The Stern report last week predicted dire economic and social effects of unchecked global warming. In what many will see as a highly controversial polemic, Christopher Monckton disputes the 'facts' of this impending apocalypse and accuses the UN and its scientists of distorting the truth.

Last week, Gordon Brown and his chief economist both said global warming was the worst "market failure" ever. That loaded soundbite suggests that the "climate-change" scare is less about saving the planet than, in Jacques Chirac's chilling phrase, "creating world government". This week and next, I'll reveal how politicians, scientists and bureaucrats contrived a threat of Biblical floods, droughts, plagues, and extinctions worthier of St John the Divine than of science.
Sir Nicholas Stern's report on the economics of climate change, which was published last week, says that the debate is over. It isn't. There are more greenhouse gases in the air than there were, so the world should warm a bit, but that's as far as the "consensus" goes. After the recent hysteria, you may not find the truth easy to believe.
The Royal Society says there's a worldwide scientific consensus. It brands Apocalypse-deniers as paid lackeys of coal and oil corporations. I declare my interest: I once took the taxpayer's shilling and advised Margaret Thatcher, FRS, on scientific scams and scares. Alas, not a red cent from Exxon.
In 1988, James Hansen, a climatologist, told the US Congress that temperature would rise 0.3C by the end of the century (it rose 0.1C), and that sea level would rise several feet (no, one inch). The UN set up a transnational bureaucracy, the Intergovernmental Panel on Climate Change (IPCC). The UK taxpayer unwittingly meets the entire cost of its scientific team, which, in 2001, produced the Third Assessment Report, a Bible-length document presenting apocalyptic conclusions well beyond previous reports.
This week, I'll show how the UN undervalued the sun's effects on historical and contemporary climate, slashed the natural greenhouse effect, overstated the past century's temperature increase, repealed a fundamental law of physics and tripled the man-made greenhouse effect.
Next week, I'll demonstrate the atrocious economic, political and environmental cost of the high-tax, zero-freedom, bureaucratic centralism implicit in Stern's report; I'll compare the global-warming scare with previous sci-fi alarums; and I'll show how the environmentalists' "precautionary principle" (get the state to interfere now, just in case) is killing people.
So to the scare. First, the UN implies that carbon dioxide ended the last four ice ages. It displays two 450,000-year graphs: a sawtooth curve of temperature and a sawtooth of airborne CO2 that's scaled to look similar. Usually, similar curves are superimposed for comparison. The UN didn't do that. If it had, the truth would have shown: the changes in temperature preceded the changes in CO2 levels.
Next, the UN abolished the medieval warm period (the global warming at the end of the First Millennium AD). In 1995, David Deming, a geoscientist at the University of Oklahoma, had written an article reconstructing 150 years of North American temperatures from borehole data. He later wrote: "With the publication of the article in Science, I gained significant credibility in the community of scientists working on climate change. They thought I was one of them, someone who would pervert science in the service of social and political causes. One of them let his guard down. A major person working in the area of climate change and global warming sent me an astonishing email that said: 'We have to get rid of the Medieval Warm Period.' "
So they did. The UN's second assessment report, in 1996, showed a 1,000-year graph demonstrating that temperature in the Middle Ages was warmer than today. But the 2001 report contained a new graph showing no medieval warm period. It wrongly concluded that the 20th century was the warmest for 1,000 years. The graph looked like an ice hockey-stick. The wrongly flat AD1000-AD1900 temperature line was the shaft: the uptick from 1900 to 2000 was the blade. Here's how they did it:
• They gave one technique for reconstructing pre-thermometer temperature 390 times more weight than any other (but didn't say so).

• The technique they overweighted was one which the UN's 1996 report had said was unsafe: measurement of tree-rings from bristlecone pines. Tree-rings are wider in warmer years, but pine-rings are also wider when there's more carbon dioxide in the air: it's plant food. This carbon dioxide fertilisation distorts the calculations.

• They said they had included 24 data sets going back to 1400. Without saying so, they left out the set showing the medieval warm period, tucking it into a folder marked "Censored Data".

• They used a computer model to draw the graph from the data, but scientists later found that the model almost always drew hockey-sticks even if they fed in random, electronic "red noise".
The large, full-colour "hockey-stick" was the key graph in the UN's 2001 report, and the only one to appear six times. The Canadian Government copied it to every household.
Four years passed before a leading scientific journal would publish the truth about the graph. Did the UN or the Canadian government apologise? Of course not. The UN still uses the graph in its publications.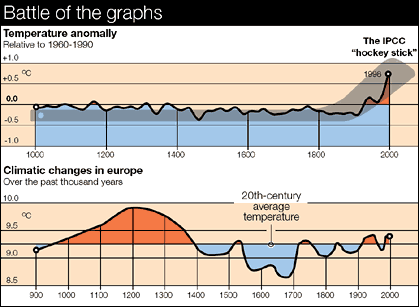 Even after the "hockey stick" graph was exposed, scientific papers apparently confirming its abolition of the medieval warm period appeared. The US Senate asked independent statisticians to investigate. They found that the graph was meretricious, and that known associates of the scientists who had compiled it had written many of the papers supporting its conclusion.
The UN, echoed by Stern, says the graph isn't important. It is. Scores of scientific papers show that the medieval warm period was real, global and up to 3C warmer than now. Then, there were no glaciers in the tropical Andes: today they're there. There were Viking farms in Greenland: now they're under permafrost. There was little ice at the North Pole: a Chinese naval squadron sailed right round the Arctic in 1421 and found none.
The Antarctic, which holds 90 per cent of the world's ice and nearly all its 160,000 glaciers, has cooled and gained ice-mass in the past 30 years, reversing a 6,000-year melting trend. Data from 6,000 boreholes worldwide show global temperatures were higher in the Middle Ages than now. And the snows of Kilimanjaro are vanishing not because summit temperature is rising (it isn't) but because post-colonial deforestation has dried the air. Al Gore please note.
In some places it was also warmer than now in the Bronze Age and in Roman times. It wasn't CO2 that caused those warm periods. It was the sun. So the UN adjusted the maths and all but extinguished the sun's role in today's warming. Here's how:
• The UN dated its list of "forcings" (influences on temperature) from 1750, when the sun, and consequently air temperature, was almost as warm as now. But its start-date for the increase in world temperature was 1900, when the sun, and temperature, were much cooler.

• Every "forcing" produces "climate feedbacks" making temperature rise faster. For instance, as temperature rises in response to a forcing, the air carries more water vapour, the most important greenhouse gas; and polar ice melts, increasing heat absorption. Up goes the temperature again. The UN more than doubled the base forcings from greenhouse gases to allow for climate feedbacks. It didn't do the same for the base solar forcing.
Two centuries ago, the astronomer William Herschel was reading Adam Smith's Wealth of Nations when he noticed that quoted grain prices fell when the number of sunspots rose. Gales of laughter ensued, but he was right. At solar maxima, when the sun was at its hottest and sunspots showed, temperature was warmer, grain grew faster and prices fell. Such observations show that even small solar changes affect climate detectably. But recent solar changes have been big.
Sami Solanki, a solar physicist, says that in the past half-century the sun has been warmer, for longer, than at any time in at least the past 11,400 years, contributing a base forcing equivalent to a quarter of the past century's warming. That's before adding climate feedbacks.
The UN expresses its heat-energy forcings in watts per square metre per second. It estimates that the sun caused just 0.3 watts of forcing since 1750. Begin in 1900 to match the temperature start-date, and the base solar forcing more than doubles to 0.7 watts. Multiply by 2.7, which the Royal Society suggests is the UN's current factor for climate feedbacks, and you get 1.9 watts - more than six times the UN's figure.
The entire 20th-century warming from all sources was below 2 watts. The sun could have caused just about all of it.
Next, the UN slashed the natural greenhouse effect by 40 per cent from 33C in the climate-physics textbooks to 20C, making the man-made additions appear bigger.
Then the UN chose the biggest 20th-century temperature increase it could find. Stern says: "As anticipated by scientists, global mean surface temperatures have risen over the past century." As anticipated? Only 30 years ago, scientists were anticipating a new Ice Age and writing books called The Cooling.
In the US, where weather records have been more reliable than elsewhere, 20th-century temperature went up by only 0.3C. AccuWeather, a worldwide meteorological service, reckons world temperature rose by 0.45C. The US National Climate Data Centre says 0.5C. Any advance on 0.5? The UN went for 0.6C, probably distorted by urban growth near many of the world's fast-disappearing temperature stations.
The number of temperature stations round the world peaked at 6,000 in 1970. It's fallen by two-thirds to 2,000 now: a real "hockey-stick" curve, and an instance of the UN's growing reliance on computer guesswork rather than facts.
Even a 0.6C temperature rise wasn't enough. So the UN repealed a fundamental physical law. Buried in a sub-chapter in its 2001 report is a short but revealing section discussing "lambda": the crucial factor converting forcings to temperature. The UN said its climate models had found lambda near-invariant at 0.5C per watt of forcing.
You don't need computer models to "find" lambda. Its value is given by a century-old law, derived experimentally by a Slovenian professor and proved by his Austrian student (who later committed suicide when his scientific compatriots refused to believe in atoms). The Stefan-Boltzmann law, not mentioned once in the UN's 2001 report, is as central to the thermodynamics of climate as Einstein's later equation is to astrophysics. Like Einstein's, it relates energy to the square of the speed of light, but by reference to temperature rather than mass.
The bigger the value of lambda, the bigger the temperature increase the UN could predict. Using poor Ludwig Boltzmann's law, lambda's true value is just 0.22-0.3C per watt. In 2001, the UN effectively repealed the law, doubling lambda to 0.5C per watt. A recent paper by James Hansen says lambda should be 0.67, 0.75 or 1C: take your pick. Sir John Houghton, who chaired the UN's scientific assessment working group until recently, tells me it now puts lambda at 0.8C: that's 3C for a 3.7-watt doubling of airborne CO2. Most of the UN's computer models have used 1C. Stern implies 1.9C.
On the UN's figures, the entire greenhouse-gas forcing in the 20th century was 2 watts. Multiplying by the correct value of lambda gives a temperature increase of 0.44 to 0.6C, in line with observation. But using Stern's 1.9C per watt gives 3.8C. Where did 85 per cent of his imagined 20th-century warming go? As Professor Dick Lindzen of MIT pointed out in The Sunday Telegraph last week, the UK's Hadley Centre had the same problem, and solved it by dividing its modelled output by three to "predict" 20th-century temperature correctly.
A spate of recent scientific papers, gearing up for the UN's fourth report next year, gives a different reason for the failure of reality to keep up with prediction. The oceans, we're now told, are acting as a giant heat-sink. In these papers the well-known, central flaw (not mentioned by Stern) is that the computer models' "predictions" of past ocean temperature changes only approach reality if they are averaged over a depth of at least a mile and a quarter.
Deep-ocean temperature hasn't changed at all, it's barely above freezing. The models tend to over-predict the warming of the climate-relevant surface layer up to threefold. A recent paper by John Lyman, of the US National Oceanic and Atmospheric Association, reports that the oceans have cooled sharply in the past two years. The computers didn't predict this. Sea level is scarcely rising faster today than a century ago: an inch every 15 years. Hansen now says that the oceanic "flywheel effect" gives us extra time to act, so Stern's alarmism is misplaced.
Finally, the UN's predictions are founded not only on an exaggerated forcing-to-temperature conversion factor justified neither by observation nor by physical law, but also on an excessive rate of increase in airborne carbon dioxide. The true rate is 0.38 per cent year on year since records began in 1958. The models assume 1 per cent per annum, more than two and a half times too high. In 2001, the UN used these and other adjustments to predict a 21st-century temperature increase of 1.5 to 6C. Stern suggests up to 10C.
Dick Lindzen emailed me last week to say that constant repetition of wrong numbers doesn't make them right. Removing the UN's solecisms, and using reasonable data and assumptions, a simple global model shows that temperature will rise by just 0.1 to 1.4C in the coming century, with a best estimate of 0.6C, well within the medieval temperature range and only a fifth of the UN's new, central projection.
Why haven't air or sea temperatures turned out as the UN's models predicted? Because the science is bad, the "consensus" is wrong, and Herr Professor Ludwig Boltzmann, FRS, was as right about energy-to-temperature as he was about atoms.

Part Two:

Wrong problem, wrong solution

Christopher Monckton created considerable controversy last week with his article questioning the science that claims human activity is responsible for climate change. Now he challenges the economic assumptions of the Stern report.

In the climate change debate, one figure is real. The Sunday Telegraph's website registered more than 127,000 hits in response to last week's article revealing that the UN had minimised the sun's role in changing past and present climate, persisted in proven errors and used unsound data, questionable graphs and meretricious maths to exaggerate future warming threefold.
The views of 200 readers who emailed me are in the link above. About a third are scientists, including well-known climatologists and a physicist who confirmed my calculations. Some advise governments.
Nearly all condemn the "consensus". Most feel that instead of apologising, the UN has misled them, especially by using the defective "hockey-stick" temperature graph.
Here's how an apology is done. Last week I said that James Hansen had told the United States Congress that sea level would rise several feet by 2000, but it was the US Senate, and by 2100; I added a tautologous "per second" to "watts per square metre"; and I mentioned the perhaps apocryphal Arctic voyage of Chen Ho. Sorry.
Sir Nicholas Stern's report on climate-change economics says the world must spend 1 per cent of GDP from now on to avert disaster. The current draft of the UN's 2007 report says up to 5 per cent. Sir Nick's team tell me: "We are confident that the UN will publish a range for costs next year in which ours will be centrally placed." So some quiet high-level co-ordination is going on. The oddest thing about Stern's curious report was its timing. Publication of the UN's next major science assessment is only months ahead. Why not wait and base the economics on that?
The UN needed Stern more than he needed the UN. Its 2001 report had numbers more extreme than anyone else's, so sceptics abounded. This time, an international spinfest is shutting off dissent in advance. First, the damage done by the hockey-stick graph had to be repaired, so a series of papers supporting its conclusions quickly appeared, many written by associates of its authors.
Next, the failure of temperature to rise as the UN projected had to be explained. Hence another flurry of learned papers, this time about the "ocean notion" - the maritime heat-sink into which the missing temperature rise might be vanishing.
Above all, it was vital that this time the UN's report should not be seen to print the biggest exaggerations around. Enter Stern.
My calculations last week had to be rubbished. Separately, The Sunday Telegraph's letters editor and I received emails saying I'd wrongly assumed the Earth was a "blackbody" with no greenhouse effect at all (I hadn't). The www.realclimate.org website, run by two of the "hockey-stick" graph's authors, said the same in a blog [post] entitled "Cuckoo science".
On Thursday, Margaret Beckett, the Foreign Secretary, compared climate sceptics to advocates of Islamic terror. Neither, she said, should have access to the media.
At whom is this spin aimed? At the Chinese, the Indians and the Brazilians. China has 30,000 coal mines. It is opening a new power station every five days till 2012. The Third World is growing. It won't be told it can't enjoy the growth we've already had. It wouldn't sign Kyoto till it was exempted, so, under President Clinton, the US Senate voted unanimously to reject Kyoto. Whatever the West does to "Save the Planet" is mere gesture unless the developing world agrees to give up its right to grow as we've grown.
Sir Nick says if we spend 1 per cent of GDP now and for ever we can reduce "the chances of temperature rises of 4-5C and above - at which levels some of the worst impacts occur". The crucial number when evaluating the income stream from forward investments like this is the discount rate: the annual percentage by which any forecast of tomorrow's revenue is cut to allow for the risks inherent in not getting it today. Stern discusses the rate at length, and even has a technical annexe on it, but, astonishingly, not once in 700 pages does he put a figure on it. I gave his team 24 hours' notice of the question: What discount rate or rates, and why? Six hours after my deadline, as the Treasury was closing, they said they might answer "next week". The following morning, with the page held for my copy, I rang and asked again. "There's nobody in who worked on that part of the report," they said. But they admitted they'd used several rates, all of them low because "if you're richer in future you value each unit of output a bit less", and because they hadn't discounted the future just because it was the future as that would be intertemporally inequitable (in English: not fair to the kids). Too low a discount rate makes spending 1 per cent of GDP now look cheaper than waiting.
They are also coy about what value our $500 billion a year would buy us. They say that if the world stabilises atmospheric CO2 at about 485 parts per million we'll have spent 1 per cent of GDP to get - er - a 1.1 per cent fall in consumption. If we stabilised at 400ppm, consumption would fall by only 0.6 per cent, but that's a pipedream: we're at 380ppm already, and, on Stern's figures, we'll reach 400 in just eight years.
By 2035, says Sir Nick, temperature will have risen by "over 2C". It sounds alarming. What he means, though, is over 2C since 1750, when we don't know what the temperature was. Stern's 485 parts per million by 2035 is based on the UN's worst case. Even then, the increase compared with today would be just 0.7C. On the UN's lower projection, implying 425ppm by 2035, only 0.3C.
The UK accounts for just 2 per cent of global emissions, and falling. Even if Britain stopped using energy altogether, global temperature by 2035 would be six thousandths of a degree C less than if we carried on as usual. If we shut down once a week on Planet Day, make that less than one thousandth of a degree. Even if every Western country complied with Kyoto (and most won't), Senator James Inhofe of Oklahoma says temperature a century from now would be a 25th of a degree lower than without Kyoto.
In that context, the few femtowatts you will save by not leaving your television on standby don't matter. It is not that energy efficiency, renewables and recycling will not make enough difference. They will hardly make any.
We are addressing the wrong problem. In the UK, energy is about to run out. In 10 years, a third of our power stations will be worn out or against EU pollution laws. By 2035, oil prices could be ten times today's. Our children would be far better off if we sequestered North Sea oil by leaving it in the ground than if we sequestered carbon dioxide at Peterhead.
While the Government quixotically tilts at wind power, the Danes, who did it first, have stopped building bird-slicers. You need a wind farm the size of Greater Manchester to match the output of one nuclear power station, and you get not a watt if the wind isn't blowing. As for hydro, if you want to build a plant with more than a megawatt of output in Scotland, you can't, because for the past year two bureaucracies have been arguing about which of them should grant planning permission.
The UK needs to start building (not designing, or arguing about in ten-year planning enquiries) 12 nuclear power stations this year. Nuclear power does not emit CO2. The French, 80 per cent nuclear, have half the UK's carbon footprint. And what is Stern's policy on nuclear power? "We argue that a portfolio of technologies will be needed."
Sci-fi panics such as climate change are dangerous because they distract politicians from what really needs doing. Y2K bug: correct solution, laugh; actual solution, Y2K Office. Result: nothing, at great cost. Energy shortages and climate change (if you believe that man is responsible): correct solution, go nuclear and reverse 20th-century deforestation. Actual solution: windmills, rampant deforestation, EU paying farmers not to plant trees or anything else. Result, energy crisis, species loss and no fall in CO2.
Shouldn't we take precautions, just in case? No. The "precautionary principle" kills. Example. DDT: correct solution, limit it in agriculture but allow indoor spraying against malarial mosquitoes. Actual solution: give the inventor a Nobel Prize, then say the chemical is cancerous (it's safe enough to eat) and ban it, especially for indoor spraying. Result, only this year, after 30 million and more have died from malaria, has the WHO agreed to recommend indoor spraying.
Carbon taxes? Bizarrely, the UK's climate-change levy taxes all forms of electricity generation, even if they don't emit CO2. David Miliband, the Environment Secretary, told the BBC last week how good it was. The BBC didn't argue.
Emissions trading? The daft EU scheme allows more emissions to be traded than are being emitted, except in the UK, whose business-unaware Government disadvantages us by imposing a lower limit and not even exempting the NHS. Result: poor hospitals have to buy emission rights from rich oil companies. Miliband told the BBC how good it was. The BBC didn't argue.
All such interventions advocated by the climate-change "consensus" will be expensively futile without the consent of the Third World's fast-growing nations. That consent will rightly be withheld until the UN produces soundly based, scientifically honest, fair and realistic projections. Meanwhile, cut out and keep this article. If Margaret Beckett has her way, you won't ever see one like it again.

Update November 2009:
Lorne Gunter: Cooking the climate change books
Last Friday it was revealed that someone as yet unknown had hacked into the computers of the Climate Research Unit (CRU) in Hadley, U.K. The CRU -- or Hadley as it is often referred to -- is the source of one of the four main temperature records used by the United Nations and environmentalists to claim that the Earth is on the verge of a global meltdown. It is also home to some of the most prominent climate researchers in the world.
Stolen and then released were over 1,000 emails and 3,000 research files that appear to show that those at the CRU and other equally well-known climate scientists around the world have been working together for years to "cook" the data about climate change. The emails seem to suggest that much of what the UN's Intergovernmental Panel on Climate Change claims is "settled science" is based on data manipulated to confirm assertions that man is dangerously altering our climate. Recent decades may not have been exceptionally warm. The planet may not be warming as fast as these scientists have claimed publicly -- and it looks as though they may have known it and tried to hide it.

See also:
Two More Global Warming False Alarms
The global warming debate has developed a pattern: In part A, a scientist makes a scary claim and gets headlines for himself, and his funding source, across the known world. In part B, a few months later new evidence blows the scary claim away--but with no press coverage of its demise.
Two more global warming scares have just been quietly blown away: the claim that global warming is causing more and bigger hurricanes; and the claim that warming threatens to shut down the great Atlantic Ocean conveyor currents.

Inconvenient Facts About Climate Change (Global Warming)
"All the planets in our solar system are presently showing signs of increased temperature." If the planet is getting steadily warmer due to Industrial Age greenhouse gases, why did it get cooler when industries began belching out carbon dioxide at full tilt at the start of World War II? The amount of debris spewed into the atmosphere by volcanic activities alone could swamp the effect of greenhouse gases.

The Whole Solar System is Undergoing Global Warming
"This is a fact that not many people know about, and quite a few people, would like that there was no evidence to back this fact, because some people would like the world to believe that human activity is the cause for global warming on Earth. I am not advocating that releasing harmful gases, and chemicals in the oceans and atmosphere are good, but after a few years of research, I have come to understand that global warming is happening in the Solar System, not just on Earth."

Forty-five nations answered France's call for a new environmental body to slow inevitable global warming and protect the planet, perhaps with policing powers to punish violators
The words of warning about global warming from the top panel of international scientists Friday Feb. 2, 2007 were purposely blunt: "warming of the climate system is unequivocal," the cause is "very likely" man-made, and "would continue for centuries." Officially releasing a 21-page report in Paris on the how, what and why the planet is warming -- though not telling the world what to do about it -- the Intergovernmental Panel on Climate Change gave a bleak observation of what is happening now and an even more dire prediction for the future.

Global Warming: The Cold, Hard Facts?
Believe it or not, Global Warming is not due to human contribution of Carbon Dioxide. This in fact is the greatest deception in the history of science. We are wasting time, energy and trillions of dollars while creating unnecessary fear and consternation over an issue with no scientific justification. For example, Environment Canada brags about spending $3.7 billion in the last five years dealing with climate change almost all on propaganda trying to defend an indefensible scientific position while at the same time closing weather stations and failing to meet legislated pollution targets.

An experiment that hints we are wrong on climate change
Disdain for the sun goes with a failure by the self-appointed greenhouse experts to keep up with inconvenient discoveries about how the solar variations control the climate. The sun's brightness may change too little to account for the big swings in the climate. But more than 10 years have passed since Henrik Svensmark in Copenhagen first pointed out a much more powerful mechanism. He saw from compilations of weather satellite data that cloudiness varies according to how many atomic particles are coming in from exploded stars. More cosmic rays, more clouds.

The politics of global warming
The whole world is preparing for warming, but I mentioned that we have been cooling since 1998 and the climate scientists that I respected -- particularly the Russians and Chinese -- are predicting that we're going to be much, much cooler by 2030. So we've got completely the wrong adaptive strategy.

President of Czech Republic Calls Man-Made Global Warming a 'Myth' - Questions Gore's Sanity
Global warming is a false myth and every serious person and scientist says so. It is not fair to refer to the U.N. panel. IPCC is not a scientific institution: it's a political body, a sort of non-government organization of green flavor. It's neither a forum of neutral scientists nor a balanced group of scientists. These people are politicized scientists who arrive there with a one-sided opinion and a one-sided assignment. Also, it's an undignified slapstick that people don't wait for the full report in May 2007 but instead respond, in such a serious way, to the summary for policymakers where all the "but's" are scratched, removed, and replaced by oversimplified theses.
The causes of global warming and climate change!
There are two competing theories for the current global warming trend.

The first theory, which is the generally accepted one, is that the release of greenhouse gases from the burning of fossil fuels and from land use are responsible for the temperature increase.

The second theory is that the suns magnetic field and the solar wind modulates the amount of high energy cosmic radiation that the earth receives. This in turns affects the low altitude cloud cover and how much water vapor there is in the atmosphere and thus regulates the climate.

Climate change: The Deniers
Canada's National Post has a series of articles on scientists who buck the conventional wisdom on climate science. Several articles by sometimes eminent scientists that challenge the contention that global warming is a bad thing, or that global warming is due to our emission of carbon dioxide.

Polar caps wane as Mars tries global warming
Christensen also cautions against drawing any parallels between the warming on Mars and on Earth. He said: "The more we learn about Mars, the more intuition it gives us about Earth, but the systems are fundamentally different."

Yes, they don't have an industrial revolution and technological advance on Mars, at least as far as we know.

Top scientist debunks global warming
Solar activity is a greater driver of climate change than man-made carbon dioxide, argues Ian Plimer, Professor of Mining Geology at the University of Adelaide and winner of several notable science prizes. "When meteorologists can change the weather then we can start to think about humans changing climate," Prof Plimer said.

A dissident view of water and warming
'I'm not a sceptic, I'm an angry professor!' Lance Endersbee claims the world water crisis has been underplayed and global warming overplayed, as a result of the pressures in science to conform. Endersbee's main focus is on the state of the world's groundwater, the rapid consumption of which has put the world on the edge of a little understood catastrophe, he says, because contrary to popular belief groundwater reserves are not replenished from the surface.
This page discusses Lance Endersbee's view on the decline of ground water as a resource in Australia, which he says has been played down while global warming is getting all the attention.
Local scientist calls global warming theory 'hooey'
The UW-Madison professor emeritus, who stands against the scientific consensus on this issue, is referred to as a global warming skeptic. But he is not skeptical that global warming exists, he is just doubtful that humans are the cause of it.
Climate Expert Questions Gore's Global Warming Campaign
William Gray, 77, the principal force behind the annual hurricane forecasts done by Colorado State University's School of Atmospheric Science, has little good to say about Gore and his movie. "He is making statements that I could never make. He is making assumptions that are just not true. I think there are many factual errors in his movie," he said. Gray rejects Gore's assertion that hurricanes are becoming more frequent and more intense as a result of global warming.
Ice Age Defrosted by Warming Ocean, Not Rise in CO2
Ice cores drawn from Antarctica and Greenland have shown that carbon dioxide (CO2) levels in the atmosphere began to rise at roughly the same time as the vast ice sheets began to melt. But it remained unclear exactly which came first: melting ice and warming seas released more CO2 or more CO2 led to melting ice and warming seas. By studying sediment cores from the deep Pacific near the Philippines, paleoclimatologist Lowell Stott of the University of Southern California in Los Angeles and his colleagues revealed that the temperatures of the deepest seas rose by around 2 degrees Celsius (3.6 degrees Fahrenheit) at least 1,000 years before sea-surface temperatures.
Global Warming: Prepare for Cooling, not Warming
By Dr. Tim Ball and Tom Harris
The world is cooling. Global temperatures have declined since 1998 and a growing number of climate experts expect this trend to continue until at least 2030. This, happening while carbon dioxide (CO2) emissions continue to rise, is in complete contradiction to the theory of human-induced (anthropogenic) global warming.
Video: Global Warming Tutorial by Australian Prof Bob Carter
This is a lecture on video in four parts. The link is part one. You will see links for parts 2, 3 and 4 on the YouTube page for part one. Most people accept the global warming theory on face value. The media are full of it and blame global warming for every storm and drought, but do not forget - in science it is best to look at all points of view before making up your mind. So here is Bob Carter's view and statistics. You do not have to be a scientist to understand what he says.

Temperature Monitors Report Widescale Global Cooling (PDF)

There has been a one-year trend of cooling temperatures globally, as verified by the major temperature tracking stations, in 2007. It is too early to say if this is a reversal of the warming observed for the last years, but it certainly is dramatic and it's unexpected.

Global warming is not as clear-cut a thing as we are expected to believe, nor is the theory that says the warming we observe is due to human-generated increase in atmospheric CO2. Evidently, the global warming debate is far from over.

But the important point is not whether there is, or not, global warming. Neither is it whether that warming is caused by humans. The important point is that our industrial activities are polluting our environment (air and water) in a completely untenable way. Planet Earth is becoming slowly uninhabitable for human life, because of dirty technologies polluting the environment both chemically and electromagnetically. THAT is the problem, not global warming.

Astrophysicist Links Temperature Change with Sun's Energy Output
"When the sun is slightly brighter, meaning giving more light to Earth's system, the temperature warms in the Arctic," said Soon. "With the cooling that we observed in the Arctic from the 1940s to the 1970s, guess what the sun is doing? It's actually dimming slightly, ever so slightly. And then, guess what happened after the late 1970s? The sun brightens again."
Dr. Soon works for the Harvard-Smithsonian center for Astrophysics. He says while carbon dioxide emissions have risen during the warming period of the past three decades, the fact that global temperatures decreased during the middle of the 20th century suggest there is no connection.

31,000 scientists reject 'global warming' agenda
"There is no convincing scientific evidence that human release of carbon dioxide, methane, or other greenhouse gases is causing or will, in the foreseeable future, cause catastrophic heating of the Earth's atmosphere and disruption of the Earth's climate," the petition states. "Moreover, there is substantial scientific evidence that increases in atmospheric carbon dioxide produce many beneficial effects upon the natural plant and animal environments of the Earth."
Climate Science: Observations versus Models
In the case of the climate models being used by the IPCC, the assumption is that CO2 is a primary driver of climate. There is an intuitive basis for this assumption, given that CO2 is a greenhouse gas, and both CO2 levels and temperature have risen sharply in the past century. In addition, a strong correlation has been observed between temperature and CO2 levels in long-term records revealed by ice-core samples. Furthermore, the burning of fossil fuels is continuing to pollute the atmosphere (and the oceans) with ever-higher levels of CO2...
Global Warming and the Price of a Gallon of Gas
There is no significant man made global warming. There has not been any in the past, there is none now and there is no reason to fear any in the future. The climate of Earth is changing. It has always changed. But mankind's activities have not overwhelmed or significantly modified the natural forces.

Lest anyone think we are dealing with a few isolated fools who just don't get it, here is a listing of
500 Peer-Reviewed Papers Supporting Skepticism of "Man-Made" Global Warming
The following papers support skepticism of "man-made" global warming or the environmental or economic effects of. Addendums, Comments, Corrections, Erratum, Replies, Responses and Submitted papers are not included in the peer-reviewed paper count. There are many more listings than just the 500 papers. The inclusion of a paper in this list does not imply a specific position to any of the authors. This list will be updated and corrected as necessary.

Video: The Great Global Warming Swindle [Full Film]
The movie is a rather serious discussion of the merits of CO2 induced, man-made global warming...

Prominent Physicist resigns from American Physical Society over Climategate
Hal Lewis: My Resignation From The American Physical Society - an important moment in science history
"I don't believe that any real physicist, nay scientist, can read that stuff without revulsion. I would almost make that revulsion a definition of the word scientist.
...
In the interim the ClimateGate scandal broke into the news, and the machinations of the principal alarmists were revealed to the world. It was a fraud on a scale I have never seen, and I lack the words to describe its enormity. Effect on the APS position: none. None at all. This is not science; other forces are at work.- Hal Lewis"
August 2012:
Courtroom Chaos as New Zealand Skeptics Rout Government Climatists
At a stroke this case may affirm that up to one quarter of our planet's climate records have been fraudulently audited. As such this provides compelling legal ammunition to other pending/ongoing lawsuits that have arisen in the aftermath of the Climategate scandal. Immediate ramifications will be felt in Canada where popular skeptic climatologist Dr. Tim Ball is defending two vexatious libel suits against IPCC climatologists...

April 2013:
Scientists Baffled as Report Proves Global Warming Has Stopped