Article reference:
http://blog.hasslberger.com/2007/03/who_are_we_discovering_the_spi.html
Who Are We? - Discovering the Spiritual Self
"Who Are We?" - is the title of one of the books in the "Anastasia" series written by Vladimir Megre, a Russian businessman turned writer after meeting a girl in the Siberian Taiga, an area of extensive woodlands east of the Ural mountain range that divides Europe from Asia. Anastasia, through Megre's books, shares her ideas on the history of humans and on a number of subjects such our native spiritual abilities, how we should be raising our children, how we should treat the environment in which we live, and most interestingly, how it is possible today to live a life of fulfillment in close connection with Nature.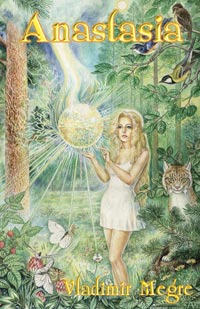 Anastasia - RingingCedars.com

Anastasia talks about the "ringing cedars", trees that have collected a large amount of cosmic energy during their centuries of existence that they must give up or end up scorched by all that accumulated charge. The second book in the series is titled "The Ringing Cedars of Russia"...
- - -
Cedar trees not only provide us with wood, they also produce tasty, nutritious seeds. The seeds are a delicacy and they yield an oil said to possess curative properties.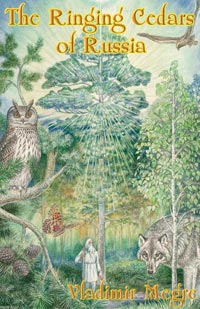 But the whole series of "Anastasia" books is really about a very particular point of view on who we humans are, where we come from and what our purpose is. "Who Are We?" is the title of the fifth book in the series.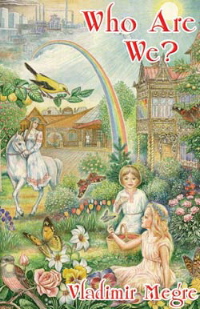 The books bring a simple but powerful message of personal spirituality not connected with and indeed not found within any of our organized religions. Their sales have long passed the 'million' mark without so much as an advertising campaign or the power of a large book publishing house behind them. A movement of those inspired by Anastasia's unusual message has sprung up in Russia, resulting in the establishment of villages of a new kind. Every family owns their 'space of love', their piece of the motherland, a hectar - roughly two-and-a-half acres - of land that is theirs exclusively. This might seem small, but it is quite adequate to serve not only as a quiet space for raising a family but also to provide most of what is needed to care for physical survival.
Groups are springing up in other countries, where translations of the Anastasia books have been made available. Needless to say, I recommend that you take a peek to see whether that is a thing you'd like to get involved in - after you read the book, or indeed the whole series...
DON'T MAKE ANY PLANS...
says Duncan Roads, the editor and publisher of NEXUS magazine. These electrifying messages will change your life forever! He adds the story of someone who came across the books by chance and got so taken he almost jumped out of his skin.
Electrifying messages... My name is Bruce Perry. When my brother was sent a copy of a book by an overseas friend, we were sitting in a coffee shop in Avalon, Sydney, Australia. He passed it across the table, open at a particular page and sat back with a smirk on his face. As I began to read the hairs on the back of my neck stood up and goose bumps rippled down my arms. I read the entire chapter without pausing or speaking. If I could describe my response in a few words, it would be something like... "Oh! My God! Of course! THAT is how it is!"

You'll be dancing with excitement...
My brother reached out to take the book back - but there was ABSOLUTELY NO WAY I was giving it back - not before I had read it from cover to cover. I got to keep it - for one night! I went home, sat on my couch and started reading. I did not move until I had read every word - actually I lie - every so often I found myself jumping up and pacing around the room in a sort of excited dance, only to sit down quickly and keep reading. It was quite late when I finished and went to bed.

Your brain starts working at a new level...
But I could not sleep. I don't think I have EVER been SO excited. As I lay there, the pennies were dropping "like craze" in my mind, links in my understanding were being made, and all that I had known, or suspected to be true, was CONFIRMED in my understanding.

And the excitement keeps growing...
Wide awake still at 3 a.m., I leapt out of my bed and jumped onto my computer. I surfed the internet well into the day, reading everything I could find about these books, the author and the responses of other readers.

Your life is more precious than you know...
That day my life changed forever. I quit my job! Never again will I waste a precious moment doing meaningless work!
This life changing book is called ... Anastasia (Ah-na-sta-SEE-ya) written by Vladimir Megre. It's the first volume of what is known as the Ringing Cedars series.
Related:
Russia to become an eco-village nation?

- - -

Far Journeys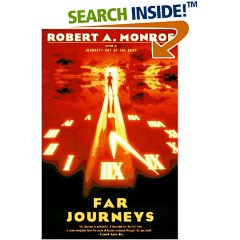 A completely different but not less interesting approach to the question of who we really are is taken by Robert A. Monroe in his "Far Journeys". Monroe has had the fortune of learning how to detach himself from the physical body and explore the world that lies beyond and in a sense 'above' the physical. What he found is absolutely stunning and has evoked - perhaps not surprisingly - a wide range of reactions from unconditional approval to complete rejection. Take a gander at the Amazon reviews on Far Journeys. It seems you either are elated or you completely reject the views and experiences beyond the physical that Monroe describes. I might add that I appreciated his book and found it added greatly to my understanding of our place in the universe.
Granted, his is a highly personal approach that will not find everyone in agreement, but Monroe is not just relating his own experiences. He founded the Monroe Institute and worked for years with volunteers starting them out on the same path.
Other books by Monroe are
Journeys Out of the Body (1989)
and
The Ultimate Journey (1996)
I might add that I have not (yet) read these, but some say they are even better than the one that fell into my hands first.
A word of advice: Only you yourself can decide who you are and what your purpose is in this world. A book might help but the final decision must be yours.
Also:If you are what's known as a 'skeptic', don't bother with either Anastasia or Monroe's Far Journeys. Chances are you'll put them down before getting to the nitty gritty. But if you are seeking, looking around to try and understand yourself and others, if you have any idea that we as individuals can actually contribute to making this world a bit better, then I highly recommend you take a look at these books. They'll probably help a great deal in your journey of discovery. If not, they will at least provide an interesting and - hopefully - amusing distraction from the humdrum of life.