Article reference:
http://blog.hasslberger.com/2007/05/atemporal_gravitation.html
A-Temporal Gravitation
Time does not have physical reality, say researchers Amrit Sorli and Dusan Klinar, all we measure with clocks are changes in matter existing in space. Space itself, they say, is a-temporal. Space-time as advocated by Einstein and Minkowski is merely a mathematical construct, it has no physical existence.
Gravitation is a property of a-temporal, quantized space. There are no 'gravity waves' that travel from one stellar body to another, gravity is a stress-condition inherent in space.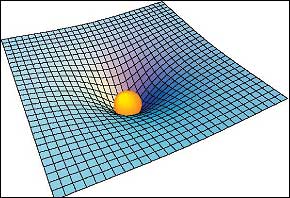 Is gravity a result of 'bent' space? - Image credit: NPR

Sorli and Klinar propose a new formula for determining the strength of gravity inside a stellar object and, as a consequence, inside black holes. They also propose a simple experiment to verify their new way of calculating gravity.
Active Galactic Nuclei, they say, re-cycle matter into space and space into matter.
Universe is an a-temporal system in permanent dynamic equilibrium - there is no beginning and no end of the universe.
by
Amrit Sorli, Dusan Klinar
Scientific Research Centre BISTRA,
Slovenski trg 6, 2250 Ptuj, Slovenia

Abstract
With clocks one measures duration of material change going on in space. This is what time is: the irreversible stream of material change in space. Space itself is a-temporal, time does not run in space on its own, it exists only as a stream of material change. Space-time exists only as a mathematical model, it does not exist as a physical reality. Space-time is a formal model in which one describes motion of material objects and elementary particles in a-temporal space. Gravity force is a result of curvature of a-temporal space that has a granular structure. Density of grains of space depends on density of mass, the higher the density of mass, the lower the density of space and the bigger the volume of grains. Bigger volume of grains causes stretching of grains that is gravity force. Gravity force is a-temporal: no time, means no material change, no motion of particle or wave is needed to transport gravity force.
See PDF of the whole article: A-Temporal Gravitation

See also another article by Sorli and Klinar:
TIME AS NUMERICAL ORDER OF MATERIAL CHANGE
Einstein and Gödel were right: time as we experience it does not exist in the universe; it exists only as a mind concept through which we experience material change in the universe. Let's see the process of experiencing material change: material change is first perceived by senses (eyes) then elaborated in time as a mind concept and finally experienced. Linear time is a "mind prism" through which we experience material change that occurs in the universe. Past, present and future are elements of time as a mind prism. In the universe there is no past, present and future.
(be patient with the less-than-perfect English of the linked version of the article...)