Article reference:
http://blog.hasslberger.com/2007/06/einstein_warped_minds_bent_tru.html
Einstein: Warped Minds, Bent Truths
Einstein's centenary has brought festivities, but also criticism. Cracks are appearing in what seemed to be Einstein's firmly cemented reputation as the most celebrated scientist of the 20th century. Nasa asks whether Einstein was wrong about space travel and aging, articles critical of Einstein such as this one on the Brojon website are appearing here and there, reduced-speed-of-light experiments brought new questions.
Evidence that Einstein may have been wrong is growing according to Joseph Rybczyk, and David de Hilster is producing a film challenging the Einstein myth.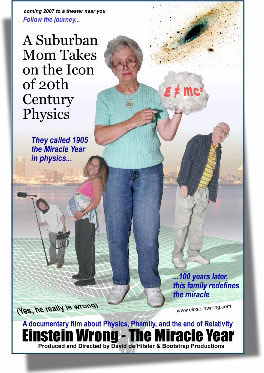 Now Norwegian researcher Bjorn Overbye joins the fray with an ironic three-part article discussing experiments that supposedly support Einstein's views. When closely examining the evidence, says Overbye, we see that that the proofs for Einstein's relativity and the solid grounding of his theory in actual physical reality may be sadly lacking...
- - -
WARPED MINDS, BENT TRUTHS
Three brief articles on Albert Einstein's rise to glory and the ugly facts that may lead to his fall from grace

Written and researched by
Dr. Bjørn J. Øverbye. Ph.D.
Box 348-N4803 Arendal, Norway
fax 00047-370 27155
"O Seeker of Truth!
Dreams of unnatural greatness
will eventually lead ye astray."

Buddhist proverb
Part. I : Anaesthetized by the Ether
How a few failed experiments put science in a stupor
A committee of scientists hailed professor Albert Einstein (1879-1955) as the most important scientist of the 20th century. Another committee of 100 humanistic thinkers and religious leaders chose Einstein's own essays on the theory of relativity as the most important humanistic work in the same century! At his death in 1955 president Dwight D. Eisenhower hailed him as the most important scientist of the century and the most humble man that ever lived, 45 years before the century was closed (1). In his lifetime he gained scientific fame for theories such as On Brownian Movements, The Photoelectric Effect, The Bose-Einstein Statistics of Thermodynamics and above all The Special (STR) and General Theory of Relativity (GTR). The Photoelectric Effect explanations awarded him a Nobel Prize in 1921. (1) Due to his inaccessible and often remote theories, Einstein became the symbol of the mystical scientist in the Ivory Tower. A gentle man, whose enigmatic looks and veiled utterances made him an ideal for scientists as well as science-fiction writers and man in the street. Yet in his lifetime there were those who doubted his greatness, and 45 years after his death, when glory seemed secure, there are those who once more feel free to doubt whether everything is all right with relativity (2). Here are some reasons why:
The Ether Controversy
The path to Einstein's mythical fame, and his eventual fall from grace, is a devious substance known as the ether. The ether was described in various works by Greek, Egyptian and Indian philosophers as early as the 5th century B.C. (3) According to their ideas, the ether was the most subtle substance in creation: the mother of all other phenomena. 5th century BC philosopher Anaxagoras also speculated that atoms are vortexes in the ether, a theory picked up 2500 years later by prodigal genius William Thompson, alias Lord Kelvin. (4)
The very reason for reviving old concepts were certain advancements in science. At the beginning of the 19th century, Faraday and Oersted had discovered electro-magnetism and by the middle of the century Dr. Hermann Helmholtz (1821-94) had proved that such forces could spread through "empty space" as waves (5). Great men of science competed to give the best explanations for these phenomena such a Michael Meyerson, Lord Kelvin and Robert Young; but the man to win the prize for the best theory was James Clark Maxwell (1821-79). In 1864 he proposed the theory of "the mechanical ether"; an invisible, ethereal substance endowed with elasticity and filled with small "idle wheels". Magnetism was pictured as vortexes in the ether, while electricity was imagined to be deformation of the vortexes and the wheels. By a continuous process of deformation and rotation, electromagnetism could be explained and expressed by four fundamental equations, known today as the Maxwell electromagnetic wave equations (5).
These equations and the picture based on the theory of the "mechanical ether" became a veritable goldmine for 19th century science: a host of phenomena found their true explanation and light was finally explained as electro-magnetic waves of ultra-short wavelengths.
Using such thinking, scientists now started to discuss the ether and three schools of thinking emerged. One was claiming the Earth traversed an immovable sea of ether, another believed the ether to be carried along with the Earth and a third believed the ether to be moving. Discussions broke out between the schools, showing a need to prove who was right, but proofs rested on technical means and no reliable mechanical instruments were available until the 1880s when professor Albert Michelson from Case University, Cleveland, built his one millionth part accurate interferometer. (6) Such an instrument could identify differences between two arriving light waves in terms of geometrical interference-patterns, that is patterns formed when beams of light hit the same spot either amplifying each other or weakening each other, depending on whether they arrive at the same time or slightly out of phase.
The whole idea was, according to the famous Michelson and Morley experiment, to send two beams of light along two different paths, equally long as measured by earthly measuring sticks. The only difference being their direction: one path along the movement of the earth through the "sea of ether", the other traversing the earth's path. By mirrors and prisms the two light beams were then made to meet at the same spot.
If those light waves travelling along the path of the earth got an extra speed through the ether sea and those traversing the path were not influenced, they would arrive at different moments, provided the ether waves we call light had different speeds in different directions. Thus the observer would see a weakening of the light as the waves arrived at different moments to create negative interference, somewhat like waves on the sea arriving out of order creating weaker waves compared to those that roll in at the same time, marching in order so to speak.

Michelson acted according to this theory, being a true believer in the static ether and his belief was that this static ether penetrated all objects, heavy and light, and would in turn influence the speed of the propagating light waves as described above.
To test this idea he set up his interferometer in the basement of the university building and tried to see if there was any difference between a light beam parallel to the movement of the Earth and one perpendicular to it. Michelson and his college Edward Morley figured that the light beam going against the movement of the Earth would be slowed down, the one going with the Earth would be speeded up, while the one traversing the direction of the movement of the Earth would be unaltered. These differences should be detectable down to one in a millionth of a wavelength of light. After just 36 measurements over a period of 3 days Michelson and Morley, declared that there were detectable differences, but not great enough to support the theory of a static ether (6).
This was later to be known as the famous "1887 Zero Result Experiment"; but was it really, and what did it prove or not prove?
Shrinking Science
Great minds were at a loss, since neither the entrained (that ether moving with the earth) nor the static ether was properly proved. In 1892 Hermann Lorentz, one of the proponents of the static ether, suggested a way to explain the zero-result-experiments. He asked what would it take in change of distance travelled by light to keep the formula for speed=distance/time constant under all conditions? The answer is a surprising formula where lengths shrink and time goes slower by the same factor. When he divided shrinking lengths by slowed down time the result was c, confirming the constancy of speed of light.
This was, however, not a mere mathematical trick to save the day; Lorentz firmly believed that physical shrinking really took place. The material "bolts and wheels explanation" was that matter consists of atoms and the radius of atoms is determined by the size of the orbit of the outer electrons; later called the Bohr Radius. When atoms of matter speed through the immutable ether, electrons experience an ether-resistance and their orbits get compressed so that they are no longer circular but elliptical, with the shorter axis in the direction of movement. The shortening of the axis is calculated by the Lorentz-formula for shrinking (5).
In practical terms, what Lorentz was saying was that Michelson's steel interferometer had experienced a minute shrinking in the direction of Earth's movement through the ether. Thus light beams travelling along this axis had a shorter way to go and since c=distance/time, c appeared to be constant since time had slowed down by the same factor as lengths had shrunk (5). Suddenly it could be explained to the moving scientist why he would measure the same speed of light as one who was floating in a stationary spaceship in the ether. But is this what was proved? Was there any truly cosmic still ether or was it entrained ether that travelled with the solar system? Or what was going on?
Later French mathematician Henry Poincare started to see things differently: maybe it was a case of how we view this world. Many baptised this viewpoint the Lorentz-Poincare Theory of Relativity.
A Patent Solution?
In 1905 a patent clerk at the Bern Office by the name Albert Einstein sent three articles to the German Annals of Physics concerning Brownian movements (movements of particles in water), the Photo-Electric effect and a third article concerning the zero-result-experiments of Michelson and Morley. The latter was to be known as the Special Theory of Relativity (STR). Einstein's theory did not bring much new into the ether discussion except for two new postulates he hoped could kill the whole ether controversy.
These were: The speed of light is a universal constant, take it or leave it. There is no such movement as absolute speed relative to an universal, resting ether, thus all movement is just a measurement of difference in speed between moving bodies. From these two initial postulates it was possible to arrive at the Lorentz transformations as a consequence of how we observe things. (7).
In 1934, when Einstein's name had become a household word, journalists became interested in how he had come upon his ideas. In traditional Einsteinian style he claimed that he did so on a purely philosophical basis, because he argued: "The theory of relativity is a fine example of the fundamental character of modern development of theoretical science. The hypotheses with which it starts, are becoming steadily more abstract and remote from existence. The theoretical physicist is compelled to be guided by purely mathematical, formal consideration for a theory, because the physical experience of the experiment cannot lift him to the highest regions of abstraction."
Later, in 1935, he changed the story in his booklet Essays on Science, and admitted that he had accepted the Lorentz transformations as the only solution to make the speed of light appear constant in the Maxwell equations to all observers, exactly as Lorentz and Poincare a few years earlier had speculated! Thus according to Whittaker: "Einstein had published a paper which set forth the Relativity Theory of Poincare and Lorentz with some amplifications, and which attracted much attention!" When being confronted with this, Einstein denied these allegations as irrelevant - but were they irrelevant? Was it possible for one interested in Lorentz' and Poincare's work not to have noticed that they had started to change the interpretation of the original equations from a real physical phenomenon to one concerning information?
Einstein in Wonderland
The Relativity Theory seemed to contradict common sense, when interpreted the Einsteinian way. Apart from making speed of light, c, a universal constant, it leads to some strange results concerning the way we experience the world when using light as a primary source of information.
Time on a moving object seems to slow down, and scientists believing the new message assumed if you put a man in a rocket and send him into the universe at sufficiently high speed, he might never grow old. But, according to Einsteinian wisdom, all movements are relative, so the man in the rocket may believe it is the Earth that is moving and he feels he is the one losing out on time. In the havoc created by such arguments, even Einstein seemed to forget his original premises: These phenomena were not real, they were apparent because all information between the two: the astronaut and the Earth was transmitted by signals going at a finite speed, c. It was not about space at all; it was about transmission of information!! (15).
In the same line of thinking, information of lengths also changed; they seemed shorter in the moving body. According to the original Lorentz interpretation they did indeed become shorter. But Einstein argued: it is only an illusory effect caused by the way we measure distances by the use of signals going at finite speed, emitted from objects moving past the observer. Being an optical illusion one would expect it to be possible to photograph; but Einstein denied this, since no one in his time had actually done so. (9)
Whereas clocks seem to tick slower and lengths seem to shrink, mass in the Relative Wonderland seems to increase and become heavier...for the observer at rest. But of course, all is relative, so the man in the spaceship will claim that it is Earthlings who get heavier. Who is putting on weight?
Of special interest are pions moving at impossible speed. Their mass is, according to calculations done by British astronomer Sir James Jean and less known Italian scientist De Pretto in 1904, exactly equal to M∙c exp(2), where M is the hypothetical mass of the photons. Later Einstein extended this idea to concern all moving bodies by ascribing them a "resting energy" of E =M∙c exp(2). When asked what was the glory of the Special Theory of Relativity, he specifically named the energy-formula. But was it his own? And can indeed all matter be transformed to pure energy?
Later when the nuclear bomb was produced, after Einstein had signed a petition for its construction, many scientists claimed to have used the E = M∙c exp(2) formula as a basis for releasing the potential energy of the atom. Or was the energy actually based on other and more complicated formulas? According to professor in chemistry C. L. Kervran, this formula can never be applied to the atomic nucleus because "...it is a mistake that matter can be transformed into energy. The statement is false, even though it is found in practically all books on nuclear physics. We know only how to use the bonding energy between nucleons (which seems to come from mesons). But matter is not transformed to energy; matter is essentially composed of protons and neutrons, and in atomic fission, the nucleons do not disappear, but are found in the fission products. If some neutrons are expelled, they are not destroyed. For matter to disappear it must be opposed by anti-matter."
Backward Thinking
In 1906 professor Hermann Minkowski (1864-1909), Einstein's old teacher, who had scornfully called him a "lazy dog" a few years earlier, presented a new idea to Einstein. If the Lorentz transformations were correct, then they presented a rotation in a four-dimensional mathematical "space" (proper term being: manifold), not to be confused with the concept space used to mean a room, nature or the cosmos. The "space" he was thinking of was not our physical "outer space", but a mathematical construct of four equally important distances that can be measured with the same yardstick: height, length, breadth and the distance travelled by light in a certain period of time (Light distance = c x seconds).
To make things clearer: mathematical space starts out with the experiences of the three dimensions of length, height and breadth when discussing space and makes then a picture of the outer space on paper and starts making formulas how to go around when measuring distances and describing objects located in this paper-space that is an abstract of real space. It is all paperwork where the paper-world corresponds to the experiences we have in the real world.
In this paper-world we deal with known topics such as distance, movement, volumes, shapes, surfaces etc. and established formulas or rather rules how to express these tangible magnitudes known to our senses.
It is all "a piece of cake" even when math goes sour, because real life is there as a reference. But what if we go beyond the premises of our concepts and say for argument's sake only: let us add another dimension, another measurable yardstick to our three dimensions and make it 4D: length, breadth, height plus "something else". This something else can be measured with the same yardstick as the three others, but what is it??
In real life there is nothing compared to it, it is a mental construct. But we can apply the same rules to 4D as to 3D, and play with ideas: in 3D.
To make things easy on mathematics, one uses a system of measurements of speeds where the speed of light is equal to unity (c=1) and all other speeds are presented as a percentage of c (v' = v/c). Miraculously you seem to have created "space-time" by forgetting that c just a few minutes ago was measured in kilometres per second and now appears as unity: 1. So beware, it is not space-time after all, it is space-light-distance and nothing but a simple paper-world suited for easy calculations (9,12).

It is in such a paper-world that all movements appear to spread out nicely as time-space paths; one can backtrack to gain knowledge of the "past". Few scientists were happy about this and still fewer understood the use for it. Michelson admitted openly that he did not grasp the meaning of the new ideas.
A young Swiss scientist Walter Ritz did! Being a specialist in optics and interferometry, he offered to restore some sanity. He claimed that if we assume that all radiation loses some energy, as it traverses space, this could explain a vast majority of phenomena; explain the Michelson - Morley Zero Result experiments; save Newton from embarrassment and bury Einstein's theoretical fundament. Because as Einstein admitted in later years, his two postulates were insufficient to support his STR, one had to assume two other postulates not presented in 1905: All information transmitted by radiation must be reversible, paving the way for backward time. Space must bear no impression of what was going on; the world must be without memory!
If radiations, however, are an irreversible process, as Ritz argues, time becomes irreversible and knowledge of real space depends on direction. Thus, if some history of events is lost forever and our world becomes inhomogeneous (an-isotropy), the rug is pulled from under the Einsteinian thought-world (10).
Einstein, who by his admirers was regarded as a genius, could find no good counter arguments to defend his theory against these arguments and somewhat lamely accepted Ritz' criticism, but without changing his own theories. In 1909 Walter Ritz died, and Einstein and the believers in the "new physics" were all too eager to forget his name and the embarrassment he had created.
Many years later as Quantum Physics came of age, proponents of this new atom theory admitted that Ritz' ideas were 100% in accord with quantum physics; Einstein's were not: Time is irreversible and tomorrow will forever be different from today. But in the paper world of Einstein these facts were only regarded as "ugly trees" in the garden of "pure marble" (12). And moreover: If Einsteinians were to have been believed they could have found the Holy Grail: making perpetual creation out of a limited amount of matter!
Afraid of Vertigo
As Einstein's theories gained foothold with the younger generation of believers in the "new physics", Einsteinian fame increased steadily and the ether scientists seemed to die out accordingly. But in 1913 French scientist Georges Sagnac took Einstein's second postulate to the slaughter bench by mounting an interferometer on a spinning disk and proving that there was a definite difference between light going with or against the direction of rotation. This difference could be easily explained by using old-time Newtonian arguments that speed of light changes according to direction rotation (12).
This not only killed the second postulate, it killed the whole of STR. Again Einstein ran short of arguments and was once more unable to defend himself. Instead of dissecting Sagnac's mathematical analysis, he just sent a "short note" stating that the whole phenomenon was due to a "Doppler Effect" (Change of frequency due to movement of the source)! (12). For the moment Einstein thought he had saved his reputation, but all he had done was to prove his own incompetence. When Michelson and Gale repeated the Sagnac experiment, using the spinning Earth as their laboratory as late as 1925, results once more confirmed rotation as an absolute type of movement. Einstein, who was by then a Nobel Laureate, did not do anything to save the sacredness of his postulates (6).
But Sagnac and later Michelson and Gale had actually proved nothing new that Einstein ought to be confused about! They had just proved what Galileo and Copernicus had claimed 300 years earlier: rotation is not relative movement; it is absolute. By simple means any man on a spinning planet can realize that his world is going round, utilizing simple means as those used by Jean Bernard Leon Foucault in 1854. Using a simple pendulum suspended from the ceiling of the Pantheon anyone living in Paris could observe how the rotation of the Earth made the pendulum perform strange patterns in sand on the floor. Thus claiming that the Earth is spinning and the heavens are still, is by no means identical to holding on to the belief that the heavens spin and the Earth is at rest. Unknowingly, as incredible as it may seem, Einstein had claimed exactly this, reviving the cosmology of Ptolemy from the 1st century AC. Maybe he had been in a rush creating his theory? (13)
Later when he made his famous theories of the universe after publishing his General Theory of Relativity in 1916, Einstein still refused to accept that galaxies were spinning. He claimed it counteracted his second postulate in the STR. Sadly for common sense all astronomers by 1916 knew that galaxies were spinning (14).
Years after Einstein's death, decision is still in favour of Sagnac and the absolute nature of rotation. When satellite clocks are synchronized, corrections are made using speed of light either greater or less than c (15). And today spaceships, satellites and airplanes all carry Laser-ring-gyroscopes that use the non-relativistic Sagnac effect to tell the speed between the plane and the rotating Earth, with accuracies down to nanoseconds (15)

References:
1. Beckhard, A. Albert Einstein. Ernst G Mortens Publ., Oslo,1962
2. Aspden, H. Physics lectures 1-24.
3. De Lucia, Dan "Ether and Prana", in the Puranas and Gita.
4. Naess, A. Textbook of philosophy, Universitetsforlaget, Oslo, 1970
5. Berkson, W. Fields of Forces, Rutledge & Keegan Paul, London, 1974.
6. Michelson, A. A. Studies in Optics, Phoenix books, Chicago, 1962
7. Einstein A. "Zur Elektrodynamik der bewegten Körper" (About the Electro-dynamics of moving bodies). Annalen der Physik, 1905,17,891-21.
8. Sir James Jenas og E= Mc, finn dette.**
9. Bohm, D. Special Theory of Relativity. W. A. Benjamin Inc. NY, 1962
10. Ritz, W. Ann Chim Phys.1908, 13,145 *
11. Ritz, W. "Einstein" A. Phys. Zeitschrift 1909,10,323.
12. Kaku, M. Hyperspace. Oxford University press, Oxford 1994.
13. Ptolemy and the Earth as Centre of the Universe.
14. Kittel, C. et al. Mechanics. Berkeley Physics course-vol.1, Mac Grew Hill, NY, 1965
15. Kelly, A. "Special Theory, Right or Wrong?" Electronic World, 2000, September 722-23.
- - -
Part II: Gravity Taken Lightly
How Gravitation taught men to bend the Truth

Having succeeded in killing the ether by creating the science of subjective, physical measurements, known as the Special Theory of Relativity, Einstein set out to explain everything beyond the atomic scale. Once more he wanted to build theory on postulates and geometry, but instead of creating clarity in the mind of men, he paved the way for scientific mysticism and many regard the General Theory of Relativity as more relevant for creating Startrek graphics than explaining mundane phenomena such as how to reach Mars by spaceship.
Falling from Rooftops
Feeling safe that the STR and Minkowski-space were the key to higher truths, Einstein set out to explain accelerated movements; the behaviour of bodies changing their speed as time passes. According to Einsteinian mythology, Einstein one day read in the local newspaper the story of a man who fell from a rooftop and after painfully reaching ground he declared he had experienced a wonderful feeling of weightlessness. Einstein took it to be a revelation.
If accelerating with the same change of speed caused by gravitation cancels out gravitation achieving weightlessness, could it be that accelerating upwards will cause a feeling of weight undistinguishable from gravitation? (16) In a so-called Gedankenexperiment (thought experiment) Einstein pictured an ignorant man, enclosed in a lift, with no previous knowledge of this world. When the lift starts to accelerate he feels an extra force on his body, but not knowing it is acceleration, he believes his increased weight must be due to a gravitational field.
This gave birth to the postulates of the new general theory: Gravitation is undistinguish-able from any accelerating, mechanical force in nature. Gravitation works on bodies due to their mass, not due to their nature. Everything not gravitational will obey the Special Theory of Relativity (17). However, there are flaws to the argument obvious to even a high-school student: Mechanically accelerated movements demand some source of energy. No source of energy is infinite. Thus all mechanical forces will eventually be used up and acceleration will come to an end. Gravitational pull, on the contrary, never comes to an end. If we give our stupid man in the elevator a clock and ask him to observe his forces as a product of time, their dwindling off will make him realize the fallacy of the first postulate. (17)
Even the second postulate could have been somewhat premature. In Einstein's own time, with all the possibility of correcting his mistakes, American inventor T Townsend Brown proved that electrically charged objects become lighter in a gravitational field free from other electrostatic forces (18). Later, after Einstein's own death, other experimentations achieved even better results, like E. Podkletnov who achieved a 2% reduction of gravitation by using a spinning circular, magnetically charged disk, lifting inert, non-magnetic objects (19)
Thus it is not altogether unimportant what is the nature of an object in a gravitational field. For latter day UFO-believers these phenomena are common knowledge: alien spacecraft counteract gravitation force by means of highly intense, pulsating and rotating electromagnetic fields. Even governmental agencies and scientists working with the UFO problem now take this for granted (19).
When it comes to the STR we have already seen that it is shattered by experiments known to Einstein when working on the GTR, showing that not all movements are relative: There are indeed simple means to state whether you are moving or at rest. There are absolute frames of reference as proved by Sagnac and later experiments of the same type.
Thus Einstein set out to build a new theory on unsecured ground, with postulates that were either disproved or not yet proved at all. And even stranger: The postulates in the GTR and the STR have no inherent logic or connection: the two theories are simply two altogether different theories, not two versions of one theory, as claimed!!
Curving Paper
Perhaps unaware of these objections, Einstein set out to create a geometrical theory of gravitation, claiming he was extending his STR to a new domain. The grand idea was based on professor Hermann Minkowski's observation that four dimensional space-time is a mathematical manifold, where accelerated movements will follow a curved path in the four-dimensional paper world. But instead of making curved paths on paper, why not curve the paper instead and let accelerated objects follow the shortest path between two points (geodesic) in the curved world?
The reason for this seemingly advanced mathematical trick was not to gain better knowledge of the forces involved; it was the desire to pursue an old German dream: the forces of nature expressed as geometrical equations. Contrary to popular belief, this idea did not stem from Einstein; two German mathematicians presented it more than 70 years earlier. One was Carl Friedrich Gauss who introduced the idea of multi-dimensional "spaces"; the other was one of the really great mathematical geniuses of all ages, Hermann Riemann (1826-66) who developed the complete mathematical tools and concepts for curved multi-dimensional "spaces". In 1854 Riemann put forth a complete draft for a theory of gravitation transforming Newton's laws of forces into a geometrical description of geodesic movements in curved spaces. (12,20). But even doing so, Riemann never meant to counteract Newton's discoveries, he only wanted to create some geometrical beauty.
According to his biographers, Einstein knew nothing of Gauss' and Riemann's works. It was assumed that his ideas only came from Minkowski, who for sure knew of them. Unfortunately for Einstein, Minkowski died of peritonitis in 1909, just a few months after having given Einstein these new ideas, so Einstein had to ask his friend Michael Grossmann what they were all about (16). Later, in 1921, Ebenezer Cunningham wrote an article on the subject in the February issue of "Nature" stating: "no one knows if he (Einstein) would ever have reached so far without the genius of Minkowski..."
Today, Grossman's work is called the mathematical formalism of GTR. But it may be worth remembering that the formalism was not all due to the Minkowski-Grossmann-Einstein "team" as we would say today. Another well-known contender had entered the scene with the same theory: mathematician David Hilbert. On 20 November 1915 he presented the full concept in Göttingen; five days later Einstein presented his paper at the Prussian Academy (21). Later Einstein accused Hilbert of having stolen his ideas when he had visited him ... but had he really? Had they not all "stolen" a little from previous geniuses, and thrown in some of their own? Isn't this what all theoretical speculations are about, when you are not in a secluded laboratory making your own discoveries?
As is soon to be proved, professional peeking and borrowing was not such an uncommon deed after all. And who then deserves the glory - one or many?

Mercurial Feats
According to the 64 pages long paper on the mathematical formalism for gravity in four-dimensional "space-time" published in the Annalen in 1916, three consequences could be deduced. The orbits of a small planet close to a central, perfectly spherical Sun; larger planets far from the Sun seemed mathematically impossible to solve. Bending of light as it passed a very heavy object (e.g. the Sun) and red shift of light in a strong gravitational field (Reduction of the frequency of light). These were the so-called "classical tests".
Einstein claimed innocently that he had no knowledge or intention to solve such problems, they magically "popped out of his formalism" as a gift to science, keeping to his message of a lofty science remote from mundane life, that once in a while blesses practical life with unforeseen gifts.
But all these "classical tests" had some strange déja vu to them, as the informed were soon to discover. The first of the tests concerned the most ready candidate, the strange orbit of Mercury, the closest planet to our assumedly spherical Sun (2). This orbit shifts its perihelion (closest approach to the Sun) with ca. 574 arch-seconds per 100 years. Using old style Newtonian calculations, 43.5 seconds were left to be explained. As by a gift from God, Einstein's GTR explained 43 seconds.
To achieve such feats Einstein used a method called "classical approximation". He assumed that the GTR must produce classical equations if gravitational fields are "weak", and some new equations applied when gravitation is strong. But when it came to the equations expressing Mercury's orbit, there was something strange. They not only popped out of the GTR formalism, they resembled perfectly to the most minute detail the equations of another German; those of the schoolteacher Paul Gerber who had published them 18 years earlier. His equations were based on the assumption that the gravitational forces spread with a finite speed, c, and that their interaction with bodies depended on their speed (23).
Physicist Ernst Gherkin who had previously criticized Einstein in 1911, brought the whole affair into public view as soon as he had read the GTR and he not only said Einstein had been inspired by Gerber's non-relativistic equations, but accused him of outright forgery. Once more the same strange situation repeated itself, as had happened on previous occasions when someone criticised Einstein: he ran out of arguments. Not until 4 years later did Einstein comment upon the accusations by stating that: "the experts are not only in agreement that Gerber's derivations are wrong through and through, but also that the formula cannot be obtained, as a consequence of the main assumptions of Gerber! Gerber's work is therefore completely useless, an unsuccessful and erroneous attempt." (24)
As one digs into the matter one is compelled to ask: How can a set of equations that successfully describe the perihelion of Mercury be useless, erroneous and unsuccessful? And how can the same equations when they appear in the GTR suddenly become a stroke of genius? Furthermore, if Einstein was such a genius; why did he not explain what was wrong with Gerber's line of thinking, why did he have to wait for four years and let others defend him? And why didn't the defenders explain what was wrong except for accusations like: "He copied things which had long been known to every worker in the field ..."? (25)
For those who feel this may be enough of negative criticism, more dubious events were to materialize.
Starry-eyed Professors!
The second "classical test " was the bending of light from distant stars as they pass a massive object like the Sun. The argument depended on light having some "mass" that makes gravitational attraction between photons and a massive object like our Sun. As one may remember, photons have a mass defined by m = E/c. When this is put into the Newtonian equations, deviation from the straight line can be calculated.
This was done even before there was any E = Mc, by German astronomer Johan von Solden as early as 1801. According to these calculations based on the photon theory there should be a deflection of 0.84 seconds for light beams passing very close to the Sun. This number was to be known as the Newtonian calculations and was later heavily attacked by Einstein and his friends. But then again: Solden did not know of the correct E = Mc formula because Maxwell had not even been born ... and nobody at that time had any remote idea of the mass of the Sun. It was more an idea, rather than physical reality.
Those who liked to attack Gerber, later used his formulas to calculate that light should be bent by approximately 2,5 seconds, while according to Einstein's GTR the formula could lead to 1.75 seconds deflection, depending on some factors of variable nature. The difference between Einstein and the older theories was that Einstein's GTR explained bending as a "curved space-time effect" (26).
Not too many took this calculation too seriously; but at least one man did: professor Arthur Eddington of Oxford, who according to professor Chandrasekar: "was so confident of the correctness of the theory that, if left to himself, he would not have planned to go on the eclipse expedition (to measure the deflection of the light of stars as they passed the darkened Sun)" (27).
Considering this a priori certainty called biased judgement; could one expect the results to be impartial?
In 1919 Oxford University sent out two expeditions to photograph the eclipse of May 29. One went to Sobral in Brazil, another one, led by professor Eddington, went to the island of Principe, in the Gulf of Guinea, West Africa. Both expeditions carried identical equipment: a telescope of 343 cm focal length, photographic equipment and mirrors for making indirect photographs of the Sun (27). This information is of vital importance, since the resolution of the equipment is on the order of 2-3 seconds of arc.
On the day of the eclipse Sobral had excellent weather, Principe had not. At Principe there was cloudy weather, the moist ocean air made the stars quiver, jump and shift place; almost like watching them through turbulent water. At Sobral, the heat of the day caused some optical distortions.
So what were the results? Today it is a sad historical fact that a few usable but badly distorted photographic images obtained at Principe were used as "the evidence". As Eddington himself complained, only two photographic plates were found useful: but the stars were poorly distributed and scattered at various distances from the Sun and not close to it, as the theory demanded. Despite these problems, Eddington was able beyond belief, to measure less than 0.01 mm differences between photographs taken during the eclipse and plates taken later back in Oxford for comparison. This was assumed to be equivalent to a 1,63 second deflection of starlight ... according to Eddington. The GTR was finally verified, and the press was jubilant; a new century was born. According to the New York Times on November 19 the same year: "The Eclipse showed gravity variation - Diversion of light ray accepted as affecting Newton's principle, hailed as epoch making! Scientists call the discovery one of the greatest human achievements".
The scientist referred to was none other than the one making the headlines: Arthur Eddington, later to become knighted for his efforts.
But was it really one of the greatest human achievements? How could one be so sure when accuracy of the photographic equipment was less than that needed for making the calculations? And worse for truth if it exists: According to the far better results obtained at Sobral, where humidity and clouds were not the problem; results were in favour of Newton's calculations!
Eddington solved this embarrassing problem by referring to these photographs as merely being used for checking the Principe results - embarrassment was avoided. Einstein was later to call this event one of his finest hours!
Many astronomers, believing the message from Principe, wanted to partake in the glory and tried to repeat the success during subsequent eclipses. Strangely, stars did not appear where they should and as late as 1931 when success was established abroad, professor Erwin Freundlicher reported to the Physics Association of Berlin, loudly lamenting: "...they had left out of consideration the observations that did not fit in with the results that they wanted to [obtain]". Einstein, now being a target of anti-Semitism in Germany, felt for the sting of swastika-infected attacks but seemed strangely immune to criticism, or were such allegations just anti-Jewish criticism? (28)
Probably not: Even the so-called Red Shift in light-rays passing a strong gravitational field of the Sun could not be confirmed, although the predicted value exceeded 100 times the accuracy of present-day interferometers. According to Thompson: "if the red shift remains unproven as at present, the whole theory collapses, and the phenomenon just observed by astronomers (at Principe) remains a fact awaiting to be accounted for in a different way". This was written in 1919. 80 years later, scientists agree that any red shift observed is not explained by the GTR, but believers firmly claim the theory to be valid for light bending ... or was something else than light being bent back then? (16,27) Perhaps the truth?
Despite such minor troubles, on 19 November 1919, Einstein was literally canonized at the Royal Astronomical Society in London. The Devil's Advocate at the occasion, Professor Silberstein, was not allowed to raise any relevant criticism until after the ceremony was over, when criticism was no longer of interest to the jubilant congregation (27). Just like the GTR's success was based on a priori assumptions, so was glorification of the same theory, according to those present. But they could see nothing wrong with the procedure.
References
16. Gribbin, Jinn Search of the edge of time. Black Swan, London, 1993.
17. Paul, Davis The New Physics. Cambridge University Press, Cambridge, 1996.
18. Brown, T. A. T. "How I control Gravity", Science and Invention, August 29.
19. Mattews, R. "Sample T. Breakthrough as Scientists beat Gravity". The Sunday Telegraph, 1996, Sept. 1, 3.
20. Good, T. Alien Base. Century, London, 1995.
21. Willmore, T. J. Differential Geometry, Claredon Press, Oxford, 1958
22. Einstein, A. Annalen der Physik 1916.
23. Aspden, H. Physics lectures 1-24.
24. ibid
25. Mac Causland, I. Anomalies in the history of Relativity. Department of Electrical and Computer Engineering, University of Toronto, Toronto, 2000.
26. http://www-groups.dcs.st-and.ac.uk/~history/Mathematicians/Einstein.html
27. Mac Causland I. Anomalies in the history of Relativity. Department of Electrical and Computer Engineering, University of Toronto, Toronto, 2000.
28. Fort, C. H. Wild Talents. Holt Company, NY, 1934.
- - -
Part III: Mystic Aftermath
How Einstein's theories gave birth to a new wave of mysticism
Having succeeded in influencing some of the most brilliant minds of his time, Einstein's fame started to snowball and the Theories of Relativity were applied to all sorts of phenomena, even those Einstein himself had not meant them to explain. Instead of making this world appear more logical and sane, highly advanced mathematical arguments created an unintelligible universe that seemed only to be understood by a small elite who contributed little to the sanity of science. Science turned from useful work to the rebirth of modern day alchemy.
Embarrassing Ghosts
By the beginning of the twenties, Einstein's fame was established and professor Eddington was to become knighted for the "finest hour of his life". Back in Germany, the swastika raised its ugly head and rallies were raised against Jewish science in an effort to establish a pure arena of thinking. Einstein's lectures were disrupted by demonstrators (29). Einstein complained that he would not have been criticised "... If I had been a German nationalist with or without a swastika, instead of a Jew with liberal international convictions."
In 1921 he was awarded the Nobel Prize ... not for the Theories of Relativity, but for the more simple theory of the photo-electric effect. Einstein, now being famous, waited until 1922 to fetch the prize, being more occupied with a world tour, lecturing his ideas to laymen and scientists, much in the style of present day media-stars.
Despite much German criticism and some bad reputation back in Germany, that finally made him emigrate to the USA, the worst problems seemed to build up in his new country. Just as everybody was convinced that the ether was dead and buried, a professor named Dayton Miller at Case University, in which basement Michelson had once set up his interferometer, decided to take the ether to a final test.
He had built an enormous interferometer where light was made to go 210 feet before reaching the optical measuring instruments. This new apparatus was three times as sensitive as the famous "zero-effect instrument", once tested in the basement of the university.
Miller was convinced that the "nearly-zero-effect measurements" of Michelson and Morley were due to its placement in the basement. He assumed that if there was indeed ether it could not penetrate heavy objects and that it would be more felt in free space and at higher altitudes, an idea also shared by the aging Michelson (30). So to test his hypothesis he put the instrument to work at sea level and later at the heights of Mount Wilson, only covered by a light canvas that should be easily penetrable to the devious ether winds.
To ward off all critics, Miller made various control experiments by exposing the instrument to unnatural heat, to observe how various temperatures would influence the readings.
His experiments did not confine themselves to a mere 36 rotations as Michelson had done, he made a staggering 200 000 measurements, covering various altitudes, various dates of the year, various hours of the day and various astronomical directions relative to the Earth's movement in its orbit. And he found statistically important results!
Over a period of 7 years (1920-26) he discovered: "a very striking consistency of the measurements' principal characteristics ... for azimuth and magnitude, as though they were related to a common cause. The observed effects are dependent on sidereal time and are indeed independent of diurnal and seasonal changes of temperature and other terrestrial causes, and this is a cosmic phenomenon". (31)
The final conclusion after 200 000 precise observations was: the Earth is moving at a speed of 208 km/second towards the apex in the Southern Celestial hemisphere, towards the Dorado; the Sword Fish constellation. This is based on the assumption that the Earth pushes through a stationary ether in that direction. Another and also plausible conclusion would be that the solar system is being met by a moving ether in the opposite direction, like a huge, cosmic jet-stream rushing towards the stationary solar system (remember: some movements are indeed relative, so these conclusions are equivalent). (32)
What did Einstein have to say to these experiments, since he himself never had touched an interferometer? He only accused Miller of being the victim of 'effects of effects', without going into any explanation why it should be so, not wanting to give Miller any credit for having produced 199 964 readings more than Michelson and Morley, which he believed without any objections. Miller naturally was hurt and replied: "The problem with professor Einstein is that he knows nothing about my results ... He ought to give me credit for knowing the different effects that would affect the results. He wrote in November 1926 suggesting this. I am not as simple as to make no allowance for effects!" (33)
And later, when the debate did not die out and Einstein could not defeat Miller's arguments he did the same as he had done to Gerber: He let others speak for him. This time he was defended by scientist Shankland and his associates who after several consultations set out to what is at best called a defamation of Miller. In their analysis of the data they picked those that showed no variation and of those data where there were variations, they picked only the temperature control data. Thus the so-called "Shankland Papers" concluded that any deviation Miller had found was due to temperature differences (34).
Thus Shankland was allowed to make his speech for the jury when the accused was no longer present to defend his case. Unlucky for historical records, the accused's attorney arrived too late to make any impression on "the educated public", only the "underground" was impressed and with little possibilities of reopening the case. (34)

The Coming of Superman
Encouraged by the enthusiastic and even religious reception of the strange and utterly incomprehensible GTR, Einstein now emerged as a sort of scientific Messiah to the post-war period. As dark clouds gathered over Europe and German Nazism started to evoke sinister images, Einsteinian wisdom came as a ray of light to a dark world. 40 years later, when World War II was over, two unknown writers, Jacque Powles and Louis Bergier wrote a trend-setting book, Dawn of Magic (34) wherein the pre-war area is pictured as a frenetic search for secret knowledge and supermen. There were the Rosicrucians, the sinister secret semi-religious Nazi lodges, Freemasonry, Alchemy, and then there was Einstein!
He is pictured in the book as the well-known mystical scientist; dressed in shabby clothes, his white hair like an aura around his head, smiling as he sits in front of a blackboard filled with advanced mathematics. The book asks us to believe: This man is one of a selected group of supermen who can see into different realities. He is the scientist in the Ivory Tower.
And who was more eager than Einstein to promote the myth in his own time? According to Time Magazine "...Einstein himself had warned his publishers there were not more than twelve people in the whole world who could understand his theory." (37)
Professor Hannes Alfven later complained: "The people were told that only Einstein and a few geniuses that were able to think in four dimensions, could understand the true nature of the physical world. Science was something to believe in, not something that should be understood. Soon the bestsellers among popular science books became those that presented scientific results as an insult to common sense." (37)
In Michio Kaku's book Hyperspace, illustrations show Einstein doing exactly what professor Alfven complains about: looking into multidimensional spaces and explaining to the uninitiated the complicated nature of hyperspace; the moniker for "spaces" with more than three "dimensions". But even believers had to admit the problem: "How do we see the fourth dimension? The problem is, we can't." Higher dimensions are impossible to visualize; so it is futile even to try.... Even experienced mathematicians and theoretical physicists who have worked with higher dimensional space for years, admit that they cannot visualize them! Instead, they retreat into the world of mathematical equations. Except for Einstein himself, of course (38).
So for the time being, they had superman and the scientist in one and the same person and a myth was created. Charles Fort in Wild Talents complains: "Einstein was said to be useful, and in California, schoolchildren dressed in white sang unto him kindred intelligibilities. In New York, mounted policemen roughly held crowds back from him, just as he, to make a system of thoughts, had clubbed many astronomical data into insensibility. He had taken note in his system of thoughts of the irregularities of the planet Mercury, but had left out the irregularities of the planet Venus. Crowds took him into their holiday-making, but omitted asking what it was all about." (28)
And Superman himself: "After mathematicians have started to work on the theory, I cannot understand it any more, either." (39). Had he become the unwilling front figure of a movement whose message he could no longer grasp? If so, why did he not abandon it?
Shrinking Space
Despite problems like the GTR getting out of hand even for its creator, Einstein set out on his next project worthy of a Titan. He wanted to use relativity to create a new theory for not only Mercurial orbits and bent light; it was going to encompass the whole universe (39). But there were some minor problems, like: No one knew the size of the universe. No one knew the total mass of all stars in the universe. No one knew how matter was distributed. No one knew of magnetic forces, of dust, of intergalactic ice, of the number of solar systems, of ages of stars ... of anything but the fact that the number of stars seemed rather "infinite".
But for Einstein and latter day theoretical scientists, such problems were minor obstacles. So Einstein assumed that all matter was distributed evenly in the universe, and that there were no rotations in space. That everything was either still or moving in nice, linear paths. By assuming such unproven facts Einstein was soon to proclaim that his calculations had showed that the universe is a closed space-time world of finite size. He estimated its age to be a few hundred million years, forgetting that the solar system is estimated to be some billions of years old. (37) By a stroke of magic Einstein had shrunk the universe!
Since all matter is evenly distributed and gravitation is working between stars, planets and galaxies, why didn't this orderly blob of creation collapse? Einstein firmly rejected the idea of a rotating universe where centrifugal forces will drive stars and galaxies apart for reasons of principle, although it was known by 1919 that the universe is not homogenous and indeed parts of it seem to rotate. The reasons why: The first postulate of the STR that all movements are relative. Believing in rotating galaxies was, according to Einstein, to give rotation an absolute status. Just like Sagnac before.
The case went so far that relativists by the mid 20s asked Michelson to perform the Sagnac experiments all over, using the spinning Earth as the rotating laboratory. Michelson complained that all they would achieve was to prove that the Earth was spinning, nothing more (6). And so it was, and yet Einstein refused to accept rotation!

According to Eric J. Lerner, Einstein's stubborn rejection of facts had a profound impact on cosmology at that time and is still haunting astrophysi