Article reference:
http://blog.hasslberger.com/2007/06/water_vortex_drives_power_plan.html
Water Vortex Drives Power Plant
In a fairly radical departure from the principles that normally govern hydroelectric power generation, Austrian engineer Franz Zotlöterer has constructed a low-head power plant that makes use of the kinetic energy inherent in an artificially induced vortex. The water's vortex energy is collected by a slow moving, large-surface water wheel, making the power station transparent to fish - there are no large pressure differences built up, as happens in normal turbines.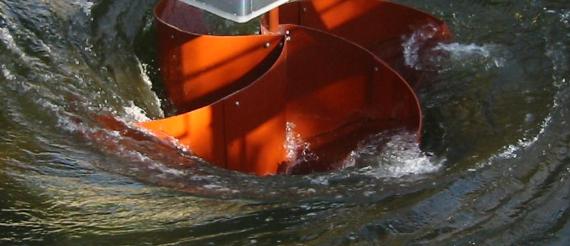 Special turbine collecting vortex energy - Image: zotloeterer.com.

The aspect of the power plant reminds a bit of an upside-down snail - through a large, straight inlet the water enters tangentially into a round basin, forming a powerful vortex, which finds its outlet at the center bottom of the shallow basin. The turbine does not work on pressure differential but on the dynamic force of the vortex. Not only does this power plant produce a useful output of electricity, it also aerates the water in a gentle way. Indeed, the inventor was looking for an efficient way to aerate the water of a small stream as he hit upon this smart idea of a plant that not only gives air to the medium but also takes from it some of the kinetic energy that is always inherent in a stream.
Of course the use of water vortices has been pioneered by another Austrian - Viktor Schauberger, who was also known as the "water wizard". He floated hard-to transport heavy logs from remote regions of the Austrian forests, not accessible at the time by streets, to where they would be milled and processed. The feat was accomplished by carefully regulating the water's temperature and by inducing a rolling, longitudinal vortex motion in the water.
At one point, Schauberger took out a patent on a turbine he invented, that made use of vortex dynamics. An article about that turbine of Schauberger's which I wrote way back in the 90s can be found here. The turbine wheel was designed in the form of a cone with a cork screw pattern, and it was fast running. Quite different from the turbine of Zotlöterer which is optimized for aerating the water, rather than for production of power.
Still, Zotlöterer's results are quite respectable. The cost of construction for his plant was half that of a conventional hydroelectric installation of similar yield and the environmental impact is positive, instead of negative.
- - -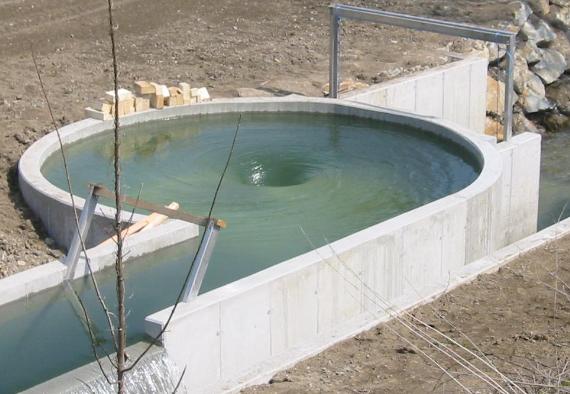 Inlet with overflow and vortex basin during construction - Image: zotloeterer.com.

The diameter of the vortex basin is 5 meters.
The head - difference between the two water levels - is 1,6 meters.
The turbine produced 50.000 kWh in its first year of operation.
Construction cost was 57.000 Euro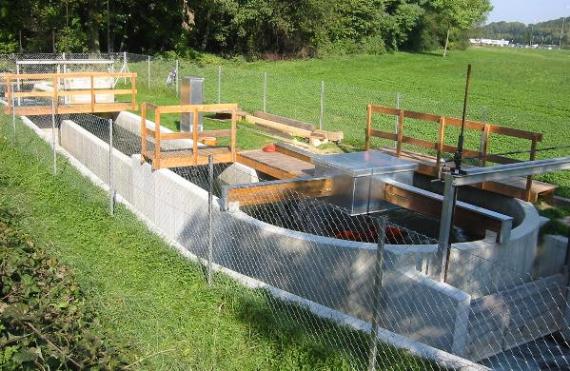 The complete installation - IImage: zotloeterer.com.
- - -
More information in this article on the treehugger site:
Gravitational Vortex Power Plant is Safe for Fish
and on Zotlöterer's site: http://www.zotloeterer.com/
Neue Wege im Wasserbau - Wasserwirbeltechnik
And here is an interview Sterling Allen did with the inventor, from which you can glean some more details of construction:
Interview - Franz Zotlöterer - Zotloterer Gravitational Vortex Power Plant - low-head power plant that makes use of the kinetic energy inherent in an artificially induced vortex. The plant can be installed with a water drop as little as 0,7 meters.
- - -
I have long been partial to vortex-based technology. Here are two of my early articles on use of this technology in a hydroelectric power context.
Understanding Water Power
Herbrand, an electrical engineer in Germany, relates a story from his youth about a turbine installed at the Rheinfelden power plant (on the Rhine river, not far downstream from Lake Konstanz) that was much more efficient than other equipment before and even after it. The article explores a possible solution to the riddle.
Dynamic Hydropower
Another article on water power, analysing the principle of the use of the dynamic forces inherent in flowing water, which is an important component of the total energy obtainable from the downstream flow of water. An important recognition expressed in the article is the fact that vortices are able to give direction to normally chaotic thermal energy and thus convert it into motion, into a dynamic force, a concept pioneered by Viktor Schauberger.

See also related:

Found on an Italian blog (90mila kWh da un vortice d'acqua) - a video about a plant that has been inaugurated in Switzerland...
Water Vortex Power Plant Debuts in Switzerland

The Energy Tower
This invention by a Swedish engineer transfers the principle of the water vortex on its head to use air as a working medium - neat.
"Air hitting Energytower is led into it and accelerates as the tower's inner radius decreases. Inside the tower, a vertical-axed three-blade rotor starts to rotate. The accelerated air increases pressure and temperature along the inner walls of the tower, generating a relative pressure drop in the middle of the tower - the eye of the tornado. The pressure gap creates a chimney effect in the tower which also adds to the rotation of the rotor. The low pressure in the middle of the whirl enables a fast release of air from the tower whereby new air can be taken in."

Harnessing river whirlpools puts energy on tap
Whirlpools created by currents as they flow over obstacles are powerful enough to tear apart bridges and offshore rigs. So why not use them as a source of renewable power?
Now researchers led by Michael Bernitsas at the University of Michigan, Ann Arbor, are preparing for the first outdoor trials of a technology that makes use of the slow-moving currents down rivers and across the ocean.
So research on using river whirlpools is starting. Interesting. Perhaps someone trying to advance this particular technology. The article is in New Scientist, unfortunately only accessible to subscribers. If anyone knows of an alternate link, please tell.

Bucket-borne hydroelectric generator
Pico Hydroelectric Generator in 5 gallon bucket developed by Sam Redfield and tested at La Florida in Guatemala. The generator is meant to be a very small, cheap, low impact generator designed to be used with existing gravity fed irrigation, fresh water, or waste water systems.
This isn't utilizing vortex dynamics, but it's simple and cheap. - Sepp

River flow and tidal water pressure pump
David Matos de Matos writes:
I designed and am in the process of prototyping one cylinder/piston pressure multiplier River flow water pump.
It is a submersed water pump for river flows working only with the river flow.
We can fabricate simple machines in Angola, and cylinder/pistons assembly is easy.
Two cylinders, one with 1 meter diameter and the other 0.2 m/diameter. Pistons are on the same shaft. Area ratio is of 25 X. Pressure ratio of 25X.
The bigger cylinder has a diffuser of a diameter of 1.5 meter on both ends and is open on both sides.
When we submerse it in the river flow, the water flows in and pushes the piston. On the other end of the cylinder the water flows out in the direction of the river flow.
It is a shrouded cylinder with a diffuser and two half diffusers, like impellers to move the system around.
The piston pushes the second piston, in a closed cylinder (0,2m/d) and pressures water. The inlets and outlets of this double side cylinder have retention valves to control aspiration and discharged of the cylinder.
The cylinders rotate on its axis, enabling continuous cycles.
With a 1 m long, 0,2 m diameter pressure cylinder it will pump 15.000 liters/hour, 360.000 liters/ day up to 50 meters high, only with river flow velocity of 1m/s.
If instead of pumping water for a storage tank, we pump it to a micro hydro turbine electric generator in the margin of the river; we can produce up to 10Kw.
I have the drawings at: http://tidalwaterpump.blogspot.com/

Here is an intriguing example of a site in Bali, where obviously a plant like the one described in the article has been existing for a long time. At least the aspect of this plant is as if it had quite some history...