Article reference:
http://blog.hasslberger.com/2007/08/overbalancing_gravity_motor_jo.html
Overbalancing Gravity Motor - Johannes Bessler Rehabilitated?
Great controversy marks the history of attempts to harness the force of gravity. Somewhat condescendingly termed perpetual motion, such gravity-harnessing designs have received little more than smug comments about the state of sanity of their inventors, and in the absence of any technological implementation actually in use, their feasibility was easily denied by the denizens of scientific orthodoxy. Detractors say such a self-running device would be in violation of the law of conservation of energy. Many disagree, as gravity is a real force that can be tapped if only we have the right technology.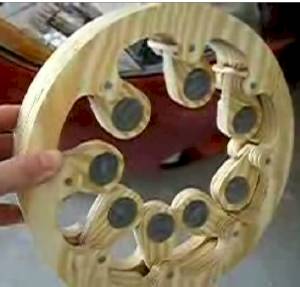 The history of overbalancing wheels is spotty, to say the least, with most barely able to turn and unable to overcome the restraining forces of friction. But there was at least one notable exceptions, the Bessler Wheel which not only could overcome the friction and do continuous work. One of Bessler's wheels was verified by such a public figure of his time as the Landgraf of Hessen/Kassel, who was shown the normally concealed mechanism by Johannes Bessler, the inventer. Apparently the mechanism was very simple and effective, but the discovery was lost because the inventor could not find a buyer and the Landgraf kept his vow of secrecy.
Although there are good sites about Bessler's invention on the net, none of the researchers have so far been able to replicate the technology.
But things seem to be changing now. There are two modern-day implementations of the overbalancing wheel tech that seem to work just fine, and we can see them on video.
- - -

Scott Hall has designed an overbalancing gravity wheel that actually does what it's supposed to do - keep turning by making use of the force of gravity. PES Wiki has a page on this invention, which is open to public editing and contribution by anyone interested.
This video shows the wheel make a few turns.

To show this is not a fluke, there is another, different design that also seems to work, which Scott replicated. The report about the replication with a link to videos of both the original and the replication is here:
http://peswiki.com/index.php/OS:Scott_F._Hall:Gravity_Motor_B
So perhaps Bessler can finally be rehabilitated. At least his memory of being one of the first to present a working gravity motor might be cleansed of the tinge of insanity his detractors were happy to attach in order to save the sacred cow of one of the "immutable laws of physics".
Update 14 August: A word of caution:
Sterling Allan has asked a friend and engineer to duplicate the Gravity Wheel built by Scott F. Hall, a replica of a unit designed by YouTube user paddyboytube.
http://peswiki.com/index.php/OS:Scott_F._Hall:Gravity_Motor_B to possibly present at the Gnomedex conference.
"He used his lathe to build the two wheels. He programmed a CNC machine to precision-drill the three holes in the wheels. He also lathed the dowels and weighed them. The perpendicular dowels pivot with very little friction.

It is about as precise a build as is possible given today's technology.

He will be sending me an MPEG video of it shortly.

So, does it work? Does it propel itself across a flat surface via the static power of gravity?

No. It rolls along and decelerates as the mass and friction would predict by standard laws of physics. He removed the perpendicular dowels and rolled it, and it performed the same way.

No joy.

I'm still curious about the design that Scott came up with, however, based on the results Doug produced, I'm inclined to believe that Scott's floor has enough of an incline for his two demos to roll along down that incline. Most garage floors are slightly sloped to allow water to run out and not pool."

Update 22 August: Maybe we aren't at the stage of validation just yet. Scott Hall apparently got tired over all the challenging comments he received and burned his prototypes. He said he'd be back when he has unassailable proof...

See also this article about the Bob Kostoff Gravity Machine
This Canadian invented an overbalanced 'wheel', actually a beam rotating on a horizontal axis, which uses part of the energy generated by gravity to send the weights to the right end of the beam where they can do the most work and will create the least opposition to the turning. Once started it will accelerate on its own until breaks are applied. It has a useful energy output, depending on size.

Another machine of this kind, but this one ready to deliver power, was invented by an Armenian engineer. It was recently featured on PESWiki.
Here is a video about it
Here is a historical example of a wheel that reportedly worked, using gravity to do work. Built in 1909, it was used for a while but fell in disuse when the inventor died. Someone acquired the wheel, and polished it up, but the details of its operation seem to be still shrouded in mystery.