Article reference:
http://blog.hasslberger.com/2008/10/is_oxygen_depletion_more_worry.html
Is Oxygen depletion more worrying than global warming?

There is serious doubt whether carbon dioxide emissions are a major driver for global warming or, as it has recently come to be called, 'climate change'. Water vapor is a more potent greenhouse gas and the sun's influence on our climate is orders of magnitude stronger than any amount of carbon dioxide we could ever produce. But carbon dioxide may have a secondary effect that has been hardly mentioned in the past. Every time a carbon dioxide molecule is produced by burning carbon-based fuels including oil and gas, two oxygen atoms get locked up together with one of carbon. The oxygen that drives the burning process comes from the atmosphere.
Until recently, I had been under the impression that oxygen levels in the atmosphere are quite stable around 21 per cent, and have been so for a long time. However in a recent discussion about burning coal as fuel, some interesting information emerged that tends to disprove the concept of a stable oxygen level.
Historical trends, as explained in Atmospheric Oxygen, Giant Paleozoic Insects and the Evolution of Aerial Locomotor Performance by R. Dudley, JExB, show a high of about 35% just before the beginning of the Permian, with a rapid decline to a low of about 13-14% near the beginning of the Triassic, then a small spike at about 17% in mid Triassic, another drop to about 14-15% early in the Jurassic, a sudden climb to about 21% by mid-Jurassic, then a gentle climb to about 26% early in the Tertiary, and a rather constant, steady decline to the present "20.9%."
But even now, we are not necessarily assured of a more-than-20-per cent oxygen level in the air at all times.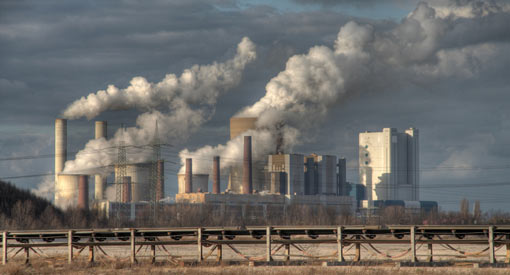 Coal fired power plant - Image credit: Sun-volt.com
In that discussion, Adrian said: "There is really no such thing as "clean" coal. Even if you take all of the non-carbon contents out, the resultant burning still produces enormous amounts of carbon dioxide. We may be getting to the stage where we will have to be concerned about the amount of oxygen we have left in the atmosphere to breathe... I read that a research paper comparing the health of people living at low compared to high altitudes showed that it was the lack of oxygen that was harmful for certain ailments.

Oxygen used to be about 20% of the atmosphere but today in some places, it is as low as 16%. Carbon dioxide is actually a fairly heavy gas (molecular weight 44 as compared to oxygen 32 and nitrogen 28) so that during times of little wind, it would have a tendency to settle in pockets. That is one reason cave exploration can be so hazardous.

People living in large cities in India have such a high incidence of lung disease that older diesel motors have been banned. I have not read any carbon dioxide studies but reducing the amount of oxygen available, certainly places a strain on the heart, especially for old people with weak hearts and those with any type of lung problems.

Carbon dioxide sequestering seems to be a stupid idea because the process also sequesters oxygen in the process. Someone needs to present calculations showing how the burning of coal, oil and natural gas is affecting our oxygen supply. The question really boils down to "how much oxygen would be left in the atmosphere if all fossil fuels were consumed?" Yes, people will say that trees and algae will take care of the oxygen production but the real concern is what level of oxygen is required to maintain a good healthy atmosphere for humans as well as for other living organisms."

So it appears the oxygen content of air is not uniform all over the planet, some places seem to be much worse than others. The cause: use of carbon-based fuels, together with our disregard for the contribution of forests to keeping the air breathable.
- - -

Robert supplied a link to a website about depleting oxygen levels.
http://www.trufax.org/general/oxygen.html

He added: Another 2% down and we suffocate...

CO2 can be sequestered in the coal plant. I question whether it captures oxygen too. It would be nice if some brainiac could figure a profitable way to split CO2 into C + O2.
Since carbon dioxide is one carbon atom and two of oxygen, sequestering CO
2
to "put it into storage", as proposed by some who would like to see us continue using carbon based fuels will indeed sequester the oxygen together with the carbon. The more CO
2
we produce, the more of the free oxygen in the atmosphere we deplete.
Photosynthesis of green plants reverses the trend, but as we are cutting down forests to make room for grazing animals or to grow crops of industrial raw material or biofuels, we have less and less help from the plants. There is even a possible technologal fix that could reverse the trend, but it's not been developed into a usable technology. Sandia Laboratory's Nathan Siegel is one of the scientists working on a project to turn carbon dioxide into carbon monoxide, releasing one of CO2's bound oxygen atoms by harnessing solar energy. (Turning Carbon Dioxide into Fuel)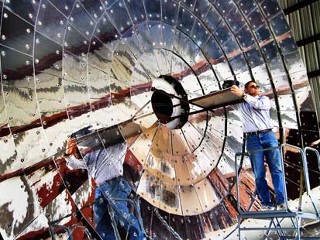 Giant solar collector at Sandia National Laboratories to power a novel reactor capable of producing carbon monoxide from carbon dioxide - Image: Randy Montoya at ABCNews.

"Carbon dioxide is a combustion product, so what we're doing is reversing combustion," Siegel says. The carbon monoxide can then readily be employed to produce a range of different fuels, including hydrogen, methanol, and gasoline, using conventional technologies.
Returning to the discussion that started this, Adrian added another thought: "I was certain that the increased burning of carbon fuels with the accompanying destruction of forest has had an adverse impact on the oxygen in our atmosphere and the above web site (http://www.trufax.org/general/oxygen.html) confirms my thinking in a most frightening manner. I do not think most people realize the dilemma which seems to boil down to the choice between breathable air or continued and increased burning of fuels. Right now we are stuck with the problem of Global Warming and no one seems to realize that our oxygen supply is becoming much more at risk as time goes by. I know that game fish cannot exist in lakes that have been depleted of oxygen because of excess algae growth stimulated with the dumping of phosphates and similar chemicals but now we are entering a like situation with our own atmosphere.

I think the answer is awareness of the problem and the realization that we must turn to other sources of energy. I also believe that the problem of oxygen depletion needs to be brought to the attention of all in order to solve this seemingly innocuous but in truth, serious problem.
And another participant brings his own views on oxygen levels. Paul weighs in saying:
"This issue of oxygen depletion is one which is more of a local phenomenon. In Alabama where I live the O2 levels fluctuate between about 22% and about 19% on a varied daily and monthly cycle with the photosynthesis of the forest here. In Mexico City this level has dropped to about 17% max and minimum 14% with thousands who die each year from the problem and this has been some years now. Mexico City has lost between 5000 and 15000 persons a year this way for a decade or more. They just die quietly in the night and are scooped up in a day or two and disposed of without comment.

In Europe it of course varies with location but the big cities of Europe typically never see above 19%. Many Asian cities frequently see as low as 15% or 14%. (China/India) Oxygen bars were invented because of this in Asia.

The essential problem with CO2 is that the solution [we need] is Photosynthesis. It works and it doesn't soak up energy... It collects it.

This really is the issue with more fuel. You can forget Global Warming. It is dead. The Sun just put that to rest. Nothing Mankind can do if the current trend continues will avoid an ICE Age shortly. It may be a minimal one but we are getting colder."
Although the advocates of global warming continue to say that temperature is increasing, in the last ten years that has not been the case. We also have an extreme low of solar activity with little or no sun spots showing this year.
What we need is to get global warming/climate change out of the political arena. Too many interests are bad for scientific inquiry and debate.
And for sure we should look at the possibility that our production of CO2, even though it may not bring about global warming, could be the driving force for a different and possibly much worse problem: death by insufficient oxygen, in other words, slow suffocation.

See also:
Man-made Global Warming - The Debate is not over!
Water Vapor Rules the Greenhouse System

Astrophysicist Links Temperature Change with Sun's Energy Output