Article reference:
http://blog.hasslberger.com/2006/11/peaceful_space_exploration_a_r.html
Peaceful Space Exploration - A Remote Prospect?
Humanity's way to the stars is fraught with dangers - not so much because of the forbidding environment or because of any particularly hostile cosmic neighbors out there, but because of our seeming inability to make peace at home before carrying our differences to the stars.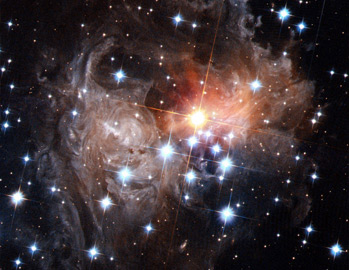 Echoes from the Edge - Image credit: NASA

In what has been billed as "the first revision of US space policy in 10 years", George W Bush and his supporters have thrown down the gauntlet to any would-be challengers of US superiority in our travels to the stars. The unclassified version of this new policy document barely conceals the hubris of what has become a super power at home seeking to construct an empire second to none. Small wonder, considering the source of the new policy is a 2001 report by a commission presided by Donald Rumsfeld, one of the architects of the disastrous Iraq war and heavy promoter of US military superiority at home.
As one commentator points out, having a national strategy - in this case for maintaining superiority in space - does not necessarily mean that the problems the strategy seeks to address are going to be resolved any time soon. Ehsan Ahrari identifies in his article published in the Asian Times, the crux of the new policy:
The most crucial feature of this policy is that it "rejects future arms-control agreements that might limit US flexibility in space and asserts a right to deny access to space to anyone 'hostile to US interests'." It adds: "The United States will preserve its rights, capabilities and freedom of action in space ... and deny, if necessary, adversaries the use of space capabilities hostile to US national interests."

As much as the United States is hesitant to admit it, the arms race is very much on in space.
There is nothing inherently wrong with considering space of vital importance to US national security interests, or with a desire to "stay ahead of the game", but when such a policy acts to force other nations to enter a race for military dominance of space out of a desire for self preservation rather than develop new capabilities in a spirit of co-operation, we must anticipate serious trouble...
- - -
Mel Hurtig, a Canadian publisher and politician says in his recent article THE WEAPONIZATION OF SPACE that the race for weapons superiority in space "may represent the greatest and most urgent danger for the very future and the survival of our civilization".
"When we talk about the weaponization of space, we're not simply postulating about something that might happen in the distant future. There is already an abundance of irrefutable evidence that the United States intends to place weapons in space, beginning as early as 2008. Both the Russians and the Chinese know this, and both understand that although they strongly oppose the weaponization of space, they will have no choice but to deploy their own offensive and defensive space weapons, regardless of the potentially cataclysmic consequences."
Alfred Lambremont Webre of the Institute for Cooperation in Space has sponsored a petition to convene a Space Preservation Treaty Conference to ban all space-based weapons and warfare in space.
Leuren Moret in her article published in World Affairs, Planet Earth As Weapon and Target traces the origins of US space policy to the "New World Order and its Permanent War Economy", a culture of death that started with the hugely profitable opium wars of British and American families against China and has continued to the present day. Incidentally, drugs have also been at the center of recent wars: The Vietnam war brought the CIA control of the Golden Triangle and the recent US intervention in Afghanistan, where the Taliban had all but eliminated opium production, led to record bumper crops of the drug since the country was "liberated" by US bombs and allied troops.
Moret goes on to quote General Ashy, commmander of the US Air Force Space Command and Commander-in-Chief of NORAD as saying in 1996:
"We'll expand into these two missions (space control and space force application) because they will become increasingly important. We will engage terrestrial targets someday--ships, airplanes, land targets--from space. We will engage targets in space, from space. And this command will engage quickly; [the missions] are already assigned, and we've written the concepts of operations. We will engage re-entry vehicles in the medium of space with a ballistic missile defence system of North America. It's politically sensitive, but it's going to happen. Some people don't want to hear this, and it sure isn't in vogue... but--absolutely--we're going to fight in space."
Leuren Moret's article is well worth a read. She discusses the use of the electromagnetic spectrum - and ultimately space based transmission by satellite will make the waves ubiquitous - for the use of mind control:
"The ultimate weapon, of all weapons that have been developed, is manipulation of our electro-magnetic environment. And through this research the most important scientific discovery has been made ... the nature of life. The most shocking discovery, for all of humanity, is that this time we are the enemy."
Give Peace a Chance
What can we do to counter-act the militarization of space?
Politics is one thing. We can petition, we can elect new leaders, but as long as war is where business is best, there will be war, regardless of who the leaders are. The military-industrial complex is a community of interest. War and the threat of war provide just about unlimited opportunities for profit. By the very nature of things, we will have war as long as the major business opportunities are in war.
Civil space exploration, as unlikely as this may sound today, must provide the greater opportunities and must compete for the funds. When civil exploration of space can provide better opportunities for profit than space wars and destruction of humanity, then we will have won the day.
NASA is torn between two worlds. Superiority in space, with all its attendant military spending and funding is one side. Co-operation and opportunity of business and profit through peaceful exploration is the other.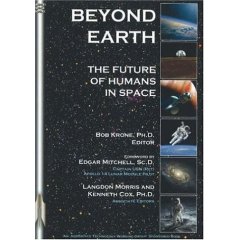 In their book "Beyond Earth - The Future of Humans in Space" NASA-affiliated scientists, analysts, engineers, consultants, educators and thinkers concerned with the future have developed a vision that might just fit the bill. Their stated mission: "Support global collaboration and action for the development of space science, space commerce and permanent space habitats."
Their Vision: "Humankind's next great adventure - the human settlement of the solar system."
They try to sketch answers to a number of questions that seem important in this dawning era of space exploration and development: Why does space matter to us? What can we use it for? How can we get there efficiently? What will ordinary life be like in space? What will our homes be like on the Moon? On Mars? In orbit? Will we play? Will we love?
As imperfect as the book might be in predicting what awaits us, both by way of challenges and opportunities, it is certainly a step of great importance. It puts hope where there is none. It makes suggestions. It points to a possible path.
And this path is vastly preferable to the prospects of militarization we see coming out of current government decisions.
Perhaps the prospect of peaceful space exploration is remote, but at least we must try. Resistance won't bring change. Positive action will.

Links:
U.S. National Space Policy
the unclassified part
Space Supremacy
It's the goal of America's new space policy
THE WEAPONIZATION OF SPACE
World Peace Forum
Planet Earth As Weapon and Target
by Leuren Moret

See also:
Cooperative Space Exploration - Linking up with NASA
Exopolitics - Why Are Extraterrestrial Politics Taboo?
Private Space Exploration: Put Your Picture in Orbit
US defends its opposition to ban on weapons in space
"Given the vital importance of our space assets, foreclosing technical options to defend those space assets in order to forestall a hypothetical future arms race in space, is not in the national security interest of the United States," he said. While the US space policy does not direct the development or deployment of weapons in space, it does not close that option, Joseph said after the speech.
Domination of Space
How far are we from a time when anyone on Earth can be cooked from space? Perhaps not far. This video also talks about Theater Missile Defense, which finally explains to me why we need bases all over the world. The video says we had a war game recently where the US launched a preemptive attack on China using the newest Space Shuttle and then a space based laser. No wonder China recently blew up one of their own satellites!