Private Space Exploration: Put Your Picture in Orbit
According to an article found on Phys.org, hotel tycoon Bigelow is getting ready to deploy the first version of an inflatable space station, a one-third scale model of his orbiting real estate concept, which is scheduled to be operative less than ten years from now.
Genesis I is the first model to be put into orbit from a Russian launch base in these days, and it promises to take video footage and photographs of Earth and send them back. The concept is interesting as it overcomes an important limitation that the alluminium-shell current international space station is subject to: The limitation of the size of each component by the kind of vector available to put it into orbit.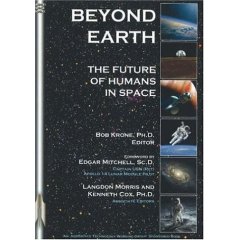 This article is timely as I am just reading "Beyond Earth: The future of humans in Space", a compilation of articles by people active in the Nasa-led "official" civilian space program. One of the recurring themes is the necessity to open space exploration to the people, to generate the excitement that comes with real exploration.
My view on space exploration is that yes, we must allow and encourage public participation, but at the same time we also should make the agencies that have led the civilian space program, NASA comes to mind but it is by no means alone, to 'fess up what they found on their previous missions. There certainly is reason to believe that we have not been told everything there is to know either about space and its extra-terrestrial inhabitants, nor about the Earth, as seen from space.
But here is the story on Bigelow's first launch into the world of commercial space exploration.
- - -
"Bigelow Aerospace is not in the hotel business. We are in the business of creating structures for other people to use."
Hotel tycoon to test private space station technology
(AP) -- A hotel tycoon's dream of building an inflatable commercial space station is taking a step toward reality -- or a reality check -- with the launch of a satellite to test the technology behind the planned orbital outpost.
The fact-finding mission scheduled for this week will explore the feasibility of Robert Bigelow's plan to build a working commercial space complex by 2015. When finished, it will consist of balloon-like modules strung together like sausage links and serve as an orbiting space hotel, laboratory, college or entertainment venue.
The planned liftoff from Russia of Bigelow Aerospace's privately funded Genesis I spacecraft will mark the beginning of the startup's attempt to break into the fledging manned commercial spaceflight business.
Bigelow, who made his fortune with the Las Vegas-based Budget Suites of America hotel chain, has remained mum about the exact launch date of its prototype. But the Russian space agency Roskosmos posted on its Web site that Genesis was scheduled to launch Wednesday aboard a converted Cold War ballistic missile from the Dombarovsky missile base in the southern Ural Mountains.
Genesis I is a one-third scale model of a commercial space station that the company eventually hopes to fly humans in. It is outfitted with 13 interior and exterior cameras to shoot video and photos of the Earth.
Unlike the rigid aluminum modules that make up the international space station, the inflatable design consists of a flexible outer shell that can be expanded in space. The module is padded with layers made of tough materials including Kevlar, the stuff of police vests, to withstand speeding cosmic debris.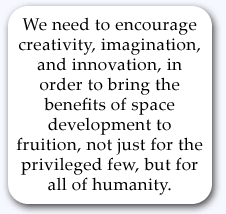 Inflatable technology isn't new. NASA researched the concept in the 1990s for a potential trip to Mars, but later abandoned it after determining that the huge pop-proof balloons were too costly. Bigelow Aerospace essentially picked up the project.
Once in orbit, Genesis I will expand and circle the Earth for several years while scientists collect information about its durability and other capabilities.
"We know very, very little about the actual engineering and performance of these systems. As a matter of fact, we really know nothing," Bigelow corporate counsel Mike Gold told The Associated Press earlier this year.
Bigelow, who did not immediately return a call for comment Tuesday, has pledged to invest $500 million to build a commercial space station. About $75 million has been spent so far, according to Bigelow's Web site.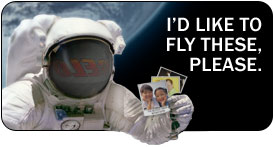 In the fall, the company plans to launch a spacecraft called Genesis II to further study inflatable technology. Unlike Genesis I, the company plans to commercialize the mission and is currently taking orders to fly personal photos and mementos from the public aboard Genesis II for $295 a piece.
Over the next two years, Bigelow Aerospace will test larger prototype models that will carry life-support systems including a full-scale mock-up planned for 2012.
Just don't call Bigelow's commercial space station a hotel.
"Bigelow Aerospace is not in the hotel business," the entrepreneur posted on his Web site. "We are in the business of creating structures for other people to use."
The company previously said it expects the inflatable space station to be a destination for space tourists and leased out to companies that can benefit from a zero-gravity environment. The cost of flying to Bigelow's planned space habitat is expected to be less than the reported $20 million to go aboard the international space station.
Other private firms trying to break into the commercial space business are designing suborbital spaceships to fly paying tourists. To ensure that a vehicle can reach Bigelow's planned outpost, the entrepreneur created the $50 million America's Space Prize to spur development of a private orbital spacecraft that can dock with his inflatable space station.

See also:
Hotel tycoon to test private space station technology
Inflatable spacecraft launches from Russia
An experimental inflatable spacecraft bankrolled by real estate magnate Robert Bigelow rocketed into orbit Wednesday to test technology that could be used to fulfill his dream of building a commercial space station. The Genesis I satellite flew aboard a converted Cold War ballistic missile from Russia's southern Ural Mountains at 6:53 p.m. Moscow time. It was boosted about 320 miles above Earth minutes after launch, according to the Russian Strategic Missile Forces.
Spacecraft successfully inflates in orbit
LOS ANGELES — An experimental spacecraft bankrolled by real estate magnate Robert Bigelow successfully inflated in orbit Wednesday, testing a technology that could be used to fulfill his dream of building a commercial space station. In a brief statement posted on his website, Bigelow said the Genesis I satellite "successfully expanded" several hours after liftoff. No other details were provided.
January 2007: Amazon boss shows off spacecraft
Called Goddard, the retro-looking development vehicle is shown standing on four legs before blasting off in a cloud of smoke from thrusters on its base. The vehicle continues to ascend for approximately 10 seconds, reaching a height of nearly 300ft (90m). It then starts to descend before making a controlled landing back on its feet approximately 25 seconds after take-off.
April 2007: Bigelow Aerospace Aims for an International Market
Robert Bigelow, founder and president of Bigelow Aerospace, detailed his firm's business agenda for space at the 23rd National Space Symposium. Speaking in front of a backdrop which read, "Making Orbital Dreams Reality," Bigelow said it is a misnomer to consider his company as a space hotel company. Rather, it should be viewed as a wholesaler of destinations in space, he said. "What we're out to do is try and identify maybe 50 or 60 countries…to provide them "hang time" – a term he identified as the activity of foreign nation's astronauts flying for four weeks in a Bigelow Aerospace-provided orbital complex, conducting that nation's experiments or other activities and returning those individuals to Earth after their respective missions. "Our forecast for this service to be available is 2012."
Odd Couple Aim to Put Civilians in Space
American engineer Burt Rutan and British tycoon Sir Richard Branson may seem like they come from different planets. Yet the improbable duo are in the same orbit – forming the Spaceship Co. in 2005 to launch ordinary people into space without government help. Branson recently told a trade show in California that construction of the Rutan-designed SpaceShipTwo will be ready within a year, followed by another year of flight tests. If all goes well, Virgin officials say the spaceship will be unveiled by early next year with the maiden commercial launch in 2009.
Civilian aero startups claim their space
At the symposium, Las Vegas billionaire Robert Bigelow lifted the veil on his plans to develop a series of inflatable space modules over the next five years. Initial test vehicles have flown from Russian Dnepr rockets, modifications of SS-18 missiles, though Bigelow later will rely on special launch vehicles from another startup, Rocketplane Kistler Inc. (Oklahoma City).
Bigelow Space Modules: Sky High Plans Face Transportation Concerns
"The success of Genesis 1 and Genesis 2 was not only technological ... it was proving that we could do it at the cost that we did," Gold stated. "I would be willing to gamble that the two missions will go down in history as the most cost-effective space operations in history. That's the paradigm shift ... that's what really needs to occur."
New currency for space travellers
Professor Fraser told BBC News: "With an inflatable space hotel, from Bigelow Aerospace, under development in the US, and Virgin Galactic developing SpaceShipTwo, there will be better access to space than there has been. "In the fullness of time we will have to adopt a universal currency if we are going to carry out serious commerce in space. It's an interesting initiative."
Bezos, Amazon.com: Blue Origin Rocket Progress
Dubbed the New Shepard program — paying homage to the 1961 suborbital flight of Mercury astronaut, Alan Shepard — Bezos said that Blue Origin's effort is built on taking one step at a time. The company's motto, he emphasized, is Gradatim Ferociter, "step by step, ferociously."
"We're not in any hurry…because we're trying to build a very safe, well-engineered vehicle. [I] don't see any reason to rush on this," Bezos told Rose.
Private Race to the Moon Takes Off
Google and X PRIZE officials unveiled nine new privately funded teams today that will compete for $30 million in the Google Lunar X PRIZE challenge, a race to the moon.
"It's not just a new mission," said Peter Diamandis, Chairman and CEO of the X PRIZE Foundation, during the announcement here at Google's headquarters. "It's a new way of doing business." The new teams join the Isle of Man-based Odyssey Moon team that was the first group to take up the challenge.
Private Space Station Prototype Hits Orbital Milestone
Genesis 1, an inflatable module built by the Las Vegas, Nev.-based firm Bigelow Aerospace, passed the 10,000-orbit mark as it nears the beginning of its third year of unmanned operations, its builders announced late Thursday.
Bigelow Aerospace hopes to begin assembling its first crewed station using its Sundancer module in about 2011.