Spin and rotation in gravity, magnetism and star formation
What are the underlying causes of gravity and magnetism? For me, this has been a slowly maturing concept. I am sharing my thoughts here and would like to get your feedback. Yes, I am going against much of the "received wisdom" of science. Just take these thoughts as a pointer, an invitation to look at things from a different point of view. Perhaps much of this will be found correct as time passes, but then ... perhaps not.
Terms: I know that there is supposed to be a difference between the two terms gravity and gravitation with the first referring to the earth's gravitational attraction and the second to the phenomenon in general, but here I am using both terms to refer to the phenomenon as such. Spin is generally used to describe the twisting motion inherent in particles, while rotation refers to an accumulation, a mass of particles, for instance a planet, rotating as a whole.
Gravitation, as observed and modeled by mainstream physics, seems to be insufficient to explain the continued existence of galaxies as unitary systems. There just doesn't deem to be enough mass in all those numerous stars to be able to hold them galaxies together by gravitational pull alone. Mainstream scientists resort to such nebulous concepts as "dark matter" to explain there might be a great deal of mass we just can't detect. I do not think that is a good way to approach the problem.
To make any headway in this, we actually need to conceptualise the cause of gravity, something which physicists have been quite reluctant to do ever since the times of Newton, who described gravity, but when asked what the cause was, he recused himself with the words ("hypotheses non fingo") or "I'm not proposing a hypothetical mechanism." We are associating gravity with mass, but we have no conceptual understanding why masses "gravitate" towards each other. There are theories all right, and there is much discussion, but we have no agreed way of modeling the cause of gravity.
Perhaps Einstein came closest to describing a mechanism when he said that gravity is a distortion of space-time, he called it 'space-time' curvature...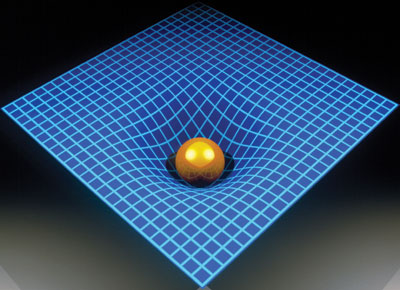 There is a very common illustration of a ball pulling a flat sheet out of shape to represent Einstein's curvature of space but that depiction of the concept is not really accurate. We do not live in a two-dimensional world of sheets of flat space-time and gravity isn't just a bending, but a twisting curvature. Imagine the ball rotating and thus distorting that matrix of space to create a vortex in the space matrix, and you'd have a good analogy.
We should really think of space as a 3-dimensional matrix filled with "potential" particles. That matrix seeks to arrange itself in orthogonal patterns, but it can also be slightly twisted out of shape by a rotating mass sitting inside that spatial matrix. The distortion would be a twist, a vortex form, in the space matrix.

Gravitation is a consequence of spin-induced curvature of the matrix of space
I am postulating that gravitation is in essence a consequence of rotation or 'spin'. The spin of particles causes gravity, and the effect is additive, meaning the more particles are in a mass, the stronger the common gravitational field. The rotation of macroscopic accumulations of matter - planets, stars, black holes and galaxies also causes gravity. Both twist (distort) 3-d space and so induce a vortex-shaped region of stress that spreads far and almost instantly, due to the rigidity of the space matrix. Two or more of those stressed regions of space have attraction for each other. The space matrix strives to unstress. It can't unstress by itself, as the rotating mass keeps distortion constant. But it could find some stress relief by bringing two particles that have a stressed field closer to each other. So gravitationally stressed areas of space have a definite affinity for each other, they attract, in an effort to relieve stress.
Distortion of space takes the form of an extended vortex, eventually folding in on itself, creating a spherical field. The distortion of space itself does not need to propagate like radiation does, it adapts almost instantly to changes. Remove the source of distortion and the field collapses. All of the distorted space snaps back to normal. The effect of gravity is thus not limited by the speed of light, it has quasi-instantaneous long distance effects. I could imagine applications in advanced, superluminal communications if we learn to modulate gravity like we do radio waves today.
There is some controversy about the speed of gravity, but Newton's celestial mechanics work and they work only when gravity is assumed to be a force that acts instantaneously (or nearly so) at great distances. The Speed of Gravity...
Macroscopic rotation of particle accumulations is additive to the effect of quantum or particle-spin induced gravity. We thus have a doubling of the force in the sense that the effects of particle spin and macroscopic rotation are separate and additive. The twisting of space-time by the rotation of a star or planet combines with the effect of the rotation (spin) inherent in the mass of the individual particles that constitute it.
This gives rise to to a prediction: A non-rotating body of mass should be found to have a smaller overall gravitational effect compared with a rotating body of the same composition.
Actually, Prof. Eric Laithwaite was experimenting with spinning masses in the 1950s and he found definite changes in their gravitational properties when spinning at high rates. Here is a video showing how a heavy mass can be "insulated" against normal gravity, it can kind of "go its own way" just because it is spinning at a high rate. The demonstration in the video is quite instructive.



You can find more videos on Laithwaite's experiments with gyroscopes that exhibit anomalous gravitational properties.
https://www.youtube.com/watch?v=MHlAJ7vySC8
https://www.youtube.com/watch?v=1eQp4grGdqY
Unfortunately, the scientific establishment of his time was so embarrassed to not be able to explain those anomalies that they simply resolved to cut Laithwaite (who is the inventor of maglev trains) off from all collaboration and funding. The facts were suppressed and the experimenter ostracised.

The strength of the gravitational force is determined by two parameters: The amount of mass involved, and the rotational speed or angular momentum of the mass rotating in space-time.
Magnetism
Magnetism also involves spin, and it would seem to be a close cousin of gravitation. However in contrast to gravitation, magnetism appears to have the dynamic characteristics of an energy flow, rather than those of 'attraction by affinity' of an essentially static distortion of space-time. Magnetism is a much stronger force than gravity, but its effects are felt over a very much shorter distance. Perhaps the strong and weak force observed in particle interactions are the particles' magnetic and gravitational field effects.
Electric Universe proponents hold that the cosmos is permeated by electromagnetic currents that link the heavenly bodies in a constant dance of energy exchange. What they say makes sense, but in my view something important is missing. Each and every rotating mass, from planets to stars to galaxies actually creates both gravity and magnetism as a consequence of its rotation, giving rise to not only gravitational but also electromagnetic effects.
Magnetic fields have been shown to be present in space and they follow the spiral patterns of galactic vortices. This illustration is from a paper titled Magnetic Fields in Galaxies.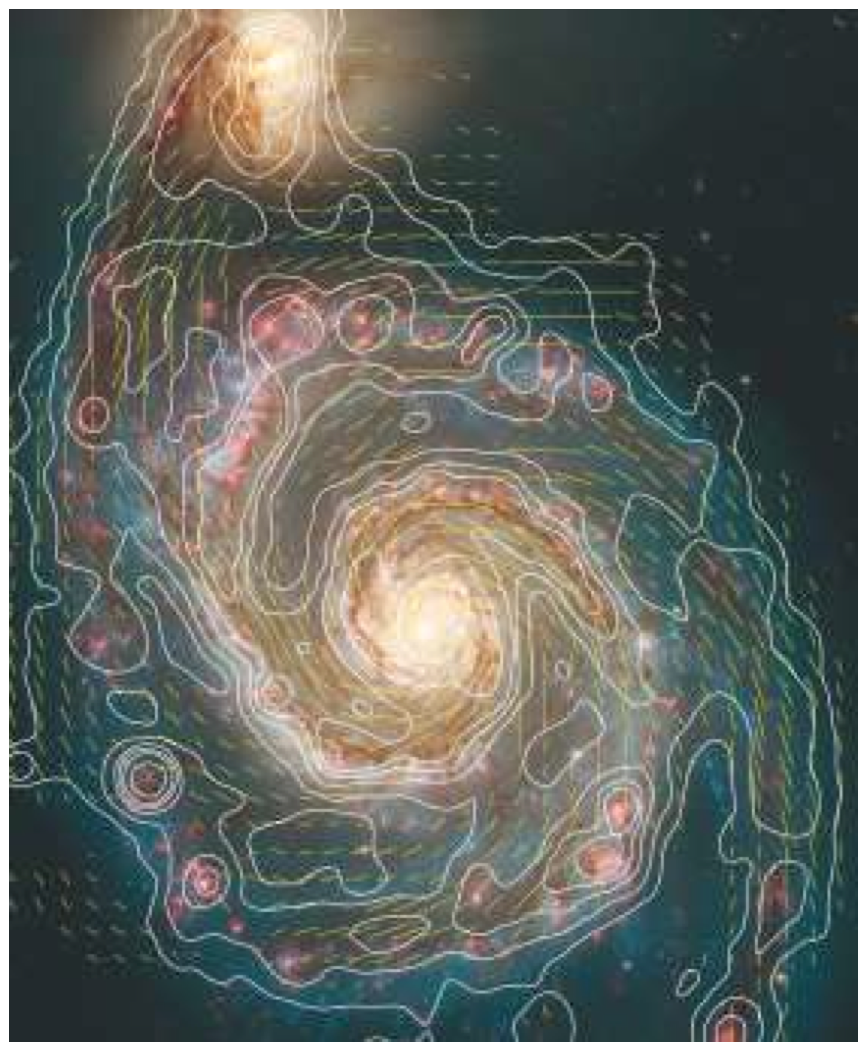 Spiral galaxy M51. Total radio intensity (contours) and B-vectors at 4.86 GHz (6.2 cm), combined from observations with the VLA and Effelsberg 100-m telescopes (Fletcher et al. 2011). The background optical image is from the HST (Hubble Heritage Team). Graphics: Sterne und Weltraum

Ferromagnetism or "permanent magnetism", is a special case. Some materials - iron is the most well known - can set up permanent magnetic fields by the configuration and alignment of the material's internal 'domains'. The alignment of magnetic domains comes about when ferromagnetic material is exposed to a strong magnetic field while still in a plastic state. The alignment of those domains will then set up a vortex-shaped path which encourages magnetic currents to flow. Those currents - also described as magnetic field lines - are twisting flows of space energy. They exhibit mutual attraction and repulsion, depending on polarity.
In recent times, permanent magnets have been combined in novel ways to create and maintain imbalance of their respective attractive and repulsive forces, while transforming the energy of the magnetic flow into kinetic, rotational energy. An example of this is Yildiz' permanent magnet motor as demonstrated in the following video at the University of Delft in the Netherlands.
It appears that groups of rotating magnets, such as the 1200 permanent magnets contained in Yildiz' magnetic motor, or the magnetic rollers John Searl employed in his early generators, may set up their own secondary and more powerful magnetic field with effects which are different from the combined effects of the stationary magnets. Much like the rotation of a star or planet would increase the gravitational effect, the rotation of groups of magnets appears to weave a more intense field of magnetic interaction. Ionisation and anti-gravity are among the effects that have been reported by some experimenters.

Vortices and Toroids
We see vortex shapes everywhere in nature. They are obvious in galaxies and black holes, but are present in many everyday phenomena. Hurricanes and tornadoes are vortical air flows, sea shells follow vortical growth patterns. The shape and flow pattern is ubiquitous throughout the universe.
Any source of rotation induces a space-time vortex. It is the vortex that twists the space-time matrix out of shape and that twisting in turn causes both the gravitational and the magnetic effect.
Giesbert Nijhuis has theorised the shape of elemental particles to be a Double Toroidal Vortex and he has produced animations showing the principle. I believe he may be very close...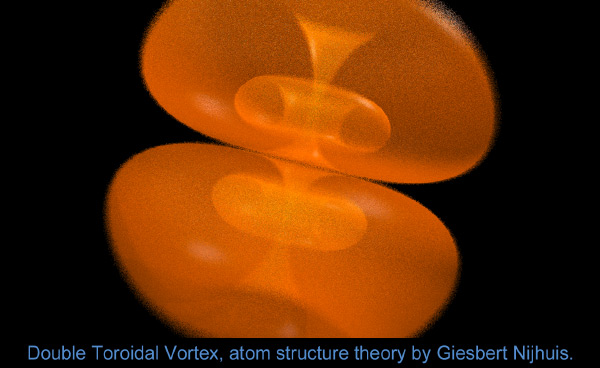 See Giesbert Nijhuis' animations here
Notice that Nijhuis' double toroidal vortex approaches a spherical shape, one we see in particles as well as in planets and stars...

The Primer Fields
Primer Fields, as I understand the theory gives us a very similar perspective. David LaPont posits that every particle, every planet, every star and even galaxies are the result of the action of two opposing bowl-shaped magnetic fields.
In a series of videos, David LaPoint describes how two opposed bowl shaped magnets can actually cause a rotating plasma to manifest, when exposed to strong DC electric current in a vacuum chamber. The resulting magnetic field is a structured entity. It arranges particles into regular polygonal structures. The configuration of the magnetic fields explains how particles may join to form elements of matter. It also provides close match parallels for the visible structure of the galaxies we see in space.
In this first video, LaPoint describes in detail how the magnetic fields in his experiments are configured and how they act to order matter particles. He also proposes a mechanism for the magnetic ejection of matter along the plasma's axis of rotation.
The second video explains Super nova remnants in terms of the magnetic fields involved. Far from being remnants though...
Black holes
Black holes are objects with extremely strong gravitational and magnetic effects. So strong that light waves will have a hard time escaping. I am postulating that this is majorly an effect of the ultra-fast rotation of a great mass at the center, the gravitational effect is not caused by the mass alone but by its rotation. Black holes should be possible to be formed by even relatively small masses, as long as the rotational velocity, their angular momentum, is sufficiently high.
There are so-called jets of "ejected mass" that are often seen to be associated with black holes. Those jets are apparently composed of matter, which is ejected along the central axis of the exceedingly strong, incoming black hole vortex.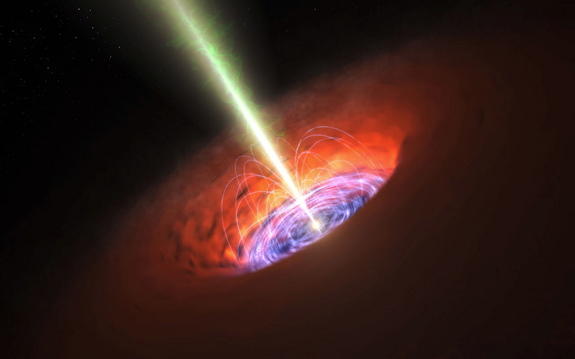 Artist's impression of the surroundings of a supermassive black hole, typical of that found at the heart of many galaxies Found on space.com

Those "jets" are said to be matter moving outwards at close to light velocity, but what we observe may well be a dual phenomenon. There is matter moving outwards, but there is also a strong incoming vortex.
The gravito-magnetic vortex brings in vast quantities of interstellar hydrogen, which is fused in the central plasma and processed into higher elements of matter. The matter is caught in the magnetic confinement area, until it is ejected as stars or clusters of stars, only to be caught another time by the magnetic field to form orbital patterns around the galactic nucleus.

Stellar light emission
Physicists describe the sun as a solid or rather very much compressed gaseous ball, where gravity induces so much internal pressure and heat that hydrogen fusion occurs. The fusion is then thought to be responsible for stellar light emission. I do not believe this description to be quite accurate. The sun is not, in other words a gravity-driven nuclear fusion reactor.
An observed inconsistency that would support this argument is that, while the temperature of the sun's corona is very high, about two million degrees C, the surface temperature of our mother star is only 6000 degrees C. An atomic furnace does not get first hot (in the center) then cool (on the surface) and then hot again (in the corona). Officially, this puzzle remains unresolved and this is generally admitted.
Stanford University's Solar Center says: "The question of why the solar corona is so hot remains one of most exciting astronomy puzzles for the last 60 years. There is no definite answer to that question yet."
This is from a page titled Explain the Coronal Heating Problem, Please. There is some speculation that the sun's magnetic field may play a role in the heating of the corona, but the idea that electromagnetic emissions might be the primary emissions of our star is not entertained.

Could electromagnetic radiation be the result of a clash of forces at the heart of cosmic bodies?
A double vortex, much like the one described by Nijhuis in his particle theory and by LaPoint in Primer Fields, brings in matter from space and those two incoming vortices collide, with immense force, at the central point of the magnetic field. This gives rise to fireworks, to a highly energetic clash of forces, where the two vortices meet. That incredibly energy rich event at the very center of rotation becomes a gigantic oscillator that emits radiation in a large band of the electromagnetic spectrum. We majorly perceive the visible light range and the heat of the infrared band, but there is everything in those emissions, from X-rays to the radio band from the highest to the lowest frequencies.
The matter that is brought in from space is mostly hydrogen. The central oscillator fuses the hydrogen, producing helium as well as the whole range of heavier elements. During the birth phase of the star, much of the matter produced is ejected by centrifugal force and forms a proto-planetary disc. Eventually though, the ejected elements are caught by gravitational forces at a certain distance from the central oscillator where radiation pressure is counterbalanced by gravitational attraction. In a long process of maturation, the matter produced by the central oscillator goes to make up the more or less spherical gaseous or solid "body" of the star. That may be why we see the sun's surface temperature to be a relatively measly 6000 degrees "cold".
The high degree of heating further out, in the photosphere and the corona, could be a consequence of the very strong magnetic field "shaking" and superheating particles present in the sun's gaseous atmosphere, creating super hot plasmas which emit light.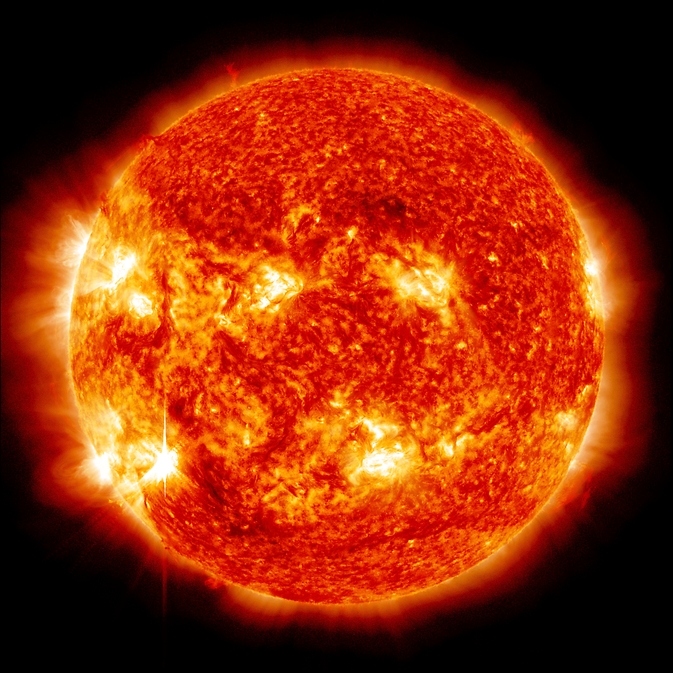 Image found here: Sun Emits a Mid-level Solar Flare (NASA)

Planets and stars are essentially the same...
Planets follow a similar evolutionary path as stars. A seed of angular momentum or rotational energy creates a pair of vortices which, in time, form the hollow shell that makes up the body of the planet. Smaller planets have a rocky shell, while larger ones tend to be gaseous.
We should find, at the center of each planet, an oscillator formed by the planet's vortices, a focus point of magnetic fields, that emits light and heat. That would of course mean that all spherical rotating bodies are of a hollow configuration, composed of a central oscillator, the incoming vortices, and a near spherical shell of matter.
The matter brought in by the vortices eventually aggregates to form the planet's body, its hard (or soft) shell. At the point of equilibrium between radiation pressure and gravitational attraction, a spherical, hollow shell will form. First, it is merely a faint concentration, an increase in density of the gases. With time, gases get more and more dense and heavier elements start accumulating at the same distance. From here on, the shell will have its own gravitational potential and will attract matter at an accelerated rate.
Since hydrogen, continually brought in by the vortex, is transformed into heavier elements during the lifetime of a planet, its spherical shell would tend to grow. We see this in the theory of an expanding earth, where some argue that the continents on this earth were at first one and then drifted apart. They broke into shapes, which seem to perfectly fit each other.
The oceans between continents are formed by the hydrogen, apparently present in large quantities in the deeper rocky strata of the shell. Where that hydrogen comes into contact with atmospheric oxygen, it is transformed into water, which ends up forming the oceans. Water, which is commonly thought to have been brought in by colliding comets, is here thought to be formed continually in the spherical planetary shell.
Is the Earth Expanding, Or drifting apart as held by the Pangaea Theory? Neal Adams proposes that there was a Pangaea "super-continent" in the past, but that the change to is due to the Earth expanding, not continental drift and tectonic plate movement.
Volcanic activity
Volcanic activity is thought to be due to molten lava from the core to be pushing up through the mantle to the surface. Another view is that volcanic activity may be due to the heat released when hydrogen, which saturates much of the rocky strata in the planetary shell meets atmospheric oxygen and is transformed into water, releasing copious amounts of heat able to melt rock in the process, which then pushes up through volcanoes to the surface.
An article which explains this process is Volcanism: Activity at the Hydrogen/Oxygen Interface
The presence of thermal energy in planets that are too far distant from the sun to be significantly warmed by direct solar radiation is thought to be due to heat produced by "tidal forces". The heat however can also be an effect of the planet's internal oscillator, the "central sun", which is an emitter of radiation in both the infrared (heat) and visible light electromagnetic band.
Now if planets are hollow, could there be life on the inside of that shell as well as on the outside? Some say yes, and they maintain that conditions on the inside are actually more clement than "out here" on the surface. We do not have unequivocal proof of this, but Admiral Byrd's expeditions to both the North and later the South Pole have found surprises. Unfortunately reports remain classified to this day.
Coming back to gravity and magnetism being closely related to rotation, there is a recent experiment that may be worth mentioning.
"Scientists funded by the European Space Agency have measured the gravitational equivalent of a magnetic field for the first time in a laboratory. Under certain special conditions the effect is much larger than expected from general relativity..."
Gravitational Equivalent Of A Magnetic Field Measured In Lab
So if, as I believe, both gravity and magnetism are the result of spin and rotation, we will need to re-think much of physics. We will need to take account of the two distinct ways gravity can be produced, and we should prepare to find, as we continue exploring our planet and the rest of the Solar system, that planets and our sun are not at all the solid balls we imagine them to be, but are points of rotation that have accumulated, throughout their history, shells of matter with both an internal and an external surface. We need to look beyond the merely external appearance to study the internal mechanisms.
Science believes the universe to be strictly mechanical, with no animating principle at the bottom of it. It also believes the brain, matter, to be the source of consciousness. Both of those views will need to be revised. There is life at the basis of matter. Life, I believe, provides the angular momentum that creates everything from particles to planets, stars and galaxies.

Here are some earlier articles to see how the idea developed...
Star Formation: Vortex Builds Stars, Planets

Some more research and info along these lines...
The SAFIRE Project - simulating an electric sun in the lab
Mystery of coronal heating problem: Magnetically driven resonance helps heat sun's atmosphere
Does rotation influence the gravitational constant? Thierry De Mees certainly thinks so. Here are some works of his...
Gravitational Constants, the Earth's Expansion and Coriolis Gravity
Gravito-magnetism including an introduction to the Coriolis Gravity Theory
And here an interesting page with videos on patterns that emerge in magnetism as permanent magnets' fields are made visible in a ferrofluid arrangement...