May 26 2011 - This is an appeal for cooperation from G. Edward Griffin (see his Reality Zone Site) which I would like to make available here ... perhaps one or the other of my readers is interested in the chemtrail phenomenon and would like to contribute to ending any uncertainty that still surrounds this "painted skies" mess.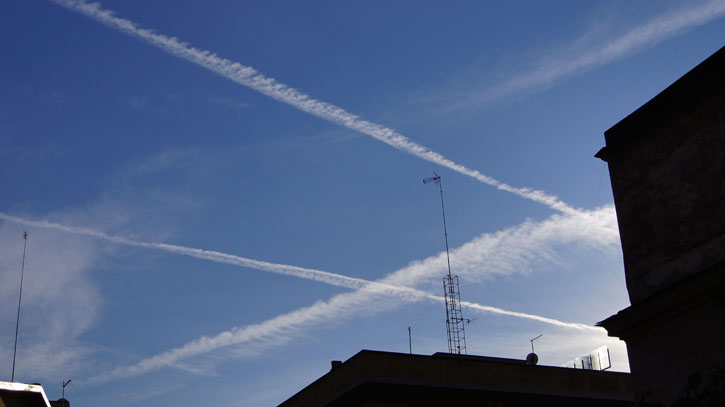 Image: Chemtrails over Rome - December 29, 2010

INVESTIGATORS WANTED
Can Chemtrails be proved?
It seems that the die-hard skeptics refuse to believe what they see with their own eyes. No matter how many laboratory tests we collect, they always seem to come up with a theory that, no matter how far fetched it is, would explain the high levels of aluminum, barium, and strontium as merely due to some climate condition or error in preparing the chemical sample or some unintended human interaction.

SKI SLOPE THEORY
When we released our documentary, What in the World Are They Spraying, we included snow samples taken from Mt. Shasta in Northern California, which contained toxic levels of these metals. Since snow is merely frozen rain water, it was clear that this came from the sky and not from the soil or water run-off from some toxic waste dump. Nevertheless, an Internet debunker challenged our conclusion by claiming that people ski on Mt. Shasta, and skis are made of aluminum. Therefore, the tested aluminum probably came from the skis! Nothing to worry about after all.
Of course, this was all made-up nonsense. People do ski on Mt. Shasta, but it is a big mountain, and there has never been any skiing in the area where the samples were taken. Even if there had been, that would not explain the high levels of barium and strontium. These metals are not used in the construction of skis. Our debunker never bothered to check on any of that. He was merely looking for some plausible explanation in order to plant doubts into the minds of casual readers. If people are confused by seemingly plausible explanations that even remotely could explain away the high levels of aluminum, barium, and strontium in snow and rain water, they will back away from coming to a conclusion and align themselves with the prevailing view.

DUST-BOWL THEORY
Another debunker contacted me a few days ago and claimed that a plausible explanation for the chemicals in snow on Mt. Shasta is that the samples were taken in a year with early snow melt which, according to him, means there was a lot of bare earth exposed at the time, and the wind must have blown dust from the earth onto the snow. Furthermore, he claims that the soil on Mt. Shasta contains the same metals as found in the samples; so, you see? Here is another perfectly plausible explanation. Once again, nothing to worry about.
We are planning to respond to this gentleman as soon as we can find the time to carefully examine his claims about the early snow melt, the amount of bare earth exposed, the composition of the surface soil, and especially the rainfall and moisture levels of the soil during this period. I expect to find that, even if there had been an early snow melt, the soil on Mt. Shasta would have been far too moist and covered with moss, ferns, or other ground cover to make the "dust-bowl" theory even remotely plausible. But it will take a little time to pull the facts together.
Meanwhile, we must not just play defensive and spend our lives answering the debunkers. We must take the initiative and obtain new data and information that will be impossible to dispute. The on-going collection of new snow and rain samples is part of that strategy. After we have literally hundreds of such chemical tests, I think our critics will run out of plausible-denial theories.

PLANE FINDER
One of the most promising technologies to generate hard evidence of chemtrails is the Internet tracking of planes in flight. There are several computer programs and devices that track commercial flights in real time and show, not only their location, but also their flight number, type of aircraft, origin, destination, speed, and altitude. The cost for this App on an iPhone is about $4, and on a computer, it is free. This is amazing technology, and the programs actually are fun to use. They work by receiving what is called ADS-B plane feeds, which are radio signals transmitted by commercial and private aircraft. Military aircraft and those on classified missions do not transmit this signal.
I'm sure you already see where this is going. It is theoretically possible to identify every commercial plane you see overhead either by pointing your iPhone camera at it or locating it on the screen of your computer. If the debunkers are correct, we will find that planes spewing a trail from horizon-to-horizon will all be identified as merely commercial craft and what we see are merely normal contrails after all. On the other hand, if we find that commercial craft do not leave streaks from horizon to horizon but the ones that do are missing from the system ... well, even the most die-hard skeptic would have to take a serious look at that.