Article reference:
http://blog.hasslberger.com/2007/07/optical_fiber_interferometer_d.html
Optical Fiber Interferometer Detects Dynamical 3-Space Turbulence
Interferometers have traditionally been used to try and determine our motion with respect to space. They were massive instruments that weighed tons and required serious work to construct and months to perform the measurements. Now Prof. Reginald Cahill, an Australian scientist at Flinders University in Adelaide, has brought fiber optics to the field of interferometry and has, with a relatively simple set-up, detected not only variations of the earth's speed with regard to the background of space, but also gravitational waves, a kind of 'turbulence' in space.
The instrument made by Cahill's group of physicists is extremely small and light, in sharp contrast with its historical predecessors. It can be constructed for just over 1100 dollars - Cahill's paper provides a parts list - and what's better yet, the instrument can be modified to make three-dimensional measurements by adding another 'arm' at right angles to its current configuration.
"By having three mutually orthogonal optical-fiber interferometers it is possible to deduce the vectorial direction of v(r; t), and so determine, in particular, if the pulses have any particular direction, and so a particular source. The simplicity of this device means that an international network of detectors may be easily set up, primarily to test for correlations in the waveforms."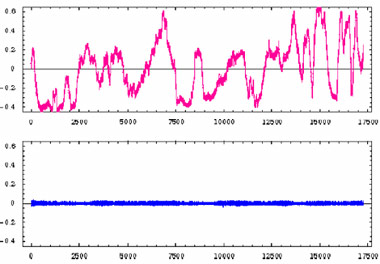 The detector has an extremely high signal-to-noise ratio as shown in the above plots, where the detector mode (red plot) shows definite variations, while the neutral mode (blue) only shows instrument noise.
It seems that this neat new piece of instrumentation will not only allow research into gravity but may also help resolve the centenary controversy over the existence of an aether, or rather some properties of space that provide a reference frame for physical phenomena. Einstein's relativity that does not allow for such a preferential reference frame may be up for revision.
- - -
Cahill's paper Optical-Fiber GravitationalWave Detector: Dynamical 3-Space has been accepted for publication in Progress in Physics and will appear in the October 2007 issue.
From the introduction:
Preliminary results from an optical-fiber gravitational wave interferometric detector are reported. The detector is very small, cheap and simple to build and operate, and is shown in Fig. 1.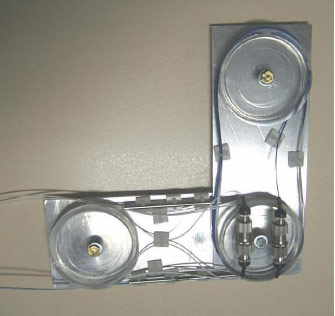 It is assembled from readily available opto-electronic components, and is suitable for amateur and physics undergraduate laboratories. A parts list is given. The detector can operate in two modes: one in which only instrumental noise is detected, and the 2nd in which the gravitational waves are detected as well. Comparison shows that the instrument has a high S/N ratio. The frequency spectrum of the gravitational waves shows a pink noise spectrum, from essentially 0 to 0.1 Hz. The interferometer is 2nd order in v=c and is analogous to a Michelson interferometer. Michelson interferometers in vacuum mode cannot detect the lightspeed anisotropy e ect or the gravitational waves manifesting as light-speed anisotropy fluctuations. The design and operation as well as preliminary data analysis are reported here so that duplicate detectors may be constructed to study correlations over various distances. The source of the gravitational waves is unknown, but a 3D multi-interferometer detector will soon be able to detect directional characteristics of the waves.
To read the whole paper:
Optical-Fiber GravitationalWave Detector: Dynamical 3-Space Turbulence Detected

- - -
A more recent paper by Reg Cahill regarding earth flyby anomalies observed in satellites:
Resolving Spacecraft Earth-Flyby Anomalies with Measured Light Speed Anisotropy (PDF)
Doppler shift observations of spacecraft, such as Galileo, NEAR, Cassini, Rosetta and MESSENGER in earth flybys, have all revealed unexplained speed 'anomalies' - that the doppler shift determined speeds are inconsistent with expected speeds. Here it is shown that these speed anomalies are not real and are actually the result of using an incorrect relationship between the observed doppler shift and the speed of the spacecraft - a relationship based on the assumption that the speed of light is isotropic in all frames, viz invariant. Taking account of the repeatedly measured light speed anisotropy the anomalies are resolved ab initio. The Pioneer 10/11 anomalies are discussed, but not resolved. The spacecraft observations demonstrate again that the speed of light is not invariant, and is isotropic only with respect to a dynamical 3-space. The existing doppler shift data also offers a resource to characterise a new form of gravitational waves, the dynamical 3-space turbulence, that has also been detected by other techniques.
See also related:
Process Physics Finds Absolute Motion In 3-Space
Process Physics at Flinders University School of Chemistry, Physics and Earth Sciences