Process Physics Finds Absolute Motion In 3-Space
Did Michelson and Morley prove that the aether does not exist? Can we detect motion against absolute space? Is the speed of light the same for all observers as Einstein postulated? Is dark matter needed to model gravity?
Many of the open questions in physics seem to be finding answers with the introduction of Process Physics, which according to Professor Reginald Cahill of the School of Chemistry, Physics and Earth Sciences at Flinders University in Adelaide, is "a dynamic model where space and matter are seen to emerge from a fundamentally random but self-organising system".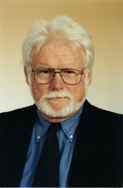 In Cahill's dynamic model, time is no longer seen as the geometric, linear entity that forms the fourth dimension in Einstein's space-time, but rather as a process, showing distinctions between past, present and future.
Actually, Process Physics is a whole new paradigm for the modeling of reality.
"In Process Physics we start from the premise that the limits to logic, which are implied by Gödel's incompleteness theorems, mean that any attempt to model reality via a formal system is doomed to failure. Instead of formal systems we use a process system, which uses the notions of self-referential information with self-referential noise and self-organised criticality to create a new type of information-theoretic system that is realising both the current formal physical modelling of reality but is also exhibiting features such as the direction of time, the present moment effect and quantum state entanglement (including EPR effects, nonlocality and contextuality), as well as the more familiar formalisms of Relativity and Quantum Mechanics. In particular a theory of Gravity has already emerged.

In short, rather than the static 4-dimensional modelling of present day (non-process) physics, Process Physics is providing a dynamic model where space and matter are seen to emerge from a fundamentally random but self-organising system. The key insight is that to adequately model reality we must move on from the traditional non-process syntactical information modelling to a process semantic information modelling; such information is `internally meaningful'.

The new theory of gravity which has emerged from Process Physics is in agreement with all experiments and observations. This theory has two gravitational constants: G, the Newtonian gravitational constant, and a second dimensionless constant which experiment has revealed to be the fine structure constant. This theory explains the so-called `dark matter' effect in spiral galaxies, the bore hole gravitational anomalies, the masses of the observed black holes at the centres of globular clusters, and the anomalies in Cavendish laboratory measurements of G."
In his paper A New Light-Speed Anisotropy Experiment: Absolute Motion
and Gravitational Waves Detected published in Progress in Physics, Reginals Cahill shows how data from a new experiment measuring the anisotropy of the one-way speed of EM waves in a coaxial cable gives the speed of light as 300,000±400±20km/s in a measured direction which, he says, is in agreement with data from earlier experimenters re-interpreted in 2002 for correct calibration. He explains that the anisotropy of light speed is not necessarily inconsistent with Special Relativity and discusses the earlier light speed experiments in detail...
- - -
This new experiment involves the comparison of travel times in a coaxial cable and in optical fibres. It finds values for the light speed anisotropy in line with previous interferometer experiments. In addition to anisotropy, the experimental set-up also detected gravitational waves. The apparatus is simple enough to be employed anywhere, even in space, for similar measurements:
"The unique optical fibre effect permits an even more compact gravitational wave detector. This would be an all-optical system 1st order in v/c device, with light passing through vacuum, or just air, as well as optical fibres. The travel time through the fibres is, as above, unaffected by orientation of the device, while the propagation time through the vacuum is affected by orientation, as the device is moving through the local space.

In this system the relative time differences can be measured using optical interference of the light from the vacuum and fibre components. Then it is easy to see that the vacuum path length needs only be some 5 cm. This makes the construction of a three orthogonal arm even simpler. It would be a cheap bench-top box. In which case many of these devices could be put into operation around the Earth, and in space, to observe the new spatial-flow physics, with special emphasis on correlation studies. These can be used to observe the spatial extent of the fluctuations. As well space-probe based systems could observe special effects in the flow pattern associated with the Earth-Moon system; these effects are caused by the α-dependent dynamics in (26)."
Here is the paper in pdf format:
A New Light-Speed Anisotropy Experiment: Absolute Motion and Gravitational Waves Detected
The new gravitational theory that grew out of process physics includes the Fine Structure Constant α as a gravitational parameter. It has found confirmation from observations of black holes at the centers of globular galaxies and star formations. Details are discussed in a second paper (here in pdf format):
Black Holes and Quantum Theory: The Fine Structure Constant Connection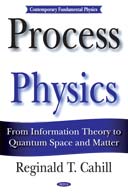 A book detailing this emerging new paradigm of physics is available from Nova Science Publishers:
Process Physics: From Information Theory to Quantum Space and Matter
This book is about the new and very radical information-theoretic approach to comprehending and modeling reality. It is called Process Physics because it uses a process model of time rather than, as in current physics, a non-process geometrical model of time, a model so successfully developed and used by Galileo, Newton, Einstein and others that for many physicists the phenomenon of time is actually identified with this geometrical model. Now, for the first time in the history of physics, we have a model of time that includes the distinctions between past, present and future. These distinctions cannot be made in the geometrical model of time. For this reason we can call the current prevailing physics Non-Process Physics. In Process Physics we turn to a fundamental reformulation of the key concepts in physics.

Websites are
and
Process Physics - Resource Index

- - -

A more recent paper by Reg Cahill regarding earth flyby anomalies observed in satellites:
Resolving Spacecraft Earth-Flyby Anomalies with Measured Light Speed Anisotropy (PDF)
Doppler shift observations of spacecraft, such as Galileo, NEAR, Cassini, Rosetta and MESSENGER in earth flybys, have all revealed unexplained speed 'anomalies' - that the doppler shift determined speeds are inconsistent with expected speeds. Here it is shown that these speed anomalies are not real and are actually the result of using an incorrect relationship between the observed doppler shift and the speed of the spacecraft - a relationship based on the assumption that the speed of light is isotropic in all frames, viz invariant. Taking account of the repeatedly measured light speed anisotropy the anomalies are resolved ab initio. The Pioneer 10/11 anomalies are discussed, but not resolved. The spacecraft observations demonstrate again that the speed of light is not invariant, and is isotropic only with respect to a dynamical 3-space. The existing doppler shift data also offers a resource to characterise a new form of gravitational waves, the dynamical 3-space turbulence, that has also been detected by other techniques.