Article reference:
http://blog.hasslberger.com/2007/09/the_quantum_dynamics_of_life.html
The Quantum Dynamics of Life
Space is built out of its contents - Roger Y. Gouin -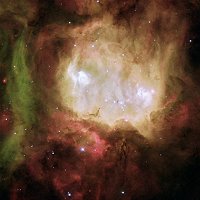 The 'Ghost Head Nebula' is one of a chain of star-forming regions in the Large Magellanic Cloud.
Image: European Space Agency.

According to Roger Gouin, life manifests in the physical through quantum processes, but current theory and classical quantum formalism cannot account for the complex processes that determine the growth and operation of organisms. The Quantum Dynamics of Life is a collection of essays written by Gouin and Amrit Sorli. A few of Amrit's articles on this site are linked below.
The aim of 'Quantum Dynamics' is to bridge the large gap between today's physics and a real understanding of the universe, which includes of course that-which-cannot-be-seen and that which we can't measure - life. The essays discuss time, the mind and conscious as well as rational experience, the assumptions of general relativity and Active Galactic Nuclei as Spacial Sink-Source Systems that continuously re-cycle both space and matter.
In the second essay, "Space and the Basis of Life" Gouin, starting from his specialty which is biology, shows how the cell as a common manifestation of life is organized in a complex way that defies purely physical analysis. And the basis for cellular organization and duplication is not DNA, as we might assume. Before developing DNA as a central molecule, cells duplicated with the help of a biological supramolecule called the centriole. He also introduces the concept of manipulation of the geometry of space by matter, particularly living matter. These concepts are further explained and expanded upon in an Annex to Quantum Dynamics, which makes for lighter reading as the concepts are introduced in dialogue form and garnished with illustrations to help those of us who are conceptually impaired.
Ben Connell, who after Roger Gouin's death in 2004 has put all that research on a website, says that Roger has "expanded his ideas into developmental biology and cell science since this book and appendix was written" and that these more up-to-date papers are available on Ben's website. So anyone interested in Gouin's work should definitely check out this web site (www.rogerygouin.org) which links many articles as well as Gouin's book-length thesis 'On the Origin of Space'. The work of Gouin goes far beyond the approach from the side of biology:
"There is a basic whole to my work, and this is summarized in the statement:

*******Space is built out of its contents*******

I attempt to prove that fact in particle physics, in quantum mechanics, in astrophysics, in Life and in Computer Science. This is the thrust of my thesis.

So anybody looking at only one part may misunderstand, or not understand at all. I cannot help that fact. The rewrite into articles helps, but the difficulty is still there.

The statement above is so UNINTUITIVE that even mathematicians do not understand it, and this because math cannot exist in a world where space is built by its contents. Math can only be a rough tool since it deals with separated things, as classical mechanics did. Only our quantum mind can process that information. This is why I wrote the equivalent of 20+ articles on the matter. ."
- - -
Quoting from the preface of The Quantum Dynamics of Life, we can see where Gouin and Sorli are headed:
The scientific picture of the world is continuously improving with new discoveries. In this small bok we will see that an important discovery is also the understanding of how the mind influences the direct experience of reality. The mind is an active part of any experience. The information of an experiment enters the senses, such as sight, gets elaborated by the mind, and then experience occurs. When becoming aware of the mind's elaboration, a new picture of the universe and life arises: The universe is a timeless self-renewing system in which the development of life is a fundamental part.

We have been told that the root of scientific knowledge must have a mathematical form. This was the mantra of "logical positivism" in the 20th century, reflecting a pan-mathematical view of Science, and a philosophy that all students of the physical sciences implicitly follow through the teachings they receive. This philosophical road has reached a wide gap recently by uncovering that reality in general cannot be represented through mathematics, nor can we get to the true base of reality through it. Some call this gap the "end of Science", but it is only the end of that philosophy. Human rational understanding has only limited tools at its disposal, and mathematics is just one of them.

With this in the background, we go back to the forms of experience we are physically going through, and build a picture of reality out of the scientific knowledge acquired in the last centuries, and especially in the 20th. This picture is not the one found in present scholastic teachings, as such are limited by mathematics; it is one that attempts to go beyond the gap, while yet retaining the scientific method that allowed the great advances made earlier.
Annex to Quantum Dynamics
Website of Roger Gouin's works compiled by his friend Ben Connell
And here is a page where Roger Gouin describes the history of his thesis
Articles by Amrit Sorli previously published on this site:
Sub-atomic particles in a-temporal space