Article reference:
http://blog.hasslberger.com/2009/06/the_moon_is_inhabited_nasa_loo.html
The Moon is Inhabited - NASA looks the other way
Why did both NASA and the Russians suddenly abandon the idea of colonizing the moon, even after several successful landings and extensive surveys of Apollo and the Soviet Lunar probes?
Ingo Swann, a researcher into telepathy and remote viewing who worked for about two decades with the prestigious Stanford Research Institute, has found out. He details his own research into the question and he connects it with a broader problem - the suppression of telepathic and related human capabilities. His research has been published in a hard-to-find book titled: "Penetration - The Question of Extraterrestrial and Human Telepathy".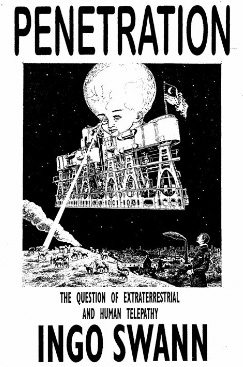 The paper version of the book is quite hard to come by. There seem to be a few used copies around but they go for a proud price. However, you can find a scanned copy - without the illustrations and photos - on Scribd. The book can be read on line or downloaded as a PDF file. Here's the address:
Penetration - The Question of Extraterrestrial and Human Telepathy
If any of my readers here do have the original, please consider scanning the illustrations and photographs and sending them to me. I promise to make them available on this page.
- - -
In the book, Ingo Swann weaves a tale that is absolutely necessary for our understanding of the UFO controversy and of our own contemporary efforts of space exploration. He directs our attention at certain packets of information that are omitted - things that are not discussed in the scientific and the popular literature but that we need to examine nevertheless.
There are three parts to this book, each one interesting and complete in its own right.
The first part is a personal experience of Ingo being asked to examine certain locations on the moon and to relate what he sees in his mind's eye. To his great surprise, the moon is not a dead, airless place and is fairly teeming with activity. Although Ingo does not have proof in the scientific sense for what he saw, he includes this personal experience as a tale to set the stage for the second part of the book.
Here in the second part, Swann discusses the notable absence of any real information in the official record of what has been observed, both by earth-based telescopes and by reconnaissance craft we have sent to our principal satellite. We are getting photographs, lots of them, but none of the high quality necessary to properly analyze the structures on the moon, or to let us understand who is active there and what they are up to. One of the great packets of absent data he points to is the fact that after a series of successful missions to land on the moon, the idea of making human bases there has been quietly abandoned in the early 1970s with n o real explanation or even so much as a formal announcement of the change for years after that.
We have re-directed our efforts to an earth-orbiting space station and we are to going to Mars, but moon-based colonies are way way on the back burner. Why? Ingo gives us a good idea.
If the book ended here it would make for an interesting read in and by itself, but it would leave us, like so many other books, with an important question - a mystery to be solved. However Ingo Swann goes further. In Part Three of his book, he helps us connect some of those dots to understand why a seemingly good chance to take a step into space has been quietly shelved. His professional career as a psychic researcher and successful remote viewer is what allows him to go further than other researchers into the subject of suppressed information on UFOs and Space.
Telepathy, Swann gives us to understand, is part and parcel of the human intellectual make-up. We are all capable of it but ... we have been kept in the dark by some clever manipulations. The desire to keep secrets comes into this as one of the motivating factors. Those who govern have a great desire to keep from revealing their plans of action and the methods they adopt to keep us where we are.
I will not attempt to tell you Ingo Swann's conclusions here, after all you will want to read the book. Let me only say that when we ask for more transparency in government, we are exactly on the right track. Social networks like facebook, twitter or friend feed have all but made our thoughts transparent to our friends and indeed anyone who cares to find out. That is, in my view, an important step to unlocking our telepathic potential. How could we accept telepathy if we weren't - at least to some degree - willing to be open?
And the same is true for the official denial of evidence of UFOs, extraterrestrial contact, activity on the moon and a whole number of other things. How can those things be made known if our governments are not willing to be as transparent as we are?
In summary, Ingo Swann's book, although a decade old, is a thought provoking piece of writing and is certainly worth your while to study and understand.

See also related - a series of videos by Richard Hoagland on YouTube:
UFOs - ALIENS - MOON: COVER UP BY NASA
Richard C.Hoagland Analysis part 1 OF 4
(you will find parts 2, 3 and 4 on the YouTube page in the "related videos" listing)

... and while you're at it, check out Richard's book "Dark Mission":
http://www.amazon.com/Dark-Mission-Secret-History-NASA/dp/1932595260

... here is an interesting web page about the moon (two parts)
ANOMALUNA! Part 1: Anomalous Physics Of Luna