Article reference:
http://blog.hasslberger.com/2009/09/extended_michelsonmorley_inter.html
Extended Michelson-Morley Interferometer Experiment
The original experiment of Michelson and Morley was performed in 1887 in order to confirm the theory that says earth exists in an unseen sea of pre-matter called the aether, and that the daily rotation of the earth around itself and the constant travel of the earth around Sol, our sun, would expose any instrument on the earth's surface to what was called an "aether wind". The concept is that the aether, conceived as the medium that allows light waves to travel from one point in the cosmos to another, would influence the measurement of the length of a path of light, depending on whether the path is in line with the expected "wind" or is oriented perpendicular to it.
The experiment did not find the expected result but rather than looking for a reason the aether wind might not be measurable in this way, the idea of there being an aether in the first place was questioned. Einstein then declared that an aether was "not necessary", and since Einstein's theories gained widespread acceptance, any further investigation into the subject of the aether was relegated to the fringes of science.
Many attempts have been made to explain why the physical configuration of the measuring apparatus of Michelson and Morley was improper for showing the aether wind, but no one has repeated the experiment in a different setting, such as in a satellite orbiting the earth.
Now recently Martin Grusenick, an experimenter in Germany, has repeated the Michelson-Morley interferometer experiment with a rather simple laser set-up and has found - to no great surprise - that rotating his apparatus horizontally, no shifts in the interference fringes are observed. Grusenick however had another idea. He modified his apparatus to make it possible to rotate in a vertical plane ... documenting his results in a video that was uploaded on YouTube:
It is probably best if you watch the video before reading on.
The result of vertical-plane-rotation of the apparatus showed a definite fringe shift becoming visible. The shift was going two ways (left and right) during a full 360 degrees rotation. Between the two displacements, there were two points during the rotation (at an approximate 45 degree angle) where the fringes showed no motion.
My first reaction was: "Of course, gravity (which I see as an aether flow) would tend to overwhelm and thus cancel out the expected aether flow in the horizontal direction, but the 'flow of gravity' can be detected in the vertical.
Some NPA members commented on the NPA chat-line where I had posted a link to the video, some of them disagreed with my evaluation.
Here are some of the comments:
Stephan Gift: "This appears to be a very fascinating result. I will study this more carefully. Is a paper on the experiment available? Please let me know."

John-Erik Persson: "The experimenter seems to be ignorant about the changes of length that are introduced by gravitation. The experiment should be done in such a way that this effect is minimized but this is probably not enough. Vertical velocity is very interesting, but also too difficult for second order effects. Perhaps first order effects are possible."

Tom Miles:
"Thank you for posting this notice.
And, may I express my appreciation to Martin Grusenick for the time, effort and expense he has put into this work.
But... He once again proves that the MMX gives a null result. If he had shown us two full periods of fringe motion per rotation, I would have been impressed. His device produces only one full period. This tells me that he has constructed an elaborate strain gage.
I could post wonderful looking fringe shift videos from my experimental work. They actually show two full periods per rotation. Two full periods when the bench was rotating on a large diameter "precision" bearing. But once I put the bench onto an inner tube floating in water, the same device showed no fringe shift. The strain induced by the bearing, through 2" of foam board and 1" of granite produced a lovely fringe shift."

And again Tom Miles, in a second message:
"Perhaps you missed my response to the Martin Grusenick experiment, so I will repeat my comments:
The experiment provides no qualitative or quantitative information.
To have qualitative significance, each full rotation in either the vertical or horizontal mode should have shown TWO full periods of shift. That is, we should have seen left-right-left-right shifts. We saw left-right. (Could be right first, it is not of significance.) This is not a trivial matter. If you don't have two full phases, you have nothing.
It was not the stresses of gravity but rather the strains induced by the stresses that caused a displacement of the optical elements.
This experiment can only be re-produced in a weightless environment to yield anything of value."

I responded to this second message of Tom Miles, when I said:
"you're right, I did not see your earlier reply before this message. Both Stephan's and yours somehow ended up in the dark place reserved on my computer for spam. I am having some trouble teaching it the fine points ;)
In any case, you seem to be very harsh with the experimenter.
Can you explain why we should see TWO full changes in the interference shifts, rather than the one complete shift (left-right-left) which we saw in the video? The shift, during the complete revolution, went first all the way left and then all the way right, with a pause at the mid-point as the shift reversed. I don't quite understand why it should do that twice.
You are assuming that the optical elements of the apparatus have been displaced by the stress of gravity. If that was the case, should not the "neutral" point, i.e. the point where no further displacement of the fringes is observed, be at the 3 o'clock (90 degree) and the 9 o'clock (270 degree) position, rather than as observed, at the 45 degree and 225 degree positions? And should not have the maximum displacement occurred at 12 o'clock (0 degree) and 6 o'clock (180 degrees)?
I don't believe that this experiment can be so easily dismissed as providing 'no qualitative or quantitative information'."

Tom Miles did come back with a reply, although not really answering my questions:
"I'm glad you found my first post on this. In it, I was complimentary to Martin and lauded him for his effort. If I sounded a little harsh in my second post it was because I thought you were ignoring my comments.
I will try to find some links for you that display the two-phase requirement, and send them along.
In the meantime, let me say that what we saw on the video would have been very significant if he had only rotated it 180 degrees. When you rotate a Michelson interferometer, you expect a maximum every 90 degrees, returning to zero 45 degrees later in each case.
This is an absolute requirement for meaningful data. You can't say it is significant because he is half-way there. He is nowhere, I'm afraid.
What he observed was strain not stress. The stress (force) from gravity caused a strain (movement) on his optical elements and bench. So yes, in his case the maximum fringe shift appeared to occur when the splitter mirror was horizontal, and again when it was horizontal but flipped, 180 degrees later.
I have to dismiss it as having any scientific value. I would, however, encourage it to be performed on the Int'l. Space Station."
That same day, he also sent a scan of a page of an article with the words:
"Attached is page 227 from Miller's 1933 paper. When you look at the graphs, you will see the sought after, theoretical fringe shift expectation. It is two phases per 360 degrees of rotation."
Miller_RevModPhys_v5n3(1933)203-242 25.pdf

The exchange left me with some doubts. I would therefore like to ask readers who have mulled over the experiment of Michelson and Morley before to tell their views by adding a comment. Is the experiment performed by Martin Grusenick as posted on YouTube a valid experiment and what does it show?
Could the experiment be improved to eliminate points of doubt raised by the people who commented?
And I would especially appreciate if Martin Grusenick himself could address some of the points that were raised in discussion, and perhaps provide a link to a written discussion of the experiment, if such exists.

- - -

Update 28 September:
Here is another comment I just found among my emails, coming from Norbert Feist in Germany. I will post it here in both German and an English translation:
Lieber Herr Grusenick,

ich sah Ihren Film über ein vertikales Michelsonexperiment bei YouTube http://www.youtube-nocookie.com/watch?v=ebNmmBib3aI .

Herzlichen Glückwunsch! Als alter Hase auf dem Gebiet freut es mich ungemein, daß offenbar der Glaube an einen Äther und vor allem der Nachwuchs nicht ausstirbt.

Für mich ist jedoch klar, daß Ihnen die Schwerkraft bzw. die Mechanik einen Streich spielt. Bei den kurzen Interferometerarmen entsprächen die 11 Streifen einer Laborgeschwindigkeit von ca.1/3 Lichtgeschwindigkeit! Da die zeitlichen Schwankungen trotz der Erdrotation gering sind, würde zudem nur Ihr Labor mit dieser Geschwindigkeit in eine Richtung fliegen....

Man könnte über Gravitationseffekte bezüglich Lichtausbreitung spekulieren, aber das alles können Sie sich meiner Ansicht und Erfahrung nach ersparen, wenn Sie Ihren Apparat mechanisch versteifen sowohl bezüglich der optischen als auch der tragenden Teile. Als erstes würde ich den Laser hinten zusätzlich fixieren und die Tragarme durch eine Platte ersetzen. Ich würde anschließend versuchsweise auch den Laser gegen ein anderes möglicherweise stabileres Fabrikat und vor allem die Spiegel gegen kleinere leichtere tauschen (hätte ich).
And in English:
Dear Mr. Grusenick,
I have seen your video about a vertical Michelson experiment on YouTube http://www.youtube-nocookie.com/watch?v=ebNmmBib3aI .
Congratulations! As an old hand in this field I am very happy to see that obviously belief in the esistence of an aether and it is especially good to see that younger people continue to get into this.
For me it is clear however, that gravity and mechanics are misleading you. Considering the short arms of the interferometer, 11 interference stripes would indicate a laboratory velocity of one third of the speed of light! As the time-dependent variations are small, despite the earth'l rotation, it would be only your laboratory that is flying in one direction with that velocity.
One could speculate about effects of gravity regarding the transmission of light, but my view and experience are that you can disregard all that if you stiffen up your apparatus mechanically, both with regard to the optical parts as also the frame. As a first action I would add another fix-point on the laser at its end and I would replace the arms of the frame by a plate. After that I would try to replace the laser with a different, perhaps more stable, kind and above all, I would exchange the mirrors with smaller, lighter ones (I have some if needed).

- - -

Update 13 December 2009:
In response to comments from several investigators, Martin Grusenick constructed a much stiffened version of his apparatus. A description and photographs of this new set-up are posted on the Ning group page of the Natural Philosophy Alliance.

- - -

Update 19 January 2010:
Martin Grusenick says:
at the moment I work on a new project. It is a vertically built up non-rotary interferometer. With it the influence of gravity on the apparatus is no longer of much importance. The interferometer is fastened with elastic strings. In the cupboard I can hold surprisingly the temperature very exact. The temperature sways only between 21,3°C and 21,6°C degrees. On the base plate is mounted a small camera. The camera is programmed to take a photo, every five minutes.

Moreover, I have fastened to the plywood screen a digital thermometer. An electronic control, linked with the PC, switches the laser on and off in five minute intervals. With software the single pictures are combined into a time-lapse photography video.

The first test run of about two days was already very promising. The star constellations are a little bit unfavorable at the moment, but the moonset can be seen clearly. The rising and setting of the other planets has not been investigated.

The device temperature is of great importance. But I still have a big problem. The resolution of the digital thermometer is too low. To be able to better document temperature fluctuations, the thermometer must have a better resolution. 21,0°C is not enough, it must be at least 21,00°C. A thermometer with this resolution, including the measuring sensor costs here in Germany about 170 euro.
The email included some photos of the new experiment, some of which are reproduced here.

In the meantime, Martin has found someone to meet the cost of the high accuracy digital thermometer needed for the experiment. If you want to contact Martin directly, try mgrusenick(at)aol(dot)com
You will need to substitute the correct symbols for (at) and (dot) ;)

Detail of the new, non-rotating experimental set-up: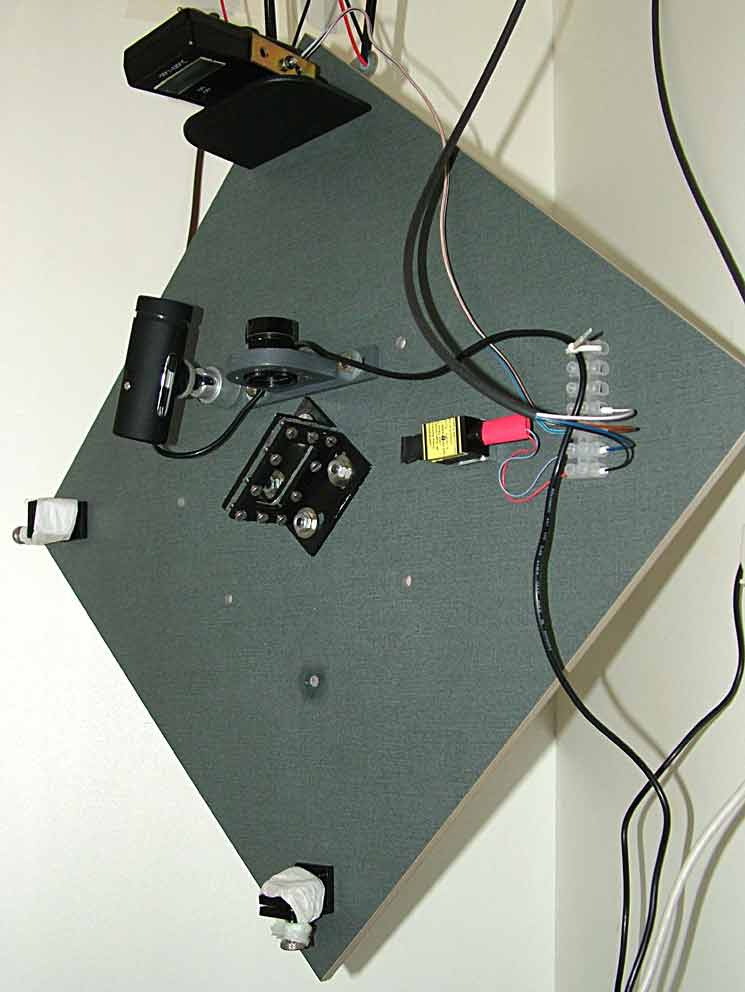 Testing the apparatus:


Overall view of the new experiment: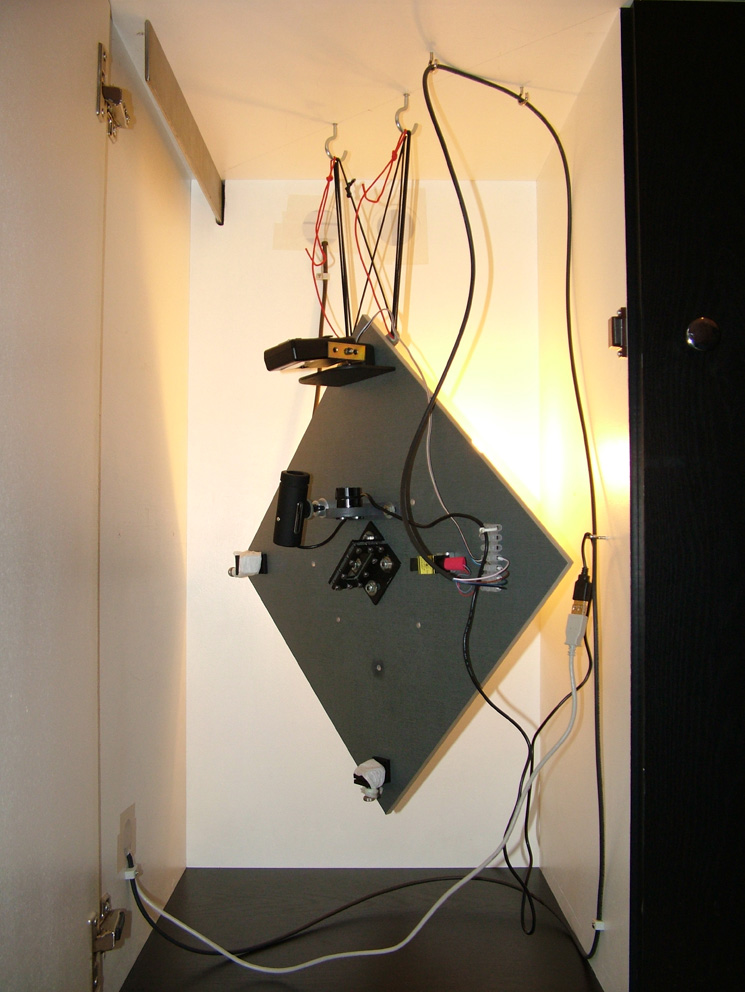 - - -