Real Physics - The Universe is Mechanical
The ultimate reality of material existence is as elusive as it was a century ago, when Einstein published his early papers. Upon the strength of what might seem an off-hand remark that the ether was "no longer necessary", the aether which had been at the conceptual basis of physics at the time was more or less forcibly removed from the range of acceptable discussion topics in physics. Today we are told particles are made of vortices of energy, which in turn comes in the form of "fields", but the ultimate "stuff" of physical existence remains as elusive as ever.
Spherical electron vortex - Frank Meno
Not satisfied with the "field" concept, several researchers have developed models on the basis of an aether, but one of the charges of those who don't agree is that like fields, aether does not have a physical basis.
Now Frank Meno has proposed a physical model for the aether - a space-filling fluid made up of tiny particles he calls gyrons. The properties of the aether can be mathematically described and modeled using fluid dynamics.
Here is an introduction to the concept.
And for those interested, here is a link to a more complete description of the model on Frank Meno's site.
http://www.gyrons.net (now from web archive)
Once you are on that site, when you follow the links to "PHOTON" and "ELECTRON", you will see "NEXT" at the bottom of each page. Follow that link - it will scroll you through the rest of the presentation of Frank Meno's model of the aether.
- - -
REAL PHYSICS
The above title is chosen to contrast what will be presented here with the fantasy physics that has been promulgated during the past century to the present time. This trend has been sanctified by Albert Einstein who declared that imagination is more important than knowledge. However our universe is already designed, and all that we really can do is collect this knowledge.
Outside of the so-called main-stream physics were made substantial advances, but these have been systematically ignored by the main-stream and the media. Thus, the Internet remains the only forum to report the progress in physics. This article will present the structure of the photon and electron, but since these models are based on previous knowledge, a brief historical outline is included.
The ancient Greek thinkers, and particularly Plato, have determined that we have basically to deal with two things, namely substance, and form. Without a substance there is no existence, and we cannot deal with something that does not exist. As sensible as this reasoning is, most of today's physical theories are based on mathematical concepts in void multidimensional spaces without specifying a substance.
Once it is assumed that a substance exists, then one can inquire about its form. The Greeks concluded that the substance must consist of a multitude of movable parts, which they called atomos, meaning that these parts cannot be cut into smaller pieces. Namely, if these basic parts of substance could break into smaller pieces, then, in time, they would grind themselves into parts with different sizes and forms, causing the universe to change its properties, possibly something non-functional. Since the Greek philosophers did not engage themselves in manual labor, they did not perform experiments to substantiate their conjectures. Consequently, they ended up making some mistakes in their reasoning.
They concluded that in order to account for the great variety observed in nature, there would have to exist a variety of forms among the fundamental parts. Thus, after the chemical elements were discovered in the eighteenth century, Dalton called them atoms, which, as we now know, is wrong because the atoms can be decomposed into smaller parts.
The physicists then concluded that the actual ultimate entities of substance are what they call fundamental particles, such as electrons, protons, neutrons, and so on. This, however, is also not correct because these particles can be converted into energy, whose nature is not described by the current physics. Therefore we still have to explain what energy is, and how energy produces these 'particles', which really are vortices, not particles.
The solution is as follows:
There exist true indestructible fundamental particles of the sort that the Greeks postulated, which I call gyrons, to distinguish them from the mis-named chemical atoms.
These true atoms (gyrons) are much smaller than the electron and proton, and in their motion represent the energy. Energy consists of moving gyrons. The universe is filled with these gyrons, that move on the average with the speed of light in all directions, while colliding with each other. We can call such a substance gaseous gyron-aether.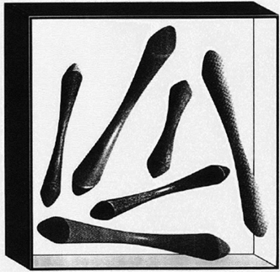 All gyrons have the same form and size, so that no matter where they are, the physical properties of the aether do not change, and we say that the physical laws of the universe are conserved because they are the same everywhere. If the gyrons are evenly distributed then the space has uniform properties, and is called vacuum. Thus, vacuum is not empty, it is filled with randomly moving gyrons that manifest small fluctuations in their density and speed distributions...

See also: