Global Positioning System Data Contradicts Relativity
The data we have from GPS, the US military's Global Positioning System, which uses satellites to facilitate navigation, are casting grave doubt on Einstein's principle of relativity, says Thomas Phipps, Jr. of Urbana, Illinois.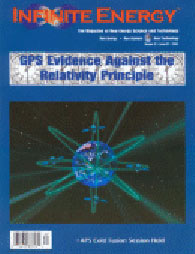 In a paper first published in Infinite Energy magazine, Phipps says that the data of clock synchronization isn't exactly in accord with Einstein's relativity:
"The Global Positioning System (GPS) compensates the running rates of its atomic clocks for their orbital motion by speeding them up so as to cancel the relativistic time dilatation. Such compensated clocks, when in orbit, run in step with each other and with an earth-surface Master Clock. This means that a naturally-running proper-time clock placed in orbit without compensation for its motion must run objectively slower than its naturally-running counterpart on earth. There is consequently a factual clock-rate asymmetry between two inertial systems that violates the ordinary understanding of the relativity principle. In brief, clock rates represent physical observables not delimited by specific point events; therefore they do not conform to an event calculus and are not consistently described by special relativity theory."
- - -
Phipps says that the principle of relativity, at least Einstein's version, is doomed. He proposes an experiment: measure the speed of light using the satellites in orbit.
"... the vast teeming masses of academic physicists and others who believe implicitly in Einstein's form of the [relativity principle] deserve to be shaken up by a closer acquaintance with the facts. It is time for their Great God Consensus to experience another of His historic belly aches leading to a 'paradigm shift.' The experiment I have suggested might get that evolution started."
To read the whole paper: GPS Evidence Against the Relativity Principle

See also related:
Tom Van Flandern: What the Global Positioning System Tells Us about Relativity