The Story of How Humans Came to Live in Peace and Plenty
The story of how humans came to live in peace and plenty is a developing conversation. The initiator is David Braden, who proposes that we network, but with an additional dimension. Instead of only interacting on a flat, person-to-person basis, Braden says that we must also consider the larger system and our environment in what we do, and he calls it 3D Networking. You can get a good idea from his website 3DN Introduction, which explains three dimensional networking in its bite sized, linked pages.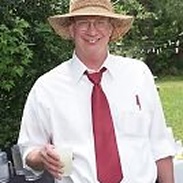 David Braden, initiator of 3D Networking

One particularly interesting proposal is what Braden calls the Self-help Corporation. Today's economy does not have any place for people that aren't directly involved in making more and more profit for the corporate players. At first, these were only the people who did not have the right skills, but more and more people are being laid off because the corporation that employed them is cutting costs. It is nothing for a huge corporation to buy its competition and then start "slimming down", laying off thousands of people who thought they had secured stable employment. Thus, the ranks of those who don't fit keep swelling.
Braden's self-help corporation (this link is to an abbreviated description) is a way of balancing the needs of these individuals against the focus on profit which is a characteristic of the corporations and which does not allow giving someone a job simply because they need to make money to live.
"The self-help corporation is a simple, practical and economical way to alleviate the resulting poverty. It does not require public consensus, expensive government programs or massive charitable fundraising. One can be started now, by anyone, anywhere in the world.

Poor people are poor because they do not have skills that can be marketed in the "market economy" or their labor is valued by the market economy at a level that does not provide them adequate resources for a decent standard of living. They are not, however, without skills and resources. In particular, they possess the skills and available labor to produce basic necessities."

The question is whether such an idea has real transformative potential. Will people actually come together in solidarity and contribute their money or their skills to make it possible for a whole group to take care of basic necessities in a way that's much more economical than today's 'everyone for themselves' way of doing it.
The vision is growing and it's becoming more focused. A part of this process is documented in a discussion around The Story of How Humans Came to Live in Peace and Plenty on the "open money" Ning group.
- - -
Here is a recent version of that story...
How Humans Came to Live in Peace and Plenty - Version 3.0
There came a time in our community when we grew tired of arguing over who was right and who was wrong. Despite all the arguing there were still hungry people and the environment kept declining. What we needed was more places for people and creatures to fit.
Then we came to realize that the market could not solve all our problems. The market is wonderful for what it does - a spur to innovation - producing better and better goods and services - more and more efficiently. But the market did not provide a place for everyone to fit. When there was more of us than the market needed we were laid off - the market did not value clean air and clean water and the diversity of ecosystems. Anything that is abundant has no value to the market.
Then we came to realize. If people are abundant in the eyes of the market does that mean we have nothing to contribute? And if clean air and water and plants and animals, fish and fungi are abundant does that mean that they have nothing to contribute? What else would we like to be abundant? What if food, clothing, shelter, education and health care were abundant? Would they then have no value?
Then we came to realize. If we cannot rely on the market for those things we want in abundance, we can create new ways of doing things for those things that do not fit in the market. We can design a way to recognize the value in people and creatures that the market does not value. We can find a way for those people and creatures to contribute their gifts to the flow of value and receive value in return.
And we called out to government to help us find the way - and government said, "We are not elected to interfere with business." And we called out to the captains of industry to help us find a way - and industry said, "Our only mission is to make a profit." And we called out to the foundations and the universities that they support to help us find a way - and academia said, "We do science and education - we do not design the world".
And we came to realize that we would have to find the way ourselves.
And so, our community came together - people from government - people from industry - people of charity and seekers of knowledge - we came together to discover what we could do to make our community a better place to live. And we found that we could produce an abundance of food, clothing, shelter, education and health care by creating integrated systems of production. Those who did not fit in the market and those who wanted to work at a slower pace, and those who had made their mark in the market, began to contribute their skills in exchange for shares in the community investment enterprise. And the enterprise produced abundance by finding a place for many different creatures. And we became whole, our economy and our lives in balance, and we live together in peace and plenty.
examples:
A Community Investment Enterprise in a US City
Economics of Integrated Production

To follow the developing story in more detail, go to the original post here and read all those comments...

See also more recent:
Organizing to Heal Nature and Produce Abundance
Keep in mind that the wealth of Bill Gates is not dollars in a bank account. His wealth is an ownership interest in the assets and profitability owned by Microsoft. With the right kind of organization, every member of your community could have an ownership interest in the assets to produce all the food, clothing, shelter, education and health care that your community needs - and that would be real wealth - no matter what the market does.