Physics: Dissidents Challenge Standard Model - Discuss Alternatives
The Natural Philosophy Alliance, founded by John E. Chappell, Jr., provides a place where alternatives to mainstream physics can be discussed and new models developed in a friendly and cooperative spirit. The exchange of ideas between peers - all of the members of the NPA point out one or the other problem with the Standard Model - is fluorishing. An active chat-line and several websites, but also conferences held each year provide a meeting ground for today's dissidents of physics.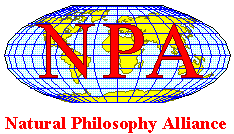 The official NPA website: www.worldnpa.org
List administrator is David de Hilster who is also a film maker. His work in progress is Einstein Wrong The Miracle Year.
David has also set up a dedicated social networking group on Ning, where discussions may take place. Anyone who can contribute ideas is invited. Check it out at worldnpa.ning.com
The latest in-person conference of the Natural Philosophy Alliance was held from 7 to 11 April this year, at the University of New Mexico in Albuquerque. Summaries of the papers presented were compiled by Robert Heaston. They are included in a report on the conference which is available in PDF format here and on the NPA's website.
The topics of discussion:
- - -

Philosophy of Science.
Twelve papers intentionally evaluated the past, present, and the future of the physics paradigm. Challenges are expressed as questions. Are changes in Newton's law of gravity necessary? Can we believe that the Maxwell equations are universally applicable? Is Einstein's light postulate still valid? Are critical cosmological data being ignored? If the big bang theory is flawed, what should take its place? Could rearrangement of the primary building blocks of the current physics paradigm provide leads to new theories? What are the connections between electricity and gravity? What is dark matter? Do the laws of motion and spacetime need to be reexamined? Is the universe finite or infinite? Does the goal of a theory of everything make sense? WANTED: An idea here that can influence thinking everywhere.

Special Relativity Theory.
The special theory of relativity (SRT) was formulated by Einstein in 1905. Two principles/postulates are associated with SRT.
(1). Principle of Relativity: The laws by which the states of physical systems alter are independent of the alternative, to which of two systems of coordinates, in uniform motion of parallel translation relatively to each other, these alterations of state are referred.

(2). Light Postulate: Any ray of light moves in the "stationary" system of co-ordinates with the determined velocity c, whether the ray is emitted by a stationary or by a moving body.
Six specific consequences are associated with these two statements: Lorentz transformation equations, red shift, twin paradox, clock changes, length contraction and mass-energy equivalence. Eleven papers address issues concerning SRT. Modern technology based upon accelerometers and computers can independently tell which set of coordinates is going the fastest so that the relativity postulate may have to be reformulated. The twin paradox, clock changes, and length contraction are acceleration dependent and are a general relativity theory (GRT) issue not an SRT issue. The Global Positioning System (GPS) corrects for changes in clock rates caused by acceleration and gravity. A bi-directional wavelength correction may be applied to the Einstein-Lorentz equations to improve experimental results. A thought experiment employing 16 clocks confirm clock changes and length contraction. Special considerations are necessary if moving objects involve electric charges. Any analysis of SRT involves a definite requirement to identify, assess and control the assumptions involved. The light postulate must consider the absolute phase speed and the relative speed of the wave front. It is possible to show that the length contraction and clock retardation come only from using the relativity principle.

Electromagnetism.
Electromagnetism contributes more to modern technological society than any other discipline. Pull a plug or let a battery, alternator or generator go dead and see what happens. The subject is mentioned in most of the 88 papers, but only five papers give electromagnetism special attention. Many famous names are mentioned in these five papers: Ampere, Coulomb, Einstein, Gauss, Heaviside, Landau, Lienard, Lifshitz, Lorentz, Minkowski, Maxwell, Wiechert. There is still something to be learned about electromagnetism. An effort has been on-going for three years on how to model charge clusters on a spinning charged ring. Electrical and magnetic fields were studied to determine how forces on a ring could be unbalanced so as to propel the ring. Three different relativity theories were evaluated in terms of observer-dependence of electric and magnetic fields. Five apparently disparate discoveries within electromagnetism and other subjects are brought together in a coherent context. An analysis was performed on how very high energy current densities could be created using a DC source.

Quantum Mechanics.
Two great advancements in physics dominated the 20th century: relativity and quantum theories. They developed along parallel paths. Relativity was a follow-on to classical mechanics, the macroscopic world and analog processes. Quantum theory was a new addition to science with the creation of quantum mechanics, the microscopic world and discrete quantized units that have exploded into a digitized reality. The cross-over between the quantum and the relativity domains is by way of wave-particle duality. This is a growth area for the Natural Philosophy Alliance since the major focus in past years has been on relativity-related physics. This section was divided into two parts during the 15th NPA Conference: "Particles and Quantum Mechanics" and "Waves and Quantum Mechanics". Both sections have been combined here for two reasons; there were only 15 papers that were on quantum mechanics and it was often not possible to tell whether waves or particles were emphasized.
Since the 15th NPA Conference coincided closely with the 150th anniversary of the birth of Planck on 23 April 2008, it was appropriate to review the role of the Planck constant, the "quantum of action" that started the quantum revolution. Progress has been made on the development of a new type of holor called a twinor that explains photon entanglement. The integer and the fractional multipliers of the quantum Hall effect were evaluated. Different statistical interactions of fermions and bosons were analyzed. Electrons may be portrayed with a dual spin. A cogent argument is presented that the Einstein-Podolsky-Rosen experiment exhibits locality and realism. A matrix structure of the vacuum is suggested. The general characteristics of wave motion are described. The characteristics of the overall electromagnetic spectrum are analyzed and defined in terms of rays and beams. Newton, Galileo and Bohr models are used to discuss the various wavelengths of the electromagnetic spectrum. Maxima in radiation are described and interpreted. Wave motion is explained by introducing a dipole-field geometry for the photon. Quantum variables do not commute because the initial state of a quantum system is indeterminate. Quantum mechanics can be accounted for if it describes the interaction of three vector fields. The energy relationships of an object moving within a volume that is moving within a volume that is moving within another and so forth are analyzed.
Max Planck's 150th anniversary, 23 April 2008, is a welcome opportunity to devote some thoughts to the history and the role of his "quantum of action", h, which he hesitatingly established in 1900. The occurrences of the so-called Planck constant appear ubiquitous in physics ranging from the radiation law (the "cradle of quantum physics") and Planck's units to some aspects of nanotechnology. Quantization is considered a first-rate revolution in physics, but is there really a continental divide between "classical" and "post-classical" physics? Giving preference to mathematical reasoning à la Heisenberg, 20th century physics arrived at questionable conclusions in spite of numerically correct results.

Cosmology.
In the program of the 15th NPA Conference, this section was listed as "Gravity, Galaxies, Stars and Planets" so that participants would know what specific topics were of interest. The more expansive title is used here because it is shorter and all 13 papers address cosmological interests. We begin with a paper that presents arguments on how all natural forces, including gravity, can be reduced to a single force. Subsequently three papers about specific astronomical events appear. After that there is a series of papers starting with an overview of 20th century cosmology, a paper that focuses on the flaws in big bang theory, and that brings us to three papers on the LB/FLINE model of the origins of our solar system and the relationships that apply across the universe. The last four papers discuss the strong evidence that the Earth and other objects in space are growing, with particular suggestions on how spiral galaxies grow.

Mathematics.
From the beginning, natural philosophy has been based upon mathematical laws. Galileo declared nearly 400 years ago that the "Magnificent book of the universe is written in mathematical language." Einstein, as well as others of the mainstream physics paradigm, overestimated the possibility of understanding nature through mathematics alone. The "If, then" language of both mathematics and the phenomena of nature must be forged together. Eight papers focused on the use of mathematics as a tool to provide new insights on the physics of reality. We were reminded of the mathematical definitions of space and time, of infinitesimals and instants, and of the shape of space and the consciousness of time. Mathematics was used to redefine the concept of force that shows the way to a revised description of the universe based upon the redefinition of the four fundamental forces as force laws. On the one hand, more complex mathematics in the form of four-vectors helps to improve the explanation of electromagnetism. But on the other hand, the number of coordinates used to define Lorentz motion was simplified by reduction to a single frame. Another approach to Einstein-Lorentz transformations successfully adapts namespace analysis from computer science. The development of visual techniques of displaying topological relationships introduces a unique tool to define particle hierarchy.

General Relativity Theory.
General relativity theory (GRT) provides the primary road map of modern cosmology. However, discussions of dark matter, dark energy, multiple universes, and acceleration of the expansion of the universe raise questions about the current paradigm. In addition the quantum-relativity/gravity issue is still an unresolved problem. Seven papers made statements to add something to the ongoing dialogue. The correlation of Einstein's personal correspondence with his technical publications permits an historical reconstruction of the significance of the equivalence principle in the beginning stages of the derivation of the Einstein field equations of GRT. The Einstein field equations have an alternative solution where matter collapses to energy with a constant gravitation potential of the speed of light squared. Four postulates lead to the derivation of graviton equations, an equation for the universal gravitational constant, and plans for a graviton experiment. A compound model not only explains the perihelion of Mercury but also describes the orbits of the planets from Mercury to Neptune. An intuitive model of a central collective gravitational mass is suggested.

Contact address:
Natural Philosophy Alliance
402 Russell Avenue
Gaithersburg, MD 20877-2864
nemunch@cs.com
phone (301) 987-6742

Almost all of the NPA's 2008 conference abstracts and many of the papers are available at www.worldnpa.org
All members of the scientific community are welcome to join in discussion of these papers and other topics at the above website, at worldnpa.ning.com or at 2 user groups:
NPA_Dissidents@yahoogroups.com and
memberschat@worldnpa.org.
If you have questions, the contact is David de Hilster