Spending too much time on Facebook
According to facebook, the site has more than 350 million active users, half of which log on in any given day. On a recent facebook press release, these and a number of other statistical details show how traffic on the site is increasing. This means many users spend more and more of their online time on facebook.
I am not sure whether this is a positive development or something negative that should be balanced out, in some way.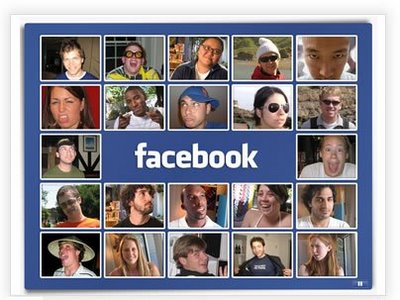 Privacy has become a major issue on facebook, but it seems that the important privacy issue that facebook use brings with it, is glossed over in those discussions. By interacting with our peers, we permit the servers of facebook to construct online social profiles for each of us users that go WAY beyond anything we would normally dream to put in public view. Who then has access to that kind of data? It's anybody's guess.
Again, is that a bad thing, or is it part of a new openness that we consciously choose to engage in?
On the other hand, facebook is the first online service that, along with a few others, allows us to open up and explore a new dimension of networking. I almost feel as if we're constructing a global mind, each one of us being similar to a neuron and learning to interact with other neurons. Where that could lead, is not quite clear as yet.
Some friends of mine have a rather strongly negative reaction when I invite them to join me on facebook and recently, I received an email from a friend and fellow blogger who says he started to use the service but was banned.

He brings up some interesting perspectives from which to see the expanding phenomenon of on-line social interaction. Here is what he said:
- - -
Greetings free thinkers and other trouble-makers,

I've recently had an experience with the very friendly Facebook platform, which has made me evaluate its friendliness and utility.

I had accrued some massive coterie of 'friends' on the site - most of whom I did not know (that's the great lie of the internet age - that we're all one happy group of well-informed people just amiably chatting with each other (about the end of the world and other topics))...

I began to use the site for longer for conversations in topics of my interest, such as religion, philosophy, science, etc, and was enjoying some of that banter, and so was somewhat put off when I arrived one day at the sign in to find that I could not sign in! I had been deleted, in total, and without explanation.

Following the advice of the 'you no longer exist here' page, which was displayed before me, I wrote the Facebook architects, wherever they may be on earth, and asked them for some assistance in returning use to me.

Alas, four letters over a week sent, and nary a response.

But, having much free and useful time returned to me, I have noticed something that I had indeed noted before agreeing to use that damned site:

It is a terrible, terrible waste of time and energy. It might have been invented by those very 'powers that be' to persuade all interested people to abandon the very public and 'google-accessible' world wide web, as a lure to create an artificial bed of news paper and wood shavings, upon which to sit and nestle oneself comfortably, while regurgitating self-reinforcing opinions to each other, cyclically, so that a great feeling of comfort and sleepiness takes over, and all motion and movement in the visible world ceases, all at once, and for good...

Call that a conspiratorial view - and I'm sure that it wasn't really invented to hurt activists - but the activity on outside of facebook websites on some issues that I follow has ground to a quiet whisper, whereas the 'facebook universe' hums and throttles with noise.

Noise that is mute, inaudible, invisible, un-hearable to Google search, to public viewing, to, in that sense, utility.

I share this as an observation. Please keep your facebook time limited, very limited, and perhaps consider making the posts you would make there, on your own public blog. And if you don't have one, then please make one:

http://en.wordpress.com/signup/
http://www.blogger.com/home
http://www.blogtext.org/
http://www.google.com/search?q=get+a+free+blog&ie=utf-8&oe=utf-8&aq=t&rls=org.mozilla:en-US:official&client=firefox-a

And link it to the other existing blogs and sites, and make at least the best of what you do, write, think and say about these important issues, or philosophical battles, public, and useful to the entire reading world...

Thank you for your time and consideration, kind regards,

Liam Scheff

It seems to me Liam makes some good points, especially when he directs attention to the fact that most of what we do on facebook is actually lost to the greater internet - there is no public memory of it - simply by the fact that it isn't available on search engines ... unless we choose complete transparency as a "privacy" option.
So ... perhaps limiting facebook time may be a good idea, after all. What do you think?

See also this related post:

Facebook is evil, says Eben Moglen
A rather extraordinary intervention by Eben Moglen, legal counsel to the Free Software Foundation, on Freedom as related to Cloud Computing, summarized at the Software Freedom Law center's site. It is reproduced in full, since it is such an important and insightful contribution.
In short, as the internet/web veered away from its original p2p structure, it created a privacy nightmare, with Facebook being a exceptional culprit. Eben Moglen contends that the technical solutions to this privacy nightmare are already available and just need some work to put into effect. (Link to Moglen's presentation)
Discussion is now starting on the need to re-claim our data and privacy, and efforts to construct an independent, user generated network are underway.

Facebook is getting too big to be a private for-profit enterprise. An article on the P2P Foundation blog asks the question:
Is Facebook a utility? and what are the alternatives?

And here is a recent article in Wired Magazine that discusses the spiny question of privacy:
Facebook's Gone Rogue; It's Time for an Open Alternative
A solution is in sight. Here is one of the groups working on an open source alternative to facebook:
Social Networking in the cloud - Diaspora to challenge facebook