Book: An Attempt to Restore Classical Physics
Paul E. Rowe, in his recently published book An Attempt to Restore Classical Physics, provides a summation of his life's work.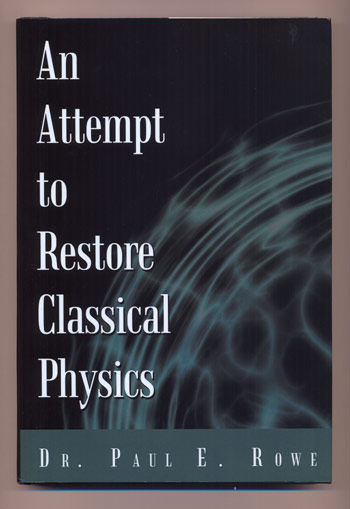 Rowe is a chemist who found, much to his surprise, that under certain conditions, hydrogen would appear in closed, evacuated tubes during his experiments, seemingly out of nothing. Eliminating all other possibilities, such as contamination or absorbed gases and searching the scientific literature for similar occurrences, he eventually concluded that space itself may be filled with the components of the hydrogen atom, protons and electrons, in free, pre-atomic form.
Assuming an aether composed of densely packed sub-atomic particles would allow us to make sense of things that were part and parcel of classical physics but were abandoned as Einstein's relativity and subsequently quantum interpretations of the universe gained acceptance.
Dr Rowe's book is available from www.iuniverse.com bound in soft cover, hard cover or as an electronic download.
"Based on the author's eperiments and extensive searches in the scientific literature, he concludes that vacuum is not a void, but rather a concentrated matrix of protons and unpaired electrons, possibly Bose-Einstein Condensed (BEC) hydrogen. It may be the aether of classical physics and/or the dark matter, for which Astronomers are searching. The book attempts to explain many observed phenomena on this basis, including: Magnetism, Gravity, Light, Stellar Aberration and Einstein's Twin Paradox"
The book is certainly worth having as it puts all the pieces of Rowe's work together in a neatly arranged way. Yes I know, it isn't a new paradigm, it actually harks back to the days when physics was understandable, when the workings of things could be understood in a clear cause-and-effect way of conceptualization.
Rowe himself summarizes the book with the following words:
The discussion section of this book includes conclusions, I reached, by assuming that the knowable universe and everything in it is permeated with a concentrated matrix of protons and electrons. It attempts to explain various observed phenomena on this basis. The rest of the book tries to show that the assumptions are reasonable. The author expects that many of the conclusions will not be accepted by the scientific community. However, if the universe is permeated with a matrix of particles, as assumed by Huygens and Maxwell, conclusions based on the absence of such a matrix should be reconsidered. Could the proposed matrix be the Aether, Dark Matter and the Higgs Field?
- - -
I was always intrigued by Rowe's research, published first in Infinite Energy magazine, and have posted several of his articles and papes on this blog. You can find them here:
Hydrogen From Space - The Aether 'Comes Alive'
Controlled Transmutation of Elements Under Surprisingly Mild Conditions?
Gravity and the Nature of the Chemical Bond?
PDF documents:
My Conversations With Einstein
An Unexpected Source of Clean Energy?
An Unexpected Source of Clean Energy? Part II
More Evidence for an Aether of Protons and Electrons
A recent article (2014):
Reasons to Reconsider the Aether of Classical Physics