Musings on Matter and Time
Mike Emery is one of those few how are looking for the bridge between the physical and the evidently underlying spiritual dimension. He says that spirit (God) is 2D and matter is 3D.
Mike writes in ALL CAPS mode, but he says it's not because he is shouting, merely a more easy way for him to write.
He sent one of his tantalizing questions on the nature of things, and I could not help but join in the speculative musings about the nature of matter and time.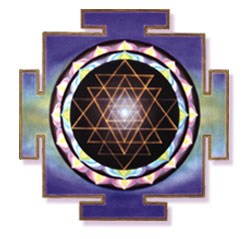 Sri Yantra - Image mandala-universe

There is also a (later) message of Mike's discussing Zero Point energy and - of all things - the origins of the universe...
- - -
At 17:02 +0000 5-03-2006, C. M. EMERY wrote:

THINKING ABOUT HOW MATTER SKIPS ACROSS THE GAPS IN THE AETHER. MATTER IS ONLY HERE HALF OF THE TIME - FITS WITH NEILS BOHR'S DREAM THAT MATTER MOVES IN A JITTERBUG MOTION - THE REST OF THE TIME THEY DO NOT SPECULATE ON WHERE IT IS - BUT, I THINK WE ALL KNOW THAT IT IS THE AETHER - IT IS ALWAYS IN THE AETHER, JUST THAT THERE ARE GAPS IN THE AETHER - IF YOU WANT A PICTURE OF THIS I AM HAPPY TO PROVIDE SAME.

THE AMAZING THING ABOUT THIS SKIP IS THAT WHOLE ENTIRE THINGS DO IT IN UNISON - YOUR WHOLE BODY IS HERE, THEN NOT HERE, THEN HERE AGAIN - LIKE THE FLOCKS OF BIRDS THAT ALL TURN PRECISELY AT THE SAME TIME - OR EVEN THE 100th MONKEY FRUIT WASHING ADAPTATION - THE ENTIRETY OF THE SPECIES ALL GOT THE MESSAGE IN THE SAME INSTANT.

SO, THE QUESTION IS THIS:

HOW LONG DOES IT TAKE FOR "MATTER" TO APPEAR AS SUCH? HOW LONG DOES IT TAKE FOR THE ELECTRON TO CONVERT FROM A FIELD TO A PARTICLE? DITTO LIGHT IN THE FAMOUS DOUBLE SLIT EXPERIMENT.

OR IN MY PARLANCE: HOW LONG DOES IT TAKE FOR THINGS TO CONVERT FROM 2-D TO 3-D?

THE ANSWER THAT I GOT IS THIS - NO TIME.

I SUBMIT TO YOU THAT THE REASON FOR THIS IS THAT IN 2-D THERE IS NO TIME.

THEREFORE, THE PROCESS THAT THE ELECTRON MUST DO IN ORDER TO CONVERT FROM A FIELD TO A PARTICLE - THE VAST MAJORITY OF THE CONVERSION IS DONE IN 2-D AND THUS WE SEE NOTHING AND THEN JUST SCREEN ON, WITHOUT SEEING ANY OF THE PROCESS I.E. SEQUENCE OF ENERGETIC EVENTS BETWEEN THE FIELD AND THE PARTICLE - THERE HAS TO BE SUCH -

AND THERE IS - THE OBVIOUS EXAMPLE OF THAT IS THE LCD SCREENS. EVERYTHING THAT HAPPENS "HERE" HAS ITS BASIS IN SPIRIT FROM "THERE".

FOR MOST OF US, WE WANT TO RELATE THIS TO A SQUARE WAVE WITH A VERY TINY RISE TIME. ONLY IN THIS CASE, WE HAVE ONLY SCREEN OFF AND SCREEN ON - THERE IS NO RISE TIME.

I'VE NOT HEARD OF THIS QUESTION BEING POSED BY PHYSICS - HAVE ANY OF YOU?

PLUS, PLEASE CONSIDER WHAT ONE MIGHT BE ABLE TO DO IF YOU CAN MANIPULATE THIS PROCESS AS IT OCCURS. LIKE CURE CANCER WITH A THOUGHT OR MAKE IT RAIN ON A CLEAR DAY OR - WELL YOU NAME IT - WE ARE TALKING PRESTO CHANGEO

PLEASE ADVISE.

- - -

my response to Mike:
my idea is that the universe or rather the all-pervading aether it is filled with, may be likened to a computer screen, where particles of matter appear and disappear in accordance with a pulsed (2D) energy matrix. The particles of matter are the equivalent of pixels on a screen. They are continually refreshed by the pulsing of the matrix.
Time is perceived as change of location of particles.
The tact of time itself is the pulse frequency of matter's jitterbug motion or its appearing/disappearing. The reason that we perceive the pulsing frequency that is at the bottom of matter's existence as "no time" may be that that very frequency is the basic pulse of time, i.e. the smallest unit or quantum of time, and there is nothing time-related that we can measure a single quantum against.
LCD screens have a lag time for the pixels that is longer than the tact frequency of the refresh pulse. The picture on an LCD screen appears more stable than old CRT screens. Matter may have a similar lag time. The individual particles do not have time to wind down to non-existence in the very short lag time of the pulsing matrix, so to us matter appears stable and ever-present.
- - -
Mike Emery on 16 April 2006:
From: "C. M. EMERY"
Subject: ZERO POINT ENERGY - A MISNOMER
HOWDY

I'VE BEEN MEANING TO WRITE THIS FOR SOME TIME NOW - PROBABLY SHOULD HAVE BEEN MAKING NOTES - BUT, I'M SURE THE IDEA WILL COME CLEAR.

THE PHRASE/TERM - ZERO POINT ENERGY - "IS A BUNCH OF SHIT" (THAT'S A QUOTE FROM CRICK (sp?), THE DISCOVERER OF DNA, WHEN HE WAS ASKED ABOUT THE "WAR ON CANCER". I WAS GOING TO SAY THAT IT IS A CROCK.

ANYWAY. SORRY FOR SLAMMING A NEARLY RELIGIOUS TERM OF THE NEW AGE - BUT IT IS B.S. AS YOU WILL SOON SEE:

I THINK HAL PUTOFF COINED THE TERM - HE WAS EXCITED ABOUT FREE ENERGY DEVICES WHICH IN ORDER TO BE ACCEPTED BY MAIN STREAM PHYSICS MUST HAVE A THEORY AS TO HOW THEY WORK BEFORE THE EMPIRICAL FACT CAN BE ACCEPTED (RIDICULOUS, BUT TRUE - THERE ARE MANY CASES OF THAT, AS WE ALL KNOW - TESLA, SCHAUBERGER & ORGONE ENERGY ALL BEING CASES IN POINT) - "ZERO POINT ENERGY, THUS WAS A REASONABLY GOOD IDEA AT THE TIME. TO ME IT IS CLEAR WHERE IT CAME FROM I.E. THE BIG BANG THEORY WHICH ITSELF ASSUMES THAT THE UNIVERSE STARTED FROM A SINGLE TINY POINT - SO IT FOLLOWS THAT INFINITE ENERGY CAN BE DRAWN FROM A ZERO POINT.

SO TOO, IT IS CLEAR WHERE THESE TWO IDEAS CAME FROM I.E. A "POINT OF VIEW" - LET'S SAY AREA OF PERCEPTION. IN OTHER WORDS, IN ORDER FOR A CONSCIOUSNESS (a scientist) TO BE AWARE OF SOMETHING THERE HAS TO BE A SINGLE "POINT OF VIEW" - WHICH, OF COURSE, IS NOT TRUE.

THE EXAMPLES ARE: INTUITION, INSTINCT, SINGLE CELL ORGANISMS (WHICH FIND FOOD WITHOUT OBSERVATION), THE BAXTER EFFECT (PLANTS BEING AWARE OF THINGS AT A DISTANCE), ESP, OUT OF BODY EXPERIENCES (THE MONROE INSTITUTE), BELL'S THEOREM (ASPECT'S PROOF THEREOF), PRECOGNITIVE DREAMS, TELEPATHY, SAI BABA (WHO HAS PROVEN THAT HE KNOWS EVERYTHING - LET'S SAY THAT NO ONE HAS FOUND SOMETHING THAT HE DOES NOT KNOW. PLUS, HIS DEMONSTRATED ABILITY TO APPEAR PHYSICALLY IN A NUMBER OF DIFFERENT PLACES SIMULTANEOUSLY - HOW DO YOU DO THAT FROM ONE POINT OF VIEW?) - THIS LIST CAN BE VERY LONG.

ANYWAY, WE ARE ABLE TO KNOW THINGS AT A DISTANCE. CRITTERS & PLANTS ARE ABLE TO DETECT THINGS NEARBY AND AT A DISTANCE WITHOUT A "POINT OF VIEW".

THINGS CAN BE MANIFEST AT A DISTANCE - BOHM ARANOV (sp?) (THEY FOUND THAT THE SIMPLE ABILITY OF TWO DEVICES TO CREATE AN ELECTROMAGNETIC INTERFERENCE PATTERN AT A DISTANCE HAPPENED WHETHER THE DEVICES WERE TURNED ON OR NOT!!) AND SAI BABA'S HEALING ASH MANIFESTS IN THOUSANDS OF PLACES AROUND THE WORLD - THIS IS VERY SIMPLE TO OBSERVE.

AS WITH HUMAN TWINS BEING SEPARATED AT BIRTH - THEY STAY CONNECTED AS HAS BEEN WELL PROVEN. THE QUESTION IS HOW? WELL IT GETS EVEN MORE AMAZING:

ALAIN ASPECT PROVED BELL'S THEOREM - DURING THAT THEY FOUND THAT ANY SUB-ATOMIC PARTICLE USED IN THE EXPERIMENT WAS IN CONSTANT TOUCH WITH ITS TWIN AND MIRRORED IT EVERY MOVE - EVEN BEFORE IT COULD KNOW WHAT ITS TWIN WAS EXPERIENCING I.E. ONE PARTICLE WOULD BE SET UP TO HAVE ITS LOCATION DETERMINED - THE OBSERVATION EQUIPMENT WOULD BE ARRANGED SO THAT LOCATION WOULD BE THE ONLY MEASUREMENT - THE LOCATION PARTICLE'S TWIN WOULD BE OBSERVED BEFORE HAND IN TIME & DISTANCE IN SUCH A WAY THAT IT SHOULD YIELD ONLY MOMENTUM - BUT, IT KNEW THAT ITS TWIN WOULD BE YIELDING LOCATION A LITTLE BIT LATER - SO IT WOULD ONLY YIELD LOCATION. THE FIRST PARTICLE TO BE OBSERVED KNEW WHAT ITS TWIN WOULD BE EXPERIENCING VERY SHORTLY THEREAFTER. REMEMBER THAT THESE PARTICLES ARE MOVING AWAY FROM EACH OTHER AT TWICE THE SPEED OF LIGHT AND COMMUNICATING IN MICRO-INSTANTS EITHER THAT OR THEY ARE CONTINUOUSLY CONNECTED BY SOMETHING. THESE EXPERIMENTALLY PROVEN FACTS SERIOUSLY SCREW UP THE SACRED IDEA OF A "POINT OF VIEW" AS BEING THE ONLY WAY TO KNOW OR OBSERVE SOMETHING.

THEREFORE, "ZERO POINT ENERGY" IS A CROCK.

I SAY MISNOMER. THIS IS IMPORTANT - IT IS VERY IMPORTANT TO USE THE ENGLISH LANGUAGE CORRECTLY - IT IS A VERY EFFECTIVE LANGUAGE TOOL FOR CREATING PICTURES IN PEOPLE'S HEADS AS HANS JENNY HAS POINTED OUT. THEREFORE, THE PICTURE MUST BE CORRECTLY GENERATED - IF IT IS NOT - THEN IT IS A LIE.

IT IS OBVIOUS THAT FREE ENERGY DEVICES DO EXIST - THAT ENERGY HAS TO COME FROM SOME WHERE AND ZERO POINT WAS A REASONABLE ASSUMPTION AT THE TIME AND IT IS QUITE CLOSE TO THE TRUTH - THE TRUTH IN FACT, BEING SIMPLY SPACE, WHICH IS, OF COURSE, INFINITE - THUS, CONTAINING INFINITE ENERGY.

IT IS WELL KNOWN THAT NOTHING REALLY GOES TO ZERO - FOR EXAMPLE THE SINE WAVE NEVER REALLY CROSSES THE "X" AXIS - IT JUST BLIPS OUT AND REAPPEARS ON THE OTHER SIDE - CROSSING WHAT THE PHYSICISTS CALL THE "HALF INTEGER AREA" (ANOTHER MISNOMER), WHICH WE KNOW TO BE THE ONE THIRD INTEGER AREA.

SO, WHAT IS THIS VOID THAT BLOTS OUT THE SINE WAVE? COULD THAT BE THE SOURCE OF INFINITE ENERGY THAT MR. PUTHOFF AND OTHERS ARE LOOKING FOR? OF COURSE, IT IS - AND IT IS NOT A POINT - IT IS A VOID - A RATHER PREGNANT 2-D VOID WHERE VIBRATIONS, TIME & 3-D DO NOT EXIST!!! EVERYTHING WE SEE HERE EMANATES FROM THAT PREGNANT 2-D VOID - EVERY MICRO-INSTANT. IN FACT, THEY HAVE FOUND PROOF OF THAT I.E. THAT THE UNIVERSE EXPANDED TO INFINITE DISTANCES IN THE VERY FIRST MICRO-INSTANT - THIS HAS BEEN A RECENT DISCOVERY - EVIDENCE OF UNIVERSE EXPANSION - THAT LITTLE DITTY IS ATTACHED BELOW, PLEASE.

SO WHAT'S THE DIFFERENCE BETWEEN A VOID AND A 2-D VOID? TALK ABOUT SPLITTING HAIRS!!! THE DIFFERENCE IS THAT THE VOID VOID - IS JUST THAT = NOTHING WELL BEYOND THIS UNIVERSE. THE "KNOWN" UNIVERSE EXISTS IN AN INFINITE VOID THAT HAS THE AETHER RUNNING THROUGH IT. THIS AETHER EXISTS AS HONEYCOMB 2-D PLANES THAT YOU CAN SEE IN PICTURES OF THE COSMOS AS WELL AS OTHER POOFS.

THEREFORE, THE INFINITE ENERGY PLACE THAT THE "ZERO POINT" TRIES TO DESCRIBE IS ACTUALLY A PIECE OF PREGNANT 2-D SPACE.

OK?

FURTHER, AS YOU CAN SEE HERE THE EXPANSION OF THE UNIVERSE HAPPENED IN PRIMORDIAL TIMES. HOW MANY DIMENSIONS WERE THERE THEN? ANSWER = VERY FEW. THERE CERTAINLY WAS NOT 22 DIMENSIONS AS SOME THEORIES NOW SUGGEST.

THEREFORE, THE REAL IMPORTANT ANSWERS THAT PHYSICS IS TRYING TO DISCOVER SUCH AS THE UNIFIED FIELD - THESE ANSWERS CAN BE FOUND IN THE PAST - LIKE ARCHEOLOGY - ONE CAN DIG UP THE REASON FOR THIS REALITY IN THE PAST - JUST AS ONE CAN FIND THE REASON FOR YOUR BEING IN PAST LIVES.

PHYSICS IS CONSTANTLY HEADED IN THE WRONG DIRECTION BY PROJECTING IDEAS THAT ARE NOT BASED ON FACTS LIKE SAI BABA'S DIVINITY, BELL'S THEOREM AND THIS DISCOVERY:


Evidence for Universe Expansion Found
By MATT CRENSON, AP National Writer
Physicists announced Thursday that they now have the smoking gun that shows the universe went through extremely rapid expansion in the moments after the big bang, growing from the size of a marble to a volume larger than all of observable space in less than a trillion-trillionth of a second.
TIME WAS VIOLATED - OR IT WAS NOT THERE
The discovery — which involves an analysis of variations in the brightness of microwave radiation — is the first direct evidence to support the two-decade-old theory that the universe went through what is called inflation.
It also helps explain how matter eventually clumped together into planets, stars and galaxies in a universe that began as a remarkably smooth, superhot soup.
"It's giving us our first clues about how inflation took place," said Michael Turner, assistant director for mathematics and physical sciences at the National Science Foundation. "This is absolutely amazing."
Brian Greene, a Columbia University physicist, said: "The observations are spectacular and the conclusions are stunning."
Researchers found the evidence for inflation by looking at a faint glow that permeates the universe. That glow, known as the cosmic microwave background, was produced when the universe was about 300,000 years old — long after inflation had done its work.
But just as a fossil tells a paleontologist about long-extinct life, the pattern of light in the cosmic microwave background offers clues about what came before it. Of specific interest to physicists are subtle brightness variations that give images of the microwave background a lumpy appearance.
Physicists presented new measurements of those variations during a news conference at Princeton University. The measurements were made by a spaceborne instrument called the Wilkinson Microwave Anistropy Probe, or WMAP, launched by NASA in 2001.
Earlier studies of WMAP data have determined that the universe is 13.7 billion years old, give or take a few hundred thousand years. WMAP also measured variations in the cosmic microwave background so huge that they stretch across the entire sky. Those earlier observations are strong indicators of inflation, but no smoking gun, said Turner, who was not involved in the research.
The new analysis looked at variations in the microwave background over smaller patches of sky — only billions of light-years across, instead of hundreds of billions.
Without inflation, the brightness variations over small patches of the sky would be the same as those observed over larger areas of the heavens. But the researchers found considerable differences in the brightness variations.
"The data favors inflation," said Charles Bennett, a Johns Hopkins University physicist who announced the discovery. He was joined by two Princeton colleagues, Lyman Page and David Spergel, who also contributed to the research.
Bennett added: "It amazes me that we can say anything at all about what transpired in the first trillionth of a second of the universe."
The physicists said small lumps in the microwave background began during inflation. Those lumps eventually coalesced into stars, galaxies and planets.
The measurements are scheduled to be published in a future issue of the Astrophysical Journal.

SO THE QUESTION IS: HOW? HOW DID SO MUCH MATTER "APPEAR" WITHIN THE VOID??

MAYBE VIA THE 2-D ENERGY MIRRORING OFF I.E. VIA THE RULE: LIKE ATTRACTS LIKE? OR MAYBE VIA NUMEROUS OTHER BIG BANGS OCCURRING SIMULTANEOUSLY (LIKE THE 100th MONKEY THING). OR MAYBE A COMBINATION OF BOTH?

IN HINDU THIS WOULD BE REFERRED TO AS THE PARAMATMA - THE OVER ALL ATMA/ANU. FRANKLY, THIS HUGE EXPANSION IS EASY TO UNDERSTAND VIA THE ATMA/ANU MIRRORING OFF AND BEING SPONTANEOUSLY CREATED I.E. CREATIONISM.

I DON'T THINK THAT THE FIRST LAW OF PHYSICS (FOR EVERY ACTION THERE IS AN EQUAL AND OPPOSITE REACTION I.E. MATTER & ENERGY ARE CONSERVED) - THIS CERTAINLY DOES NOT APPLY HERE. THUS, THE LAW IS NOT A LAW.

IN FACT, I DOUBT THAT THERE IS ANY PRECEPT OF "CONVENTIONAL" 3-D/4-D PHYSICS THAT CAN EXPLAIN THIS - INCLUDING THE PLANCK CONSTANT::::


AND THIS FINDING FURTHER BEGS AN ANSWER TO THIS QUESTION:
SO, THE QUESTION IS THIS:

HOW LONG DOES IT TAKE FOR "MATTER" TO APPEAR AS SUCH? HOW LONG DOES IT TAKE FOR THE ELECTRON TO CONVERT FROM A FIELD TO A PARTICLE? DITTO LIGHT IN THE FAMOUS DOUBLE SLIT EXPERIMENT.

OR IN MY PARLANCE: HOW LONG DOES IT TAKE FOR THINGS TO CONVERT FROM 2-D TO 3-D?

THE ANSWER THAT I GOT IS THIS - NO TIME.

I SUBMIT TO YOU THAT THE REASON FOR THIS IS THAT IN 2-D THERE IS NO TIME.

THEREFORE, THE PROCESS THAT THE ELECTRON MUST DO IN ORDER TO CONVERT FROM A FIELD TO A PARTICLE - THE VAST MAJORITY OF THE CONVERSION IS DONE IN 2-D AND THUS WE SEE NOTHING AND THEN JUST SCREEN ON, WITHOUT SEEING ANY OF THE PROCESS I.E. SEQUENCE OF ENERGETIC EVENTS BETWEEN THE FIELD AND THE PARTICLE - THERE HAS TO BE SUCH!!! JUST LIKE A TV WARMING UP.
- - - end of Mike's message - - -

See also this interesting little item that I just came across (June 06) on a patent for a hyper-light-speed antenna:
Title: Patent Granted for Hyper-Light-Speed Antenna
Posted on Friday, January 31, 2003 @ 23:33:32 PST by vlad
Inventor granted patent for a "hyper-light-speed" antenna which apparently proves the existence of a new dimension that can send signals -- and, therefore, energy -- faster than the speed of light.
The US Patent and Trademark Organization has approved a patent (6,025,810) for a device which claims to be able to transmit and receive electromagnetic waves at a speed faster than light. According to the patent disclosure, the invention can transmit and receive energy over a greater distance and at greater speeds than conventional antennae. The invention claims to use a dimension beyond the time-space continuum to accomplish this. From the patent disclosure: "The present invention takes a transmission of energy, and instead of sending it through normal time and space, it pokes a small hole into another dimension, thus, sending the energy through a place which allows transmission of energy to exceed the speed of light." To investigate more, you can access the patent at the USPTO's home page at http://www.uspto.gov/ (A search engine is available for the patent number.) If this invention does turn out to be true, a revolution could occur in the television industry. Re-runs could actually arrive before the original broadcast. (Just a little Einsteinian humor there.)
other articles:
What do Racquel Welch and quantum physics have in common?
The Casimir force is a mysterious interaction between objects that arises directly from the quantum properties of the so-called 'void'. Within classical Physics the void is a simple absence of all matter and energy while quantum theory tells us that in fact it is a seething mass of quantum particles that constantly appear into and disappear from our observable universe. This gives the void an unimaginably large energy density.
GRAVITY AND ANTI-GRAVITY EXPLAINED by Mike "The Cowboy" Emery
Life & the Universe After the Copenhagen Interpretation
But I too, go beyond ordinary physics to the meaning of life and the universe. I reject the notion that science, as knowledge of nature, is divorced from life and the meaning of life. I see the universe developing and evolving, with every organism participating, constantly creating and recreating itself anew. It is a truly creative universe in that the future is not preordained, but spontaneously and freely made by every single being, from elementary particles to galaxies, from microbes to the giant redwood trees, all mutually entangled in a universal wave function that never collapses, but like a constantly changing cosmic consciousness, maintains and informs the universal whole.