Thermodynamics overrated? - Ken Rauen Challenges Second Law
The second law of thermodynamics has long been cited as evidence for the impossibility of over-unity power generation. My own view is summed up in this earlier article, which describes the problem in simple words and argues that there is no such thing as a completely closed system - one that is shut off from all the energies that make up the universe. Thus the second law, as stated, is valid only for the very limited cases - such as steam engines - where we can account for all energies in and out. Since the universe itself is largely composed of energy and motion, there are many cases where these ambient energies can be harnessed to do work for us. The problem is that we are "not allowed" to look, and certainly we are not allowed to patent any discovery that "violates" the laws of thermodynamics.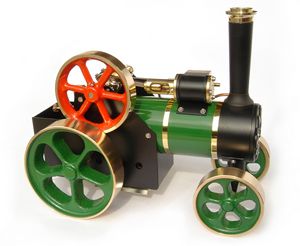 Steam engine model - Image source: steaMECH
Ken Rauen some time ago published an interesting article in Infinite Energy magazine, which discusses the history of the Second Law and some known exceptions and comes to the final conclusion that "what has been known about the behavior of heat and entropy, as embodied in the Second Law of Thermodynamics, is incomplete."
Here is the complete article: The Second Law of Thermodynamics and the Psychology of Science
It's best to save this on your computer and open with Adobe PDF reader)
Ken is not an ivory tower philosopher - he balances theory with practice. PESwiki has an article about Ken Rauen and his development of an environmental heat engine.
- - -
Viktor Schauberger would have agreed with Ken's view about the Second Law. He said that there is much energy to be had just for the asking. Schauberger charged that our current technologies are using the wrong kind of motion (explosion instead of the vortex-based implosion) and that we could have all the energy we wanted if only we knew that there is an anti-entropic kind of motion that tends to concentrate, instead of dispersing, energy.
See Schauberger Q and A - Making the Data Available
and Technology Turned Inside-out: Implosion Instead of Explosion